A pick-up in capital expenditure by private as well as state-owned firms in the new financial year is expected to provide a boost to India's corporate bond market, pushing issuances to another record in FY24, said bankers and analysts.
India's corporate bond issuances touched a record high of 8.2 trillion rupees ($100 billion) in 2022/23, data from Prime Database showed.
Total fundraising in FY24 is expected to rise to 8.5-9.0 trillion rupees in 2023/24, according to projections from 10 bankers and analysts projected.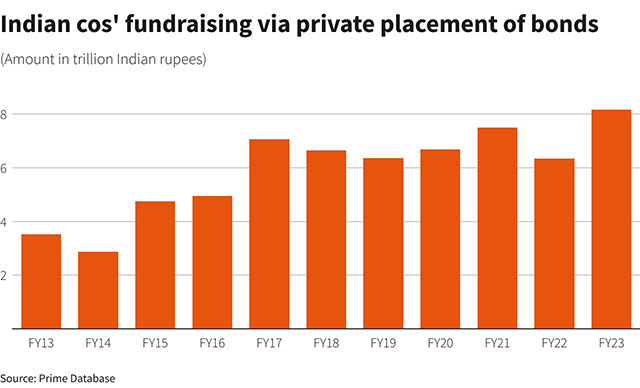 While the issuances were largely driven by banks and state-run companies in FY23, companies in renewable energy, power, infrastructure, metal and cement sectors are expected to tap the bond market this year, analysts said.
Some corporates have deferred their capex plan so there is scope for that to pick up as and when things stabilise, said Arnab Choudhury, EVP and Group Head (Debt Capital Markets), at SBI Capital Markets.
The companies did not immediately respond to Reuters' emails seeking comment.
"Early signs indicate improving capacity utilisation levels in various industries," said R. Shankar Raman, whole-time director and chief financial officer at Larsen and Toubro.
Once the growth levers are assessed as sustainable, capex commitments from the private sector will increase, particularly given the de-leveraged balance sheets and availability of liquidity in the financial system, he added.
Large corporates are likely to choose to raise funds for this capex via bonds as bank lending rates have risen more than bond yields.
"Based on (the) current situation, bond markets are more attractive, given the inherent flexibility of financing structures and speed of execution," Raman said.
Fitch Ratings expects capex for its rated corporates in India to continue to grow at 10%-12% in fiscal 2023/24.
However, some risks to capex would include higher interest rates, volatile commodity prices and weakening global economy along with geopolitical risks, according to Soumyajit Niyogi, director, core analytical group, at India Ratings and Research.
Analysts also expect issuance of infrastructure bonds by banks financing long-term projects to continue. In FY23, Indian banks raised 296.2 billion rupees through such bonds.
Banks, which accounted for 14.3% of the total issuances in FY23, are also expected to remain big issuers amid strong credit growth.
"The theme of banks borrowing in big quantum will continue," SBI Capital Markets' Choudhury said.