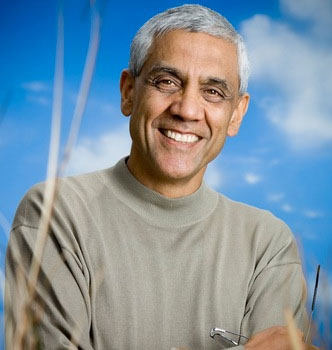 Vinod Khosla, who co-founded Sun Microsystems and is now an active venture capitalist, feels that that over 85 per cent of India' s e-commerce companies are overvalued.
"If you ask me Flipkart, Snapdeal and other e-commerce startups are overvalued. But if you add up their market capital today and look 10 years later with the market cap then, I'm convinced it will be higher," Khosla was reported as saying by Business Standard.
India already has about eight unicorns, a tag meant for startups sporting over $1 billion in valuation. Flipkart, Snapdeal, Ola, One97 Communications, InMobi, Quikr, Mu Sigma and Zomato are the other known unicorns from India. Though some of these firms were launched years ago, their current core business took shape just around five years back.
According to VCCEdge, the data research platform of VCCircle and Techcircle.in, about 875 companies raised an aggregate of $6.65 billion between 2011 and 2015 (until August) across six Indian cities.
Speaking at a chat organised by Nasscom 10,000 Startups, the Silicon Valley veteran exhorted startups to thoroughly examine their business model before spending investor money. Khosla believes that startups should guard against over-confidence and ensure that they do not become mere copycats of another successful online venture.
Amazon vs Flipkart vs Snapdeal
Khosla termed the ongoing rivalry between Flipkart, Amazon and Snapdeal (for marketshare) in India as "a costly battle". In an interview with The Economic Times, Khosla said in 10 years, the value of e-commerce will be higher than the value of all the companies combined. "However, it may not be the same companies then. It's all about who wins and gets to that point and how expensive it is to get to that point," he opined.
Khosla believe that when there are a dozen good ideas (resulting in valuable companies), there will be at least five-dozen bad ideas or copycats that get overvalued.
Khosla is sceptical of the Indian government's $306-million fund, christened as the India Aspiration Fund, floated with the aim of boosting the prospects of SMEs.
The reason: government-sponsored venture funds would minimise competition in the country. The government should not establishing venture funds at a time when private companies and startups are able to raise funds on their own, the Press Trust of India quoted Khosla as saying.
An IIT-Delhi graduate, Khosla began his entrepreneurial career at the age of 20 with his unsuccessful entry into soy milk business in India. Later, he co-founded Sun Microsystems and in 2004, he set up a venture capital firm Khosla Ventures in Silicon Valley. In 2011, it raised $1.05 billion for making early-stage investments in areas like cleantech, IT, mobile and Internet technology. Three years ago, Khosla set up an incubator for startups in India called Khosla Labs. Managed by Khosla Ventures, it had partnered with seed-stage impact investor Unitus Seed Fund to incubate and fund four-six startups working on the Aadhaar project.
Khosla Labs had earlier incubated a mobile payments solution firm, called Novopay Solutions, which offers Android-based mobile payment solutions to Kirana stores and uses Aadhaar-based biometric scanners to allow consumers conduct banking transactions.
In December, Khosla Ventures said it is raising $400 million afresh to make seed investments. The VC fund has so far invested in around 15 companies that include Bangalore-based companies HackerRank (a technical recruiting platform for enterprises) and Theatro Labs Inc (which makes voice-controlled wearable communications devices for hourly workers in the retail, hospitality and manufacturing industries).
Khosla Ventures is also operating an impact fund, called Khosla Impact, which has backed a dozen companies, mostly in India and Africa. Its Indian portfolio firms include DripTech, Embrace Innovations, EyeNetra and Simpa Networks.