Adding to the raft of representations made to the Indian government seeking protective measures, domestic manufacturers such as JSW Steel Ltd, Essar Steel and state-owned Steel Authority of India Ltd (SAIL) now want an anti-dumping duty on steel to make domestic prices at par with imports.
The government has received a petition from domestic steel makers for imposition of anti-dumping duty on hot-rolled coils from countries including China, South Korea and Japan, according to two Indian government officials. The officials requested anonymity.
Hot rolling is a process of manufacturing steel at high temperatures. At such temperatures, it is easy to give shape to steel.
The petition filed with Directorate General of Anti-Dumping and Allied Duties (DGAAD), an arm of India's ministry of commerce and industry, comes at a time when steel imports have started falling, according to data available with Joint Plant Committee, a government-authorised institution to collect data on Indian iron and steel industry.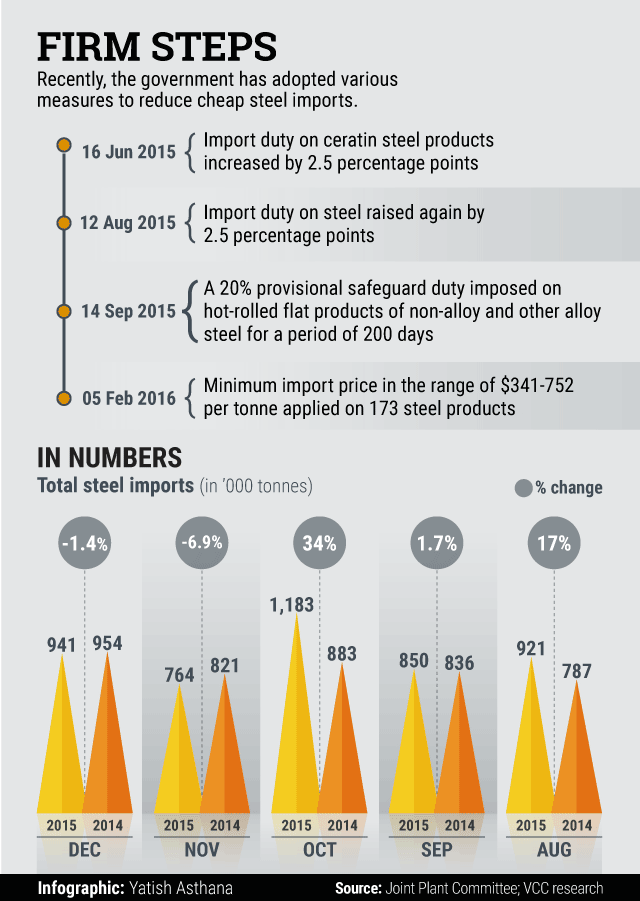 Also, India's Economic Survey 2016 presented last month stated that any future safeguards for the steel industry may not be in the best interest of the downstream industries.
One of the government officials quoted above said that the DGAAD will soon start evaluating the issue and a provisional report may be submitted by August.
China has improved its steel production capacity and registered a production of 803.8 million tonnes (MT) for financial year 2014-15. India's consumption of finished steel was 76.99 MT for financial year 2014-15 driven primarily by infrastructure creation in railways, roads and highways, and the auto industry. Of this, imports accounted for 9.32 MT, a jump of 71% over the previous fiscal, according to data compiled by Joint Plant Committee. The country has been a net importer of steel with the exception of financial year 2013-14 when it bucked the trend.
Experts believe due its slowing demand, China may resort to dumping.
"Globally, there are trade practices and patterns that sometimes do not reveal the extent of dumping from one country. However, China having the highest capacity installed is facing a deep slump in demand and may resort to dumping. Hence, anti-dumping investigations are likely to be long drawn," said Dipesh Dipu, partner, Jenissi Management Consultants, a consultancy firm focusing on energy and resources.
Queries emailed to the spokespersons of JSW Steel Ltd, Essar Steel and SAIL on 15 March remained unanswered. Queries emailed to the spokesperson of India's commerce and industry ministry on 16 March also were not answered.
Experts believe that filing of the petition and the commencement of the investigation in itself will have an effect on imports.
"This may result in higher duties and thus importers may get cautious, which will result into constraining impact on imports," said Anwarul Hoda, professor at Indian Council for Research on International Economic Relations, a policy think tank.
Hoda, however, added that it may result in a spike in domestic prices of steel which may affect downstream industries including automobiles and fast-moving consumer goods. But others believe that it will bring comfort to domestic steel makers.
"The filing of petition allows for investigations and dispute settlement mechanism at WTO (World Trade Organization) and thus provides the government with fiscal tools to protect the domestic industry. A check on the import floodgates will help raise prices or at the least arrest their fall further thus preventing margin pressures on the domestic players," added Dipu.
The National Democratic Alliance (NDA) government has taken several protective measures against import of cheap steel products. This included imposing a provisional safeguard duty of 20% on hot-rolled flat products on 14 September 2015 for a period of 200 days. With the duty expiring on 31 March 2016, an investigation on 15 March found that a threat exists with the need for further protection to the domestic steel industry. The government has now extended the safeguard duty for two-and-a-half years starting 14 September.
The government also imposed a minimum import price (MIP) on 173 types of steel products ranging from $341-752 per tonne on 5 February this year, for a period of six months. MIP helps in setting a floor price, which in turn does not allow steel imports below this price.
To counter subsidies provided to Chinese stainless steel manufacturers by its government, India is also investigating whether to levy a countervailing duty on the product's import from China to protect Indian manufacturers, VCCircle reported on 14 March.