The Indian business process management industry grew 12 per cent in financial year 2014-15 to $26 billion and will likely maintain the pace of expansion this year, industry group Nasscom said on Thursday.
According to the Nasscom BPM council, exports accounted for $23 billion of the total last year while the domestic market accounted for the rest.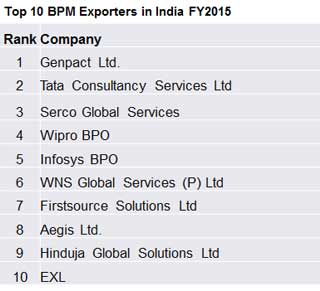 The BPM industry is on course to achieve $50 billion by 2020, said Keshav Murugesh, chairman, Nasscom BPM council and group CEO of WNS Global Services Ltd, at a press conference as part of the IT and BPM industry body's annual BPM summit in Bangalore.
Nasscom also released the ranking for the BPM industry for 2014-15. The top five positions remained the same as last year. Genpact retained the top rank followed by Tata Consultancy Services and Serco Global Services. Blackstone bought Serco's BPO unit last week.
Wipro BPO and Infosys BPO are in fourth and fifth positions, respectively. WNS Global Services Ltd and Aegis Ltd swapped positions, with the former climbing to the sixth position and the latter slipping to the eighth rank. Essar-controlled Aegis had sold its North American business to Teleperformance early last year.
KS Viswanathan, vice president of industry initiatives at Nasscom, said the Indian BPM industry accounts for 38 per cent of the global business process outsourcing market. The industry spokespeople said the BPM industry's workforce grew six per cent to 1.03 million as it added 43,000 new jobs last year. The attrition rate remains between 18 per cent and 20 per cent.
Murugesh said Nasscom would undertake a rebranding exercise to position India as a "value and innovation" destination. "India should be looked upon as a destination that can do value-added work," he said.