India is the world's third-largest startup hub where three-four new firms are born everyday, according to a report by IT industry body NASSCOM and Zinnov Consulting.
India currently trails the US (47,000-48,000 startups) and the UK (4,500-5,000 startups) in terms of overall startup count, the report titled 'Start-up India – Momentous Rise of the Indian Start-up Ecosystem', said.
Israel (3,900-4,100 startups) and China (3,300-3,500 startups) trail India in the pecking order.
It may be recalled that The Economic Survey 2014-15 (published in February) positioned India as the fourth-largest startup hub in the world with 3,100 startups.
Over 65 per cent of startups are located in and around Bengaluru, Mumbai and Delhi. About 1,200 new startups were added in India in the last one year alone, the report suggested.
"Apart from positively impacting the lifestyles of citizens involved, startups are now creating innovative technology solutions that are addressing the key social problems that India is facing and creating significant growth opportunities for every stakeholder," R Chandrashekhar, president of NASSCOM, said.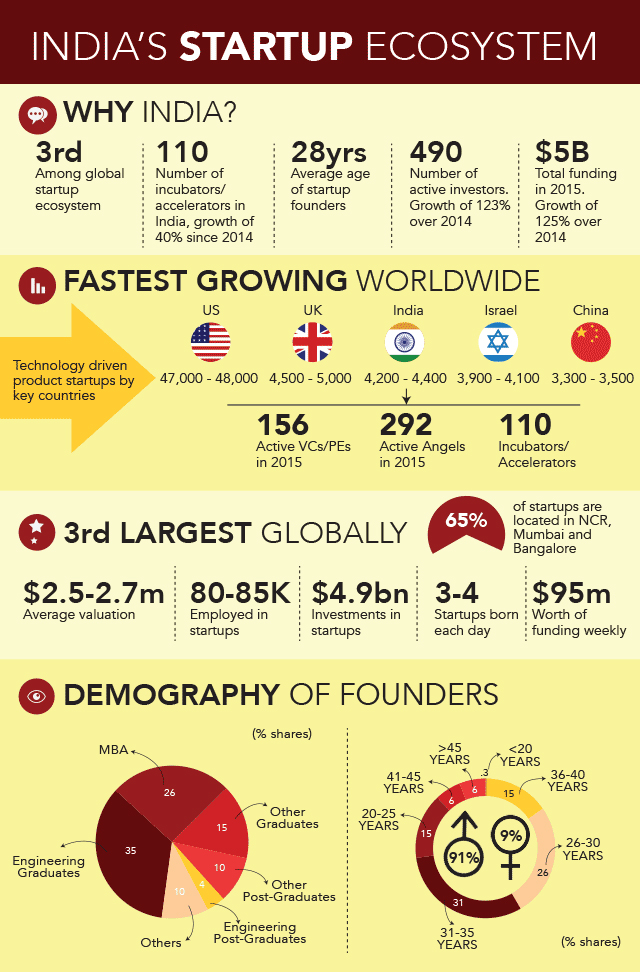 Majority of the new startups are B2C firms with operations in e-commerce, consumer services and aggregation.
Youngest Startup Nation
India is the world's youngest startup nation as 72 per cent of entrepreneurs here are under 35 years of age. The average age of startup founders is 28 years.
Startup warehouses
In a bid to propel the startup ecosystem, NASSCOM plans to have eight new startup warehouses by March 2016, a spokesperson said. It already has centres in Bangalore, Kochi and Kolkata.
Young firms can work for six months in these centres, which double up as a co-working space. A co-working space is useful for early stage entrepreneurs who are otherwise compelled to conduct important client meetings in a crowded coffee shops or small office cubes. Springboard, 9JCM (both in Gurgaon), Bangalore Alpha Labs and Bombay Connect are among some of the leading co-working spaces in India for startups. In such places, founders can not only work together but also share their learnings and best practices.
Startup warehouses are a part of NASSCOM flagship '10,000 Startups' programme, which aims to incubate, support and fund 10,000 young companies in India over the next 10 years. NASSCOM had unveiled this initiative in March 2013 with support from the likes of Google, Microsoft and VeriSign.