Despite efforts to increase the country's mineral production, India has failed to achieve mineral exploration targets for financial year 2015-16 in terms of drilling. The National Democratic Alliance government has also lowered targets for the current financial year for large-scale mapping and drilling of mineral resources in the backdrop of a rout in commodity prices globally.
According to information available on the website of ministry of mines, Geological Survey of India (GSI) drilled 102,814.96 metre compared with a target of 121,286.95 metre for various minerals including iron ore, manganese, rare earths, and precious minerals such as gold and diamond during financial year 2015-16.
This comes in the backdrop of the government's plan to make India self-sufficient in terms of mineral production. A case in point being monazite, which is the main rare earth mineral found in India and is used in modern technological devices. As part of its strategy to counter China's monopoly in rare earth element production, India is focusing on mining such deposits.
GSI, a body under the ministry of mines, is entrusted with mineral exploration work through its annual field season programmes. It also does exploration work in territorial waters to find reserves of offshore minerals.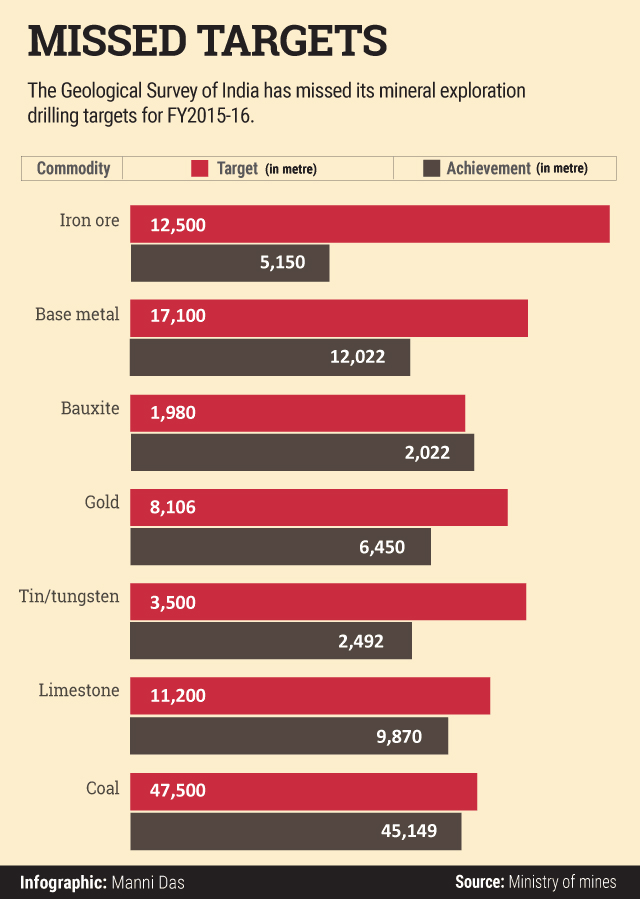 GSI has also lowered the target for exploration of minerals in 2016-17 from 121,287 metre to 113,000 metre in terms of drilling. Also, the target for large-scale mapping has been brought down by around 374 sq. km to 5,500 sq. km. In the previous year, the target for large-scale mapping of various minerals was 5,873.98 sq. km of which 5,917 sq. km was achieved.
"The drilling left in the last fiscal year will be completed during the first two months of the current fiscal year. Target for drilling will be increased further for this fiscal as more blocks will be taken up for regional exploration," a senior government official said requesting anonymity.
Another government body engaged in exploration work, Mineral Exploration Corporation Ltd (MECL), has done better in terms of drilling for major minerals (gold, copper, lead, potash, iron ore and bauxite) and exceeded the target of 385,000 metre and achieved 402,476 metre. It has set a target of 520,000 metre of drilling for the current financial year.
Apart from GSI, the Atomic Minerals Directorate for Exploration and Research (AMDER), a body under department of atomic energy, has also lowered exploration target for minerals such as rare earths found in beach sand. According to information available on the website of ministry of mines, the reconnaissance survey, or early stage survey, for the same has been brought down from 100 sq. km to 75 sq. km in the current fiscal, while drilling has been brought down to 6,500 metre from last year's target of 8,000 metre.
Experts, however, are not surprised that the achievement in terms of drilling has fallen.
"Maximum drilling done by GSI is of coal and lignite rather than other minerals as there is an immense pressure on Coal India Ltd to enhance production. Also, drilling machines of GSI and MECL are very old and need replacement," said former mines secretary S. Vijay Kumar.
AMDER also fell short of target for airborne uranium survey at 15,392 lakh km compared with a target of 90,000 lakh km. It has increased airborne survey target to 110,000 lakh km during the current fiscal. The reconnaissance survey for the same has been lowered to 3,100 sq. km from 3,900 sq. km, while drilling work will be done in 157,400 metre this fiscal compared with a target of 192,200 metre last year.