Indian publicly listed firms are out to create more liquidity to pump up trading for their stock and monetise some cash on the books as bonus share issues have hit a six-year high in 2016 with two more months to go.
As many as 62 listed companies have announced a bonus issue of shares since January this year, as per a VCCircle analysis based on Capitaline data. And on Thursday, state-run energy firm ONGC Ltd's board approved a bonus issue.
Bonus shares are issued as a reward to existing shareholders and are given for free in a pre-decided proportion to their existing holding. However, such issues are largely meant to boost trading, especially for retail investors, as the share prices adjust proportionate to the fresh issue. So a 1:1 bonus issue of a stock quoting at Rs 1,000 leads to its price adjusting to Rs 500 each as shareholders get one free share for each share held.
Companies announce bonus issues when share prices climb toward high triple-digit level or beyond.
The current calendar year is unlikely to surpass the peak of 2010 when the sharp bounce back in bourses led to a surge of bonus issues by firms. The 30-stock benchmark Sensex had doubled in value between March 2009 and January 2010.
The Sensex has risen by a fifth after a sharp correction early this year and is just 7% shy of its all-time peak of around 30,000 that it hit in March 2015.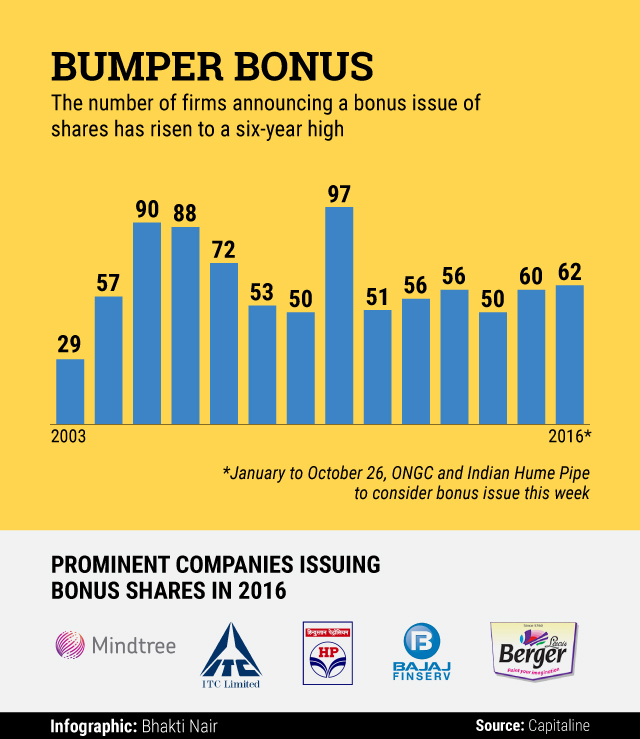 Even though the share price of a company adjusts after a bonus issue is completed, more often than not the move boosts its eventual price. Bonus issues are seen as a sign of confidence of the company on its ability to pay more dividend to shareholders and is capitalised from its reserves.
Companies also resort to 'stock splits' to boost liquidity for their stock. This is also done when the nominal value of the share price climbs too high, making them less attractive for retail investors looking to invest small sums.
Splits have a similar effect on the stock as more free shares are issued to existing shareholders for free. Prices again adjust proportionately and liquidity boosts trading but usually the comparable share price is higher.
However, unlike bonus shares that are capitalised from reserves, stock splits do not change anything fundamentally for the firm as the face value of the share changes.
Interestingly, even as many firms have coupled bonus issues with a stock split, the number of stock splits this year is lower than the previous year.
Like this report? Sign up for our daily newsletter to get our top reports.