The number of mergers and acquisitions in India has shot up in recent times. Growth opportunities have prompted many new-age entrepreneurs also to expand inorganically. Indian assets will remain in the limelight as buyout financing by private equity firms picks up and capital market activity increases. Economic reforms and the government's efforts to make it easier to do business will help, too.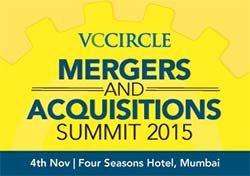 Clearly, M&A opportunities will only increase both for established corporate houses as well as startups. Given this backdrop, the first VCCircle Mergers & Acquisitions Summit will bring to the centre stage the trends and challenges pertaining to M&A activity in India. The summit, to be held on November 4 at the Four Seasons Hotel in Mumbai, will bring together more than 150 deal makers, CEOs, private equity investors and entrepreneurs. Among other topics, they will discuss measures to cultivate good M&A practices, cross-border deals and regulations that impact inbound and outbound transactions.
To view the list of confirmed speakers, click here.
For the full agenda, click here.
For registration, click here or write to Kanika at register@vccircle.com or call 0120-4171111.
For branding and sponsorship opportunities, write to Vijay at vijay@vccircle.com.
Send us your views, ideas and suggestions on Twitter; use our event hashtag #VCCMASUMMIT