The ability of debt-laden India Inc. to repay debts has worsened as leverage has increased, straining the banking sector burdened by bad loans, according to a report released  by Reserve Bank of India (RBI) on Thursday. The high levels of corporate leverage are hampering banks' ability to pass on lower interest rates, it said.
The 11th issue of financial stability report (FSR) stated that while India's relatively stronger macroeconomic fundamentals may provide a reasonable degree of resilience to Indian financial system in the event of spill-over effects from global factors, the sluggish growth in the banking sector still poses a problem for the economy. 
The report highlights the stress tests and analysis pointing to the fact that the NPA problem is still very much persistent and asset deterioration may continue for next few quarters. According to the report, gross non-performing assets (GNPAs) in the banking system have grown by 10 bps since September to 4.6 per cent at the end of March this year, while the stressed advances, including standard restructured loans, have risen to 11.1 per cent from 10.7 per cent.
Though the report points to the improvement in capital adequacy ratio and leverage ratio, it highlights the poor performance of the public sector banks against the private institutions. 
Infrastructure problem
One of the most disturbing aspects mentioned in the report is rising stressed assets in the infrastructure sector. Sectoral data as of December 2014 indicate that among the broad sectors, industry continued to record the highest stressed advances ratio at 17.9 per cent followed by services at 7.5 per cent. 
A closer peek at the industry data shows that five sub-categories of mining, iron and steel, textiles and infrastructure and aviation account for 51.1 per cent of the share in stressed advances. It also highlights that among the bank groups, PSBs, which had the maximum exposure to five categories, had highest exposure to stressed assets.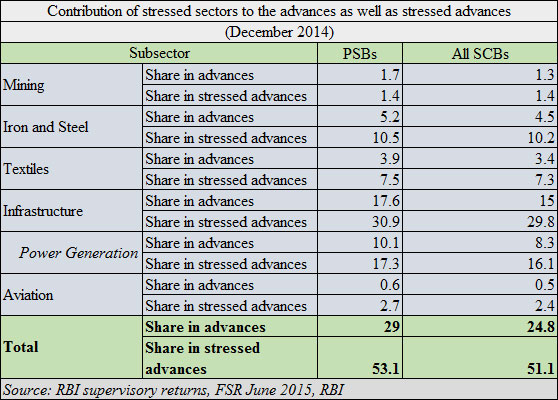 Although the report highlights better health of the banking sector as the profitability has increased, the findings of the report turn more grim as it suggests a rise in NPAs to 4.8 per cent by September while improving to 4.7 per cent by March 2016 under the baseline scenario. On the other hand, in a severe case, it points to a 1.3 per cent rise in GNPAs by March 2016. 
The corporate sector especially infrastructure still struggling to find growth and government looking at infrastructure to lift growth prospects, Jaitley will have to pump in more money in the banking to cover the losses in the banking sector. With el-nino effect yet to play out and the economy still not fully on track, slow pace of reforms may put a dent in government's fiscal consolidation and moreover on the Make in India project.