Credit: Shah Junaid/VCCircle
On Monday, ICICI Bank CEO Chanda Kochhar went on leave, pending an investigation into allegations of quid-pro-quo and granting favours in a case involving her husband Deepak Kochhar, his brother and Videocon promoter Venugopal Dhoot.
The controversy surrounding her, and its outcome notwithstanding, how has Kochhar's tenure at the top really been for India's second-largest private-sector bank by market value?
Kochhar took over as the CEO at ICICI Bank in May 2009. In a bid to gauge her legacy, VCCircle looked at the bank's performance since then to get a sense of how it has grown under her.
We looked at eight key metrics to determine the bank's growth, and if there are any red herrings. These metrics are net interest income, profit before tax, deposits, advances, gross non-performing assets (both in absolute terms and as a fraction of assets), number of branches, number of employees and market capitalisation.
Data on NPAs, branches and employees was not readily available for the period before 2010-11, so we have considered it from a year after Kochhar became the CEO.
The data show that during Kochhar's years as at the top, ICICI Bank's net interest income has tripled to Rs 27,900 crore. This translates into a compound annual growth rate (CAGR) of 14.5%.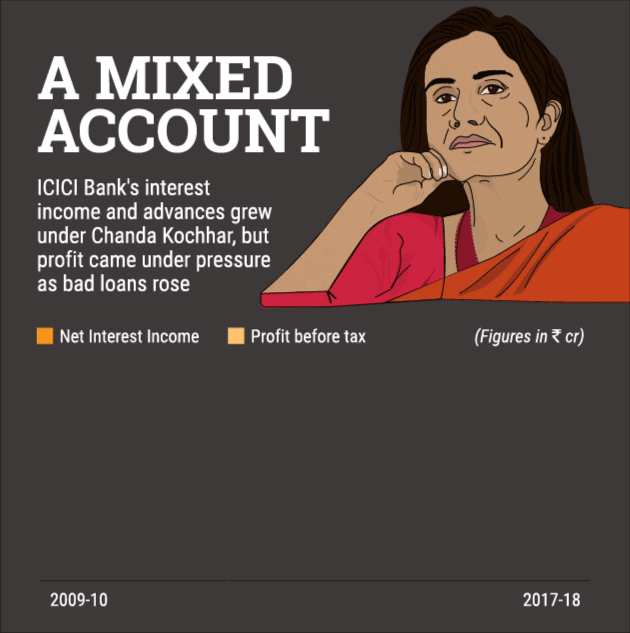 Yet, this growth in net interest income hasn't really translated into a similar growth in profit. In the first five years as CEO, Kochhar saw the bank's pre-tax profit nearly treble from just over Rs 6,575 crore in 2009-10, when she took over, to a shade under Rs 18,334 crore in 2014-15.
However, in the next three years, the profit declined steeply, first to Rs 14,304 crore in 2015-16 and then to Rs 13,809 crore and Rs 10,978 crore in the following two years.
This decline in profits, coincided with a sharp increase in gross NPAs, both in absolute terms as well as a fraction of the bank's asset book. While for the first four years as CEO, Kochhar was able to keep a lid on loans turning bad, by 2014-15, things started going out of hand.
Between 2013-14 and 2017-18, ICICI Bank's gross NPAs went up more than five times, or by a whopping 50.6% on a CAGR basis. While gross NPAs made up just over 3% of the bank's assets in 2012-13, they now make up nearly 9%.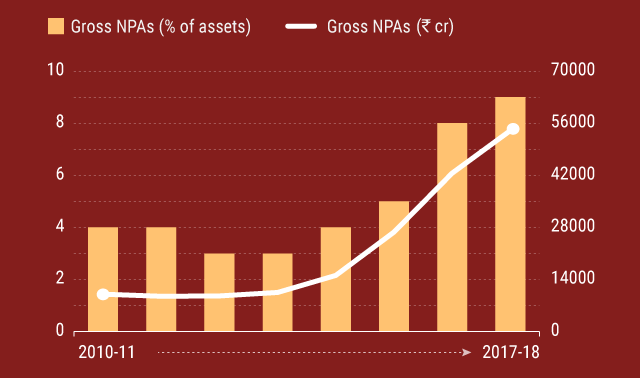 To be sure, with gross NPAs of Rs 54,000 crore, the bank makes up for a little over 5% of the Rs 10 trillion bad loan pile that the country's banks are weighed under. Still, it may augur well for the lender to put its house in order quickly, lest the problem get out of hand.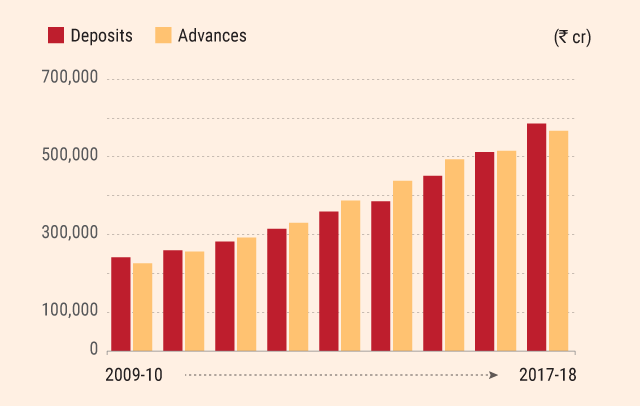 Under Kochhar, the bank did see some significant growth in advances and deposits. Its advances recorded 12.2% CAGR basis from just over Rs 2.25 trillion to a little under Rs 5.67 trillion while deposits posted annualised growth of 11.7% .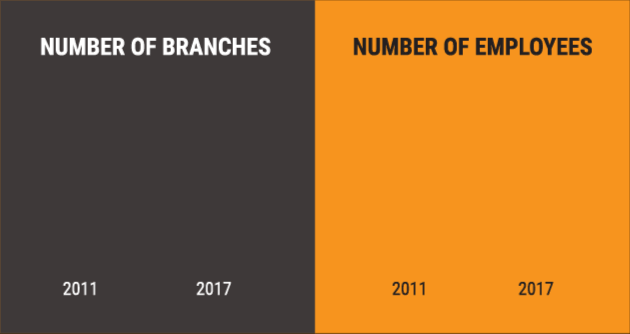 Kochhar's tenure also saw the bank's employee base swell from just under 57,000 to a little over 81,000, even as it added more than 2,300 branches during the period.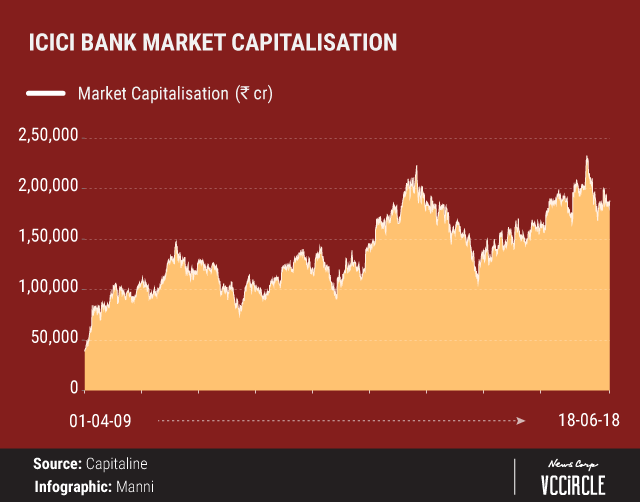 Around the time Kochhar took over the bank, it was valued at just under Rs 59,000 crore. As she goes on leave, the bank has a market capitalisation of around Rs 1.89 trillion. In fact, on at least three occasions--first in December 2014, then in January-February 2015 and then again in November 2017--it saw its market value go past the Rs 2 trillion mark.
The bank's market value may have tripled during Kochhar's tenure, but main rival HDFC Bank is now worth almost three times more at Rs 5.3 trillion. That, however, is a story for another day.