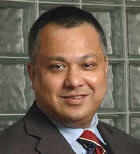 IDFC Project Equity Company Ltd, a 100% subsidiary of Infrastructure Development Finance Company Limited (IDFC), which currently manages the $900-million India Infrastructure Fund, is looking at listing the Fund on the bourses to provide liquidity or an exit option for its institutional investors.
The fund is looking at a capital market debut once it has fully invested the corpus. So far, it has invested about one-third of the corpus across five projects. The stock market route will perhaps be the primary mode of exit for investors in the two-year-old fund.
"We will look at listing the fund. We might never exit our portfolio companies," said M K Sinha (in pic), President & CEO, IDFC Project Equity. This exit option is part of the fund's mandate with the institutional investors, he told VCCircle.
If IDFC Project equity is not able to list the fund, it will look at other options like selling the project (stakes) back to the promoter or listing the SPVs (portfolio companies) on the public equity markets, Sinha says.
India Infrastructure Fund invests only in core sector projects in roads, ports, highways and power as opposed to infrastructure-enabling sectors, which are a favourite with many private equity players. As a project investor, the fund invests only at the SPV (special project vehicle) level of private sector projects.
"Infrastructure is a separate asset class requiring long-term patient capital," Sinha says. While there are a host of funds targeting the infrastructure space, IDFC Project Equity is perhaps the only India-focussed project equity investor in the classical sense. The other foreign fund entrants include SBI Macquarie Infrastructure Management Pvt Ltd , 3i Group plc and Actis Capital.
The institutional investors in the fund understand the risks and rewards associated with it, he adds.
IDFC Project Equity eyes returns in the range of 18-20% on investments made from the fund. The Fund targets only those projects where it can earn the "first dividend cheque in three years." The fund, which has so far focused on roads and power, is now actively looking at ports.
IDFC Project Equity--which emerged as the most prolific investor in 2009 (according to data from VCCEdge, the financial research platform of VCCircle)--prefers to remain on the sidelines as the public equity markets have rebounded negatively impacting private market valuations.
In its largest deal, the Fund announced an investment of Rs 350 crore in Essar Power to part-fund the equity for its ongoing projects. It also invested Rs 250 crore in alloy steel producer Adhunik Metaliks Ltd's power subsidiary Adhunik Power and Natural Resources Ltd, which is setting up a Rs 2,650-crore power plant. Along with IDFC, the project equity arm contributed to the equity portion of GMR's Kamalanga Energy SPV. In the highway sector, it has invested in Sabarmati Gas Ltd ($16 million) and Ashoka Highways ($50 million).