The initial public offering of state-owned Housing and Urban Development Corporation Ltd (Hudco) was covered almost 80 times on the final day of the issue on Thursday.
The housing and urban infrastructure financier's offering of nearly 204.05 million shares had received bids for almost 16.22 billion shares by late evening, stock-exchange data showed. This translates into bids worth Rs 97,274 crore – the third-highest for an IPO of a state-run company.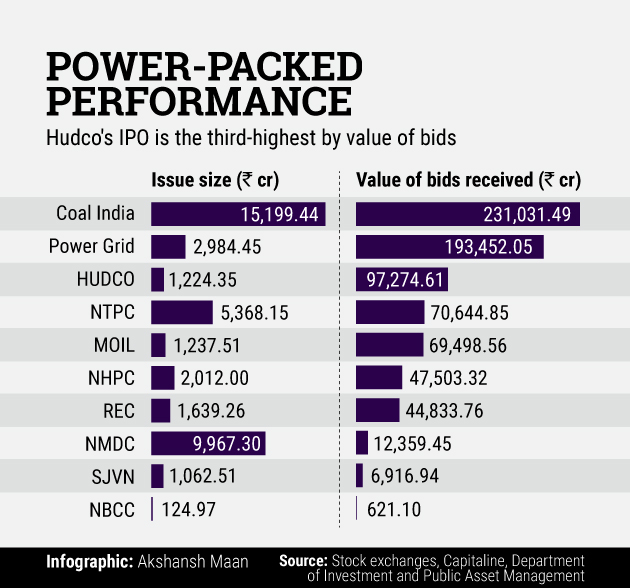 Counting of bids continued till late in the evening as the government extended the bidding time till 9 pm, two people familiar with the matter said.
Hudco joins stock-exchange operator BSE Ltd, hypermarket chain operator Avenue Supermarts Ltd and publishing company S Chand & Co, whose public offerings also received strong investor response this year.
The quota for retail investors—whose investments cannot exceed Rs 2 lakh each—was subscribed about 11 times.
The quota of shares reserved for institutional buyers was subscribed 55.5 times while that of the non-institutional investors, such as corporate houses and wealthy individuals, was covered 330 times.
On the grey market, Hudco shares were quoting at a premium of Rs 32-34 apiece over its price band, compared with Rs 27-28 apiece earlier in the week, two grey market dealers told VCCircle. The company had fixed the price band at Rs 56-60 apiece.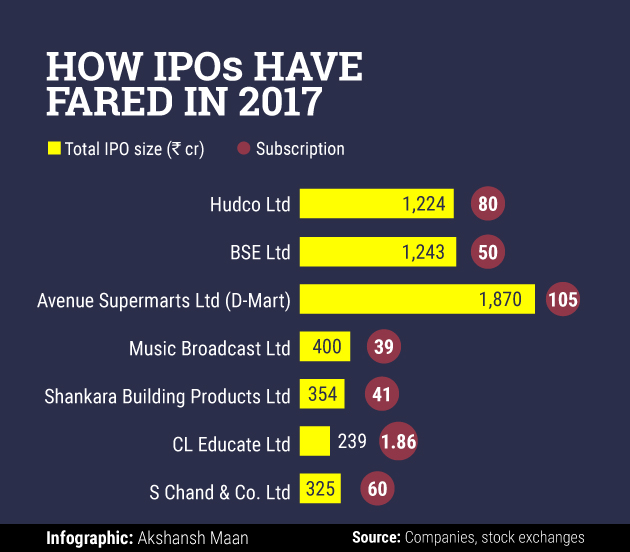 The grey market is an over-the-counter market where IPO shares are traded before the official listing on a stock exchange.
Hudco was seeking a valuation of Rs 12,011.4 crore ($1.87 billion) through the IPO.
The government is divesting a 10.2% stake through the IPO. It hopes to raise Rs 1,224.35 crore at the upper end of the price band. The company is not selling any fresh shares.
Hudco had filed the draft red herring prospectus for the initial share sale on 2 January, and received clearance from the Securities and Exchange Board of India on 10 March.
The IPO is part of the government's record disinvestment programme through which it is looking to raise Rs 72,500 crore in 2017-18.
Of the total, the Centre aims to garner Rs 46,500 crore from minority stake sales in new listings as well as listed firms, Rs 15,000 crore from strategic sales and Rs 11,000 crore through listing of state-owned insurance companies, budget documents show.
Apart from Hudco, the government has initiated share sale in Cochin Shipyard Ltd, IRCTC, IRFC and Ircon International.