The fractious relationship between e-tailer Snapdeal and e-commerce-focussed logistics firm GoJavas is the startup version of the alleged affair between actors Hrithik Roshan and Kangana Ranaut—a surreptitious alliance gone awry and the parties involved now at each other's throats.
The latest episode in this volatile relationship came last week, when GoJavas' current promoter Anand Rai shot off a Rs 300 crore legal notice to Snapdeal and its founders Kunal Bahl and Rohit Bansal, accusing them of criminal breach of trust, siphoning off money and theft of confidential data. Snapdeal has called GoJavas' legal notice an attempt at extortion, and vowed "strict legal action".
The development came over three months after Snapdeal's parent Jasper Infotech Pvt. Ltd filed a case against the former promoters of GoJavas—Praveen Sinha, Randhir Singh and Ashish Chaudhary and Abhijeet Singh—alleging cheating, forgery, conspiracy, criminal breach of trust and misappropriation of funds.
This bickering follows happier times, of course.
Snapdeal first became a minority investor in GoJavas, incorporated as Quickdel Logististics Pvt. Ltd, by picking up a 20% stake in the company for $20 million and entering into a supply-chain partnership with it. The deal was announced in March 2015. The GoJavas version of the story is that Snapdeal had approached its promoters through founding member and COO Vijay Ghadge in late 2014. Also, the business partnership at the time of investment entailed Snapdeal providing 1.9 lakh packages a day for delivery.
By October 2015, Snapdeal had upped its stake in Gojavas to about 42% by investing another $20 million. Ghadge said the partnership with Snapdeal had helped the company become one of the largest independent logistics players in the country with a revenue run rate of Rs 500 crore.
Snapdeal, which recently downsized its workforce and pivoted its business model following the failure of its merger talks with rival Flipkart, was in contention for the top spot, competing with both Amazon and Flipkart. Realising its weakness in logistics, it set apart some $300 million to strengthen its supply chain. GoJavas investment was one part of it; the other was building an an in-house logistics arm.
Snapdeal appointed its senior executives Jayant Sood and Hardeep Mohinder Singh as nominees on the board of GoJavas.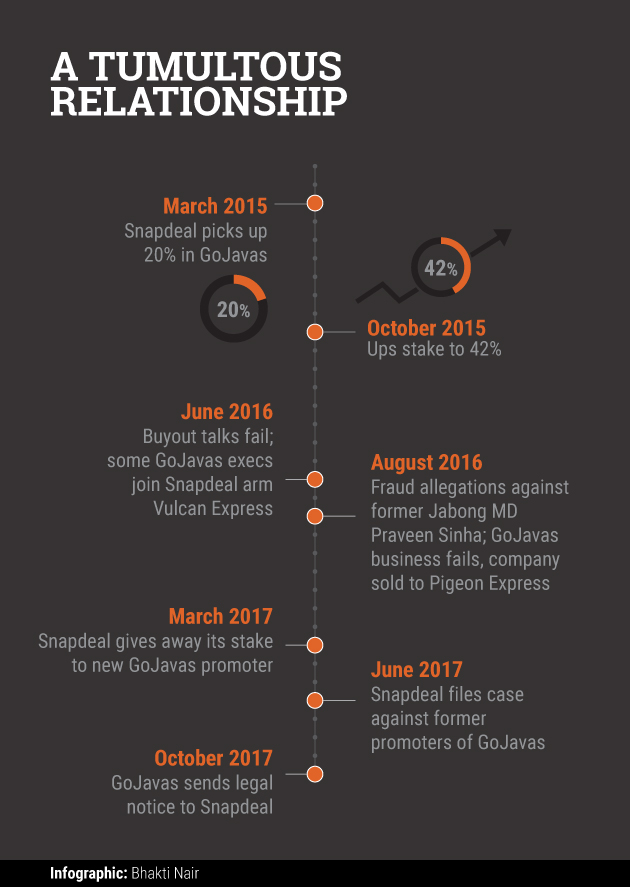 By mid-2016, stories of Snapdeal—already the single-largest shareholder in GoJavas—acquiring the firm and merging it with its in-house logistics arm, Vulcan Express, started doing the rounds. However, not only did the talks fail, but the parties involved also fell out.
Ghadge resigned from the company, and later joined Snapdeal's Vulcan Express in the same role. However, he left within a few months of joining.
GoJavas now alleges that about 100 of its employees were hired by Snapdeal for its own firm Vulcan in violation of a non-competing clause.
In a separate development, financial fraud allegations against GoJavas promoter Praveen Sinha surfaced around the same time. Sinha was co-founder and managing director at apparel e-tailer Jabong, and GoJavas was seen as Jabong's in-house logistics arm.
According to a report in news website The Ken, a forensic audit by PwC found the transfer of Jabong's logistics arm GoJavas to an entity controlled by Sinha, shares of which were later sold to Jasper Infotech. Sinha denied the allegations, which were first raised by anonymous twitter handle Unicon Baba.
The sudden loss of business from Snapdeal and Jabong put GoJavas under stress. The company changed hands, and Delhi-based courier firm Pigeon Express Pvt. Ltd became its new parent.
By March 2017, Snapdeal had given away its shares in GoJavas to the new promoter. However, the resentment persisted. Snapdeal filed a case against Sinha and other former promoters of GoJavas. The new promoter Anand Rai, who is seen close to Sinha, is now set to file a case against Snapdeal and its founders.
GoJavas' legal notice claims that after gaining knowledge of the company's business processes and stealing confidential information including employee and vendor data, Snapdeal illegally used them for the benefit of Vulcan Express. Other allegations are that Snapdeal used GoJvas to run tests such as 90-minute reverse pick-up and swipe on delivery, and siphoned off money to the tune of Rs 100 crore by raising fraudulent debit notes.
GoJavas alleges Snapdeal filled the logistics firm with its senior executives, who worked against the interests of the company. "Snapdeal had the mala fide intention of fully owning GoJavas at scrap value or move all businesses to its own subsidiary Vulcan," reads the legal notice.
A Snapdeal spokesman said in an emailed response that GoJavas and Anand Rai had, via a so-called Release and Settlement Agreement dated 31 March 2017, released Snapdeal and its executives from any liabilities arising out of the share purchase and logistics services agreements.
The spokesman also said that the legal notice issued on behalf of GoJavas is "not only baseless, but is also in direct contradiction" of the Release and Settlement Agreement. "We are contemplating initiating strict legal action against this frivolous attempt at extortion," he said.
Clearly, this bitterness is unlikely to disappear anytime soon. Just like a failed relationship leaves a bad taste in the mouth.