The number of startups that received angel or seed funding in the three months through September plunged to the lowest level in at least two years as investors remained wary of backing untested entrepreneurs.
The slowdown in angel and seed investments also dragged down overall venture capital funding in India during the third quarter of 2017, indicating that most startups are still struggling to attract investors even though a few larger companies have managed to mop up a big pile of money.
Overall, 90 angel and seed-stage funding deals took place between July and September, according to VCCEdge, the data research platform of VCCircle. This is down 53% from a year earlier and 17% from the preceding quarter. The total disclosed value of deals also fell by more than half, to about $46 million from $96 million a year earlier.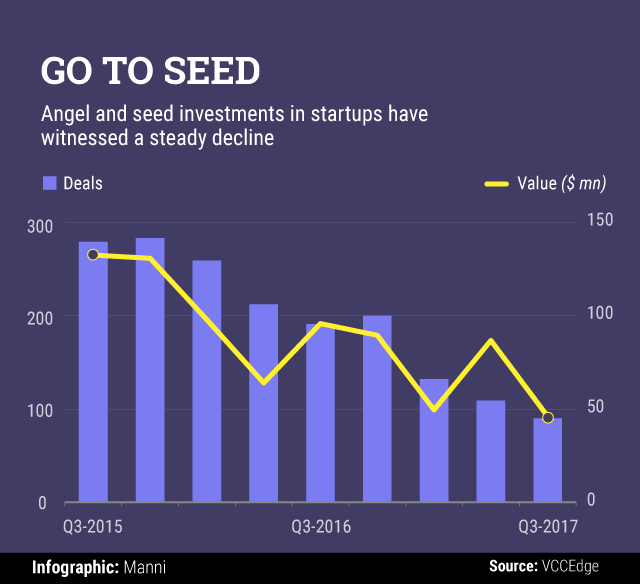 The situation looks even more dismal if we compare these numbers to those from the third quarter of 2015–as many as 279 deals worth $132 million.
In other words, while a startup received angel or seed money every seven hours on an average in 2015 and 11 hours in 2016, the last quarter clocked an average of over 24 hours.
The data does not factor out angel-funded startups that may have received venture funding, but the number of such ventures will be too small to skew the overall trend.
Angel and seed funding is critical for the startup ecosystem as it supports the ventures in their infancy – often at the product development stage. It is also the first funding cheque from external investors for most startups.
With startup founders finding it hard to get a cheque signed by early-stage investors, the number of venture capital deals across stages, too, declined to 157 in the July-September period from 181 in the previous quarter. The slump in investor interest was even starker given that the deal count stood at 315 in the year-ago period.
Angel and seed investors have remained cautious since July 2016. However, there has been an uptick in mid-stage deals and a steady flow of late-stage deals that have shored up the overall venture capital deal value. In all, the 157 VC deals in the third quarter were worth $974 million.
Rajat Tandon, president at industry body Indian Private Equity and Venture Capital Association, said that angel and seed-stage investors may seem to more cautious but are also getting wiser in choosing startups. So much so, that they are ready to invest more if they find a sustainable business model.
"Although the number of deals has declined now, the deal size in seed and angel rounds has increased. This probably indicates investors are becoming wiser with their choices," Tandon said.
Among the top deals in the July-September quarter, PrimaryIO Inc. raised $5.6 million (Rs 36 crore) from Accel India, Exfinity Venture Partners LLP and Partech Ventures. New Delhi-based Truxapp received $3.1 million in seed investment from the Dhoot family office and other investors while CropIn Technology Solutions raised $2.35 million from Beenext and others.
Of the startups that got angel or seed investment, 42 were Internet ventures and 11 were software-as-a-service providers. Four healthcare startups also got their first external funding cheques.
Among VC firms, Blume Ventures struck three early-stage deals. YourNest Capital Advisors, Beenext and Corvus Ventures clocked two investments each.