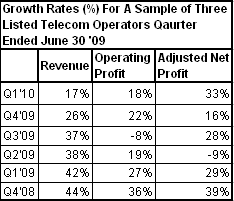 Growth is plateauing for the country's telecom services sector even as India continues to add a phenomenal 10 million plus new subscribers each month. A VCCircle analysis for a small sample of three companies (Bharti Airtel, Idea and Spice Comm) whose latest quarterly numbers are available, show that growth has slipped year on year significantly over the last five quarters.
Revenues growth of these three companies put together has fallen below 20% mark during the quarter ended June'09, for the first time over the last six quarters. More importantly sales growth(over Q1'09) has more than halved compared with the growth rate in the fourth quarter of 2007-08(over Q4'07).
The aggregate revenue growth for the same set of companies saw a high of 44% during Q4'08 and has been consistently slowing down ever since, grew just 17% last quarter.
WHY IS REVENUE GROWTH SLOWING?
The striking aspect of telecom growth story is slowing revenues even as absolute number of new subscribers is significantly high making it one of the most exciting markets around the world. This divergence is explained by dropping average revenue per user(ARPU) which is the average revenue generated by an operator from its subscribers.
Over the last few years the dropping ARPUs was due to sharp decline in call rates as competition forced companies to make a mobile call cheaper.
The telecom operators are hoping to get consumers to generate more income for them through non voice business which means data offerings and other value added services. Given the issue of lack of spectrum, which has pending for long, such services didn't gain as much traction.
But now with impending launch of 3G services telecom operators could hope to see their subscribers bring more money into their coffers. Whether this would be able to stem the slide in ARPUs will be seen but such services could surely be a game changer for mobile operators in terms of content consumption by a consumer.
BHARTI AND IDEA DURING THE QUARTER
Bharti Airtel, for instance, the country's largest mobile-phone operator, reported revenue that missed analyst estimates for the quarter. This was attributed to the firm adding more low-spending consumers in the rural areas. Given that a large number of new subscribers are coming in from rural markets this is unlikely to change in the near future.
Bharti added 8.44 million users during April-June, a little less than two thirds of those being part of rural and semi-urban markets. The company ended the last quarter with total wireless subscribers to 102.4 million. Its two top competitors Reliance Comm (yet to announce results) and Vodafone had about 80-85 million subscribers.
Bharti which is in the midst of a proposed merger with South Africa's MTN could possibly transform itself into an global operator with annual sales of $20 billion and having 200 million wireless subscribers across Africa and Asia.
Idea Cellular which acquired the operations of Spice Comm last year also lagged street expectations when it came to revenue growth even as it posted better-than-expected 13% rise in consolidated net profit, helped by lower interest costs and better earnings from its tower arm.
Revenues were hit by cut in call-termination charges and drop in ARPU which fell to Rs 232 from Rs 255 in the fourth quarter of last fiscal due to increased rural penetration. Idea closed the quarter with 47.1 million subscribers, including those of Spice Comm.
PROFITABILITY?
Operating profit of the three telecom companies in the sample have also shifted gears and slowed down over the last few quarters. After seeing as much as 36% jump in operating profit in Q4'08, the latest quarter numbers show aggregate operating profit grew just 18%. This is largely due to declining revenue growth rather than cost escalation.
But adjusted net profit (after excluding extraordinary items) has seen a rather pickup in growth. The aggregate net profit had declined in Q2'09 largely due to poor performance of Bharti Airtel.
Barring that particular quarter, the adjusted net profit growth for the sample had also been decelerating from 39% in Q4'08 to hit a low of just 16% growth in Q4'09. This picked up sharply in the last quarter which should come as a positive indicator for earnings growth of telecom firms. Profit growth more than doubled to 33% for the same set of firms in Q1'10.
Although profit growth has witnessed a pickup, reserves and surplus growth continued to slow down for Bharti Airtel. Data for reserves which is only available for Bharti Airtel has more than halved from 92% jump in reserves during Q4'08 over Q4'07 to just 39% last quarter over corresponding period last year. Bharti's reserves for instance stood at Rs 28457.72 crore($5.5 billion) at the end of June'09.