Mehak Sagar, a former risk analytics manager at financial services firm American Express, started fashion blogging in 2009. On a site called Peach and Blush, she would share beauty product reviews, and tips on everything from denim vests and lipsticks to skin care.
Five years and scores of posts later, when the Delhi School of Economics alumna was about to tie the knot, she realised the opportunity the wedding planning space offered. Whether it was finding a make-up artist, photographer or a suitable venue, the market was completely disorganised.
Sagar decided to find a solution to this information asymmetry. She established WedMeGood, a wedding planning portal, along with her husband Anand Shahani.
The Hyderabad-based startup connects prospective couples with over 3,000 vendors, and houses listings related to decor, jewellery brands, designer wear and catering firms. WedMeGood, which has a team of 25, had secured Rs 2.7 crore in seed funding from Indian Angel Network in 2015.
Making the switch from content publishing to a full-fledged business required learning and unlearning in equal measure. "When one runs a business, one needs to learn a lot about marketing, promotion and advertisements. When you're a blogger, everything you do reflects what you think...but with a business, what counts is people's opinions. We focus a lot on user reviews," Sagar says.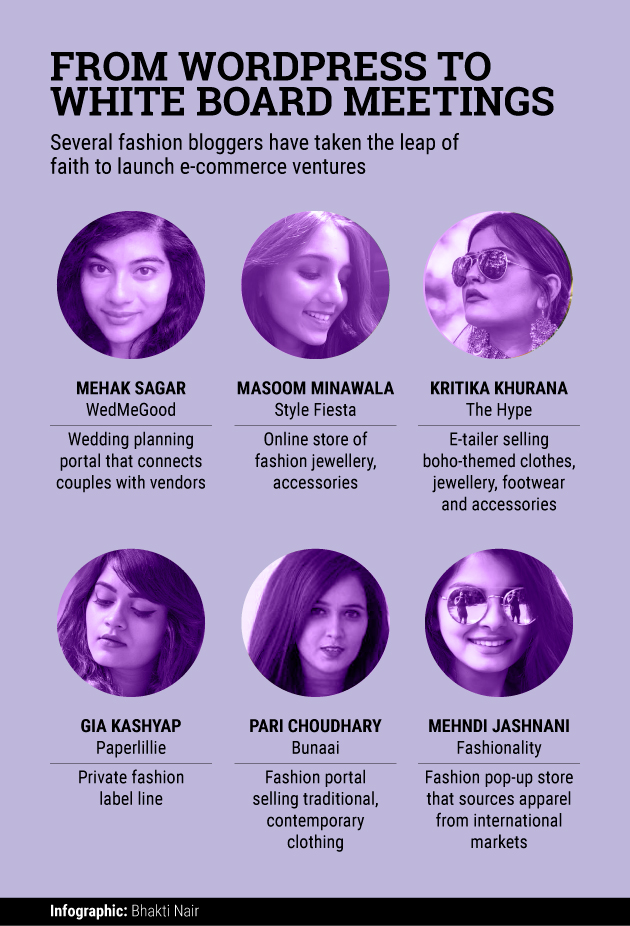 Being a blogger, however, has certain advantages, such as direct access to one's loyal user base. "You interact with your readers every day. It helps a lot," she explains.
Sagar is not alone. Several other fashion bloggers in India have turned entrepreneurs, distilling their learnings and internalising them to come up with new, exciting ventures (see graphic).
"I knew that I had a certain number of readers and followers...After three years of blogging, I started my own business," says Masoom Minawala, who started high-street e-commerce label Style Fiesta in 2012. On Style Fiesta, Minawala sells jewellery, accessories and fringed bags, among other things. The merchandise is curated in a way that it resonates with her personal style.
A funded startup, Style Fiesta is based in Mumbai and currently run by a team of six people.
For Minawala, investing in the right resources and hiring the right people are the biggest challenges. "It's important to understand the market you want to cater to and understand why your product is special," she explains.
Delhi-based Kritika Khurana's laidback fashion style inspired her to create her own label, The Hype. On the e-commerce platform, she sells boho-themed clothes, jewellery, footwear and accessories, among other things.
A lot of this blogging-to-entrepreneurship movement can be attributed to the rise of social media, with platforms like Instagram helping fashion bloggers amass massive online following. The fan base gives the bloggers a launchpad to build their brand. Besides, platforms like Instagram and Facebook have also helped many an entrepreneur market and sell their products directly to their target audience.
Another edge that bloggers have is that their content marketing is effective and targeted, and they don't have to spend crucial capital winning customers.
Globally, too, there are several examples of bloggers and social media influencers floating their own ventures.
Milan-based Chiara Ferragni's blog, The Blonde Salad, paved the way for her label, the Chiara Ferragni Collection. It reportedly generates upwards of $15 million in annual revenue.
Similarly, Argentinian-Italian blogger Nicole Guerriero's skincare line Best Damn Beauty had become an instant hit among her followers.
California blogger Julie Sarinana, or Sincerely Jules (as she is famously known on Instagram), sells a clothing line that mostly comprises laidback apparel, such as joggers, tank tops and hoodies. Sincerely Jules has over 4.6 million followers on Instagram.
Besides, many Indian bloggers have set up vlogs (short for video blogs) and YouTube channels to showcase their personal styles.
Fashion blogging might still be nascent in India, but its virality potential is encouraging bloggers to look beyond becoming Internet phenomena. That could be a great sign for a country with a sizeable young demographic and rising fashion consciousness.