Private hospital operators need to move from an 'entrepreneurial, intuitive approach' toward a more structured approach to improve performance, professional services firm Alvarez & Marsal says in a report. 
The report, titled 'Unlocking value creation opportunities in Indian hospitals', underlines the challenges that hospital operators face in improving efficiencies as they grow and suggests ways to improve their financial performance. The report was released at the News Corp VCCircle Healthcare Investment Summit in Mumbai.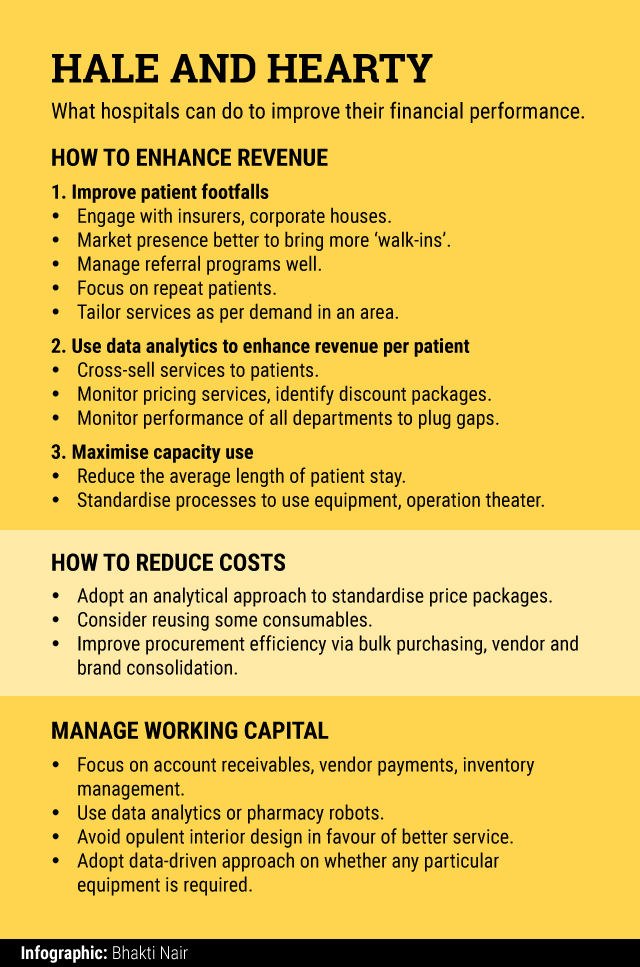 "The healthcare sector has seen a profusion of private equity investment over the last five years, and many of these investors will push for attractive returns on their exits in the next few years. This, in many cases, will be an additional driver for exploration of more rational, structured means for improving hospital performance," says the report.
The report, authored by Kaustav Ganguli, Gurjit Singh and Ram Panda, classifies typical pain points that hospitals face into three buckets: (i) ways hospitals can enhance revenue, (ii) how they can reduce cost, and (iii) how they should manage working capital. 
It also says that hospitals should focus on knowing what their customers want and tailor their services accordingly. Hospitals should not rely only on referrals but also need to market their services better, it adds.
"Actual improvement in performance is about doing many small things right – each of which incrementally leads to an impact that is bigger than the sum of those individual steps," it says.
Like this report? Sign up for our daily newsletter to get our top reports.