Blockbuster initial public offerings and significant private equity interest marked an action-packed period for the healthcare industry this year, but warnings by the US drug regulator for several pharmaceutical companies and regulatory disappointment for the medical devices sector spoiled the mood.
The sector also has several other positive highlights to look back on, including a billion-dollar inbound acquisition in the pharmaceuticals segment involving a Chinese investor, a big multispecialty hospital deal, the emergence of startups and easing of rules to attract foreign investment in pharmaceuticals companies.
"Rapid changes in the Indian healthcare sector and tailwinds to propel the sector to the next level were very evident in 2016," said Vishal Bali, senior healthcare adviser for TPG Growth in India.
Most government policies for the sector have been progressive, barring minor blips and this year was no different, said Amit Varma, managing partner at healthcare-focused fund Quadria Capital.
Here's a snapshot of how the healthcare sector shaped up during the year:
Riding the primary market wave
Healthcare firms have been riding on robust primary markets, which have had a glorious run ever since the BJP-led government came to power in 2014.
Syngene International, the research arm of Biocon, set the tone last year with a blockbuster IPO. This was followed by IPOs of diagnostics chain Dr Lal PathLabs and drugmaker Alkem Laboratories in December 2015.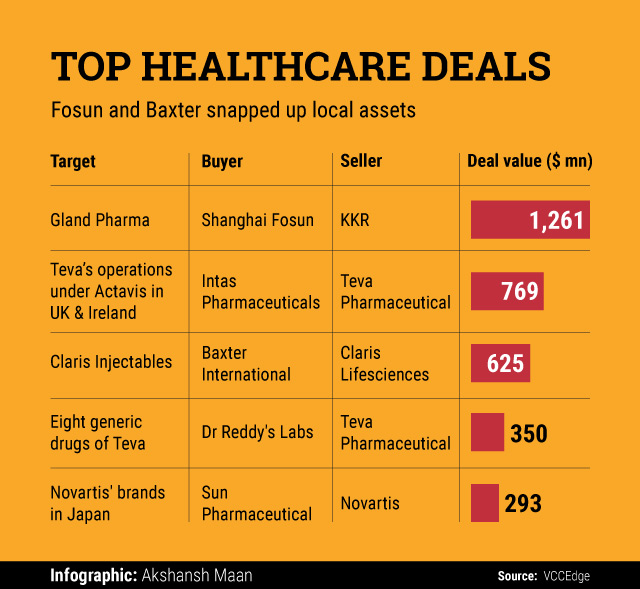 This year, multispecialty hospital chain Narayana Hrudayalaya, oncology chain Healthcare Global Enterprises (HCG), diagnostics chain Thyrocare Technologies and pharmaceuticals company Laurus Labs all tapped into the primary markets. This not only increased the representation of healthcare companies in the equity markets but also diversified the portfolio of healthcare firms on the exchanges that have long been dominated by pharmaceuticals companies.
"The under-representation of healthcare stocks in the Indian equity markets and high growth potential of the sector led to the wave of successful IPOs during the year," said TPG's Bali, who is also chairman of home healthcare provider Medwell Ventures.
Strategic deals, consumer healthcare push
Pharmaceuticals companies stitched strategic deals during the year, both in the domestic and overseas markets, while private equity firms bet on healthcare delivery companies.
"The year 2016 saw a high level of interest from the PE sector in the healthcare delivery space whereas pharma, as usual, was dominated by strategic deals," said Quadria's Varma.
The pharmaceuticals segment is more complicated, so funds tend to stay away from it while healthcare delivery is a more straightforward line of business, Varma said. In terms of value, deals in the pharmaceuticals segment will remain higher while the delivery side prevails in terms of volume, he said.
Thus, the top deals during the year were strategic in nature in the pharmaceuticals segment.
In the biggest inbound deal this year, China's Fosun Pharmaceuticals (Group) Co. Ltd acquired a majority stake in Hyderabad-based Gland Pharma Ltd from PE firm KKR and the company's founders. In the largest outbound deal this year, Temasek-backed Intas Pharmaceuticals acquired Teva Pharmaceuticals' assets and operations of Actavis Generics in the UK and Ireland. This marked the second-biggest overseas acquisition by an Indian pharmaceutical company ever.
In similar deals, Dr Reddy's, Cipla and Aurobindo Pharma bought products of Teva in the US. Teva has been divesting its assets in the US and Europe to comply with regulatory norms. Besides, India's biggest drugmaker Sun Pharmaceuticals acquired 14 prescription brands from Swiss firm Novartis AG in Japan for $293 million to establish a strong footprint in the world's second-largest pharmaceutical market.
Meanwhile, Indian firms made renewed bids to enter or expand their consumer healthcare and over-the-counter (OTC) business. Cipla cleared all regulatory hurdles earlier this year to formally float its consumer healthcare business, which is backed by PE firm Eight Roads Ventures. Piramal Enterprises Ltd bought brands from drugmaker Pfizer and Dr Reddy's Laboratories Ltd acquired a half dozen OTC brands from American drugmaker Ducere Pharma to expand their consumer healthcare business.
The biggest challenge the sector faced was that the US FDA continued to warn Indian drugmakers, which supply about 40% of the generic drugs sold in the US, over quality issues. In a recent development, the regulator again raised concerns about quality issues at Sun Pharma's Halol plant.
Multispecialty and single-specialty firms
The year belonged to the single-specialty sector beginning with the investment in eye-care chain Dr Agarwal's Eye Hospital Ltd by Hong Kong-based PE firm ADV Partners in January. Mother- and child care segment and oncology sector also attracted funding with investments in Motherhood and Cancer Treatment Services International, respectively, this year by TPG Growth.
The in-vitro fertilisation (IVF) segment also attracted PE investment with India Life Sciences Fund II investing in Oasis Centre for Reproductive Medicine. Meanwhile, dental chains like Axiss Dental are looking to raise fresh funds.
Multispecialty hospitals enhanced their presence with Dubai-based PE firm Abraaj Group buying a majority stake in Hyderabad-based CARE Hospitals from PE firm Advent International. Regional multi-specialty hospitals including Cygnus Medicare and Asian Institute of Medical Sciences are also looking to raise funds.
"The year 2016 reflects that investors are interested in both multispecialty and single-specialty hospital networks," TPG's Bali said.
The government's move to raise the FDI limit in existing pharmaceutical companies through the automatic route was widely welcomed as it is likely to boost M&As and private sector investments.
In a negative for some IVF companies, the government approved a bill to ban commercial surrogacy in the country. The bill is yet to be passed by Parliament. However, IVF firm Medicover Fertility's CEO Gaurav Malhotra recently said that though the ban has affected some companies, it ends the regulatory uncertainty which is good for the sector and investors.
The government also banned more than 300 fixed dose combination (FDC) drugs earlier this year, which impacted companies including Pfizer and Sun Pharma but the ban was overturned by the Delhi High Court recently. The government can still challenge the court order before the companies could claim a victory.
The biggest miss in terms of policy was the final guidelines on the long-standing demand of the medical devices sector to delink it from the pharmaceutical industry. The policy is likely to pave the way for greater investment and R&D in the segment. Industry experts expect the policy to be out next year.
While the number of funding rounds in startups fell from the highs of last year, the sector continued to attract investments.
TPG's Bali said Indian healthcare startups continue to show traction guided by disruptive thinking in new healthcare delivery models, technology-enabled online healthcare services, med-tech and diagnostics with more than 73 deals amounting to $113.45 million of funding.
"These startups are on course to create the next level of evolution in the Indian healthcare ecosystem by pushing for higher accessibility and affordability," he said.
Notably, online pharmacies continued to attract investment with the largest player, 1mg, raising fresh funds despite regulatory uncertainty. Regulatory guidance on the sector was also awaited but is not out yet.