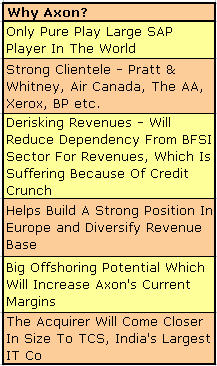 Here is a high octane corporate war brewing in the Indian IT sector. Indian tech company HCL Technologies Ltd. has made a direct challenge to Infosys Technologies by offering to buy U.K. software consultant Axon Group Plc. Noida based HCL has offered to pay about 441 million pounds ($814 million) in cash to Axon. This is much higher than 407.1 million pounds which is what Infosys offered to pay Axon on August 25.
Interestingly, Axon has issued a statement saying it welcomes HCL's intention to make an offer. "Board is pleased that HCL has recognised the quality of the Axon business and has decided to announce its intention to make an offer."
It further said: "Axon has entered into an inducement fee agreement with HCL under which Axon could be required to pay HCL a fee of 1% of the value of the HCL offer."
This means Axon will pay HCL Technologies 1% of the offered price if the deal fails. There will now be a 45-day period during which another company can make a bid.
HCL has offered to pay 650 pence a share, 8.3% more than the 600 pence offer by Infosys.
Infosys, on the other hand, made an announcement: It said it "is considering its position and urges Axon Shareholders to take no action at this time. A further announcement will be made in due course".
If the deal goes through, it would be the largest deal by an Indian IT company. Wipro Ltd. made the previous largest acquisition. It acquired Infocrossing Inc. for $548 million in 2007.
The management of Axon and HCL have been interacting since July this year, the press release quotes Ram Krishna, Corporate Vice President as saying.
Axon is an attractive target because of its expertise with products from SAP AG, according to HCL CEO Vineet Nayar. He said in a conference call today: "When it comes to SAP, they are if I'm not wrong the only pure play large player in the world," Nayar said. "Everybody else is subscale. Axon offers what I call size and scale and pure play, which is very important," Bloomberg quotes Nayar as saying. If the buyout is successful, HCL plans to delist Axon.
Following the announcement, Axon rose 48 pence, or 7.6%, to close at 682 pence in London trading, indicating investors are counting on a higher bid. The stock has traded above the Infosys offer since it was announced. The counterbid can jack up the share prices further. Axon shares hit a high of 955 pence earlier this year.
HCL Technologies has arranged a loan of 400 million pounds from Standard Chartered to finance the offer and will pay the balance from its own reserves if the deal succeeds, the report quoted Nayar as saying. Apart from this HCL is also sitting on cash surplus of $560 million.