Deal Upsides
- GTL Infrastructure to get incremental revenue to the tune of Rs 700-750 crore. GTL Infra FY09 revenue was Rs 220 crore and is expected to increase to Rs 350 crore in FY10.
Aircel will provide a further tenancy of 20,000 over the next three years, leading to incremental revenue growth.
Scale advantages in employee, marketing and admininstration areas.
Deal Downsides
The deal will increase the leverage. GTLI has a net debt of around Rs 2,300 crore and a net debt-to-equity of ~1.7x.
Bottom line losses will increase as interest charges and depreciation goes up.
----------------------------------------------------------------------------------------------------------
In the largest M&A transaction in India in the last 14 months, GTL Infrastructure Ltd has said, it will acquire telecom tower assets of Aircel Ltd for Rs 8,400 crore ($1.84 billion) through a Special Purpose Vehicle (SPV).
The deal, which will make GTL Infra the world's largest independent telecom tower firm, will give the company an additional 17,500 telecom towers taking its total portfolio to 32,500.
The deal is also the largest in the passive infrastructure space apart from being the largest M&A transaction in recent times. The last bulge-bracket deal happened when Japan's NTT DoCoMo Inc picked up 26% stake in Tata Teleservices for $2.7 billion. The largest deal in tower infrastructure was Tata Tele's subsidiary tower firm Wireless TT Info-Services Ltd's (WTTIL) merger with Quippo Telecom in a $489-million deal.
"This is the largest all cash asset purchase transaction in the Indian corporate history," said Manoj Tirodkar, chairman and MD of GTL Infra at the press conference. GTL Infra now plans an expansion in the rural areas and the deal is in line with same strategy, he added.
GTL Infra has a top line is Rs 220 crore (FY09) and net profit is Rs 2.8 crore, and this deal gets it Aircel as a customer with upto Rs 750 crore as incremental top line.
Analysts say that concerns remain on the leverage side even though the company has derisked the balance sheet by floating an SPV to finance this acquisition. Its current debt equity ratio stands at 1.2 which can reach to 2 on the consolidation of the SPV with the company, said an analyst who did not wish to be named.
However,  the management of GTL Infra denied any immediate plans of rolling up SPV with GTL Infra. "An SPV provides us the flexibility to implement the deal faster. It is too premature to say whether we will merge it with the parent company, we will do what is best for the stakeholders," said Tirodkar.
The deal has been funded through Rs 3,400 crore of equity and the rest is through debt, which has been arranged by SBI Caps from a consortium of banks. This consortium is expected to be led by State Bank of India (SBI), who VCCircle had earlier reported will fund this deal. GTL Infra has availed the loan from SBI for refinancing of Aircel's debt and for cash payout.
Last year, Aircel had raised Rs 10,000 crore loan from SBI. Out of the equity of portion of Rs 3,400 crore, GTL Infra will be contributing up to Rs 1,750 crore while the rest will be funded through by parent companies including GTL Ltd. "The current transaction will be entirely funded through internal accruals and we will not look at raising external debt in the immediate future through ECBs (external commercial borrowings). If at all, we will look at Global Holding Corporation Pvt. Ltd (Global group's holding firm), which is a non - debt company to support the transaction," said Tirodkar.
VCCircle broke the story that GTL Infra will buy Aircel's tower business and the deal would be announced this week. GTL took the deal away from rivals Quippo and Bharti Infratel, the other two short-listed bidders, in the last few weeks. Aircel, which has a $5-billion capital expenditure plan over the next three to five years, will use the funds to expand its telecom operations. Aircel is 74% owned by Malaysia's Maxis Communications. The Reddy family of Apollo Hospitals Group of India holds 26% in Aircel through its entity Sindya Securities & Investments Private Limited.
Aircel has also committed additional 20,000 sites to GTL Infrastructure over next three years, said the statement by GTL Infra. The Aircel tower acquisition is transformational transaction for us, said Tirodkar, who believes there is a huge headroom for growth.
The deal gives GTL a captive client in Aircel, who is expected to contribute at least Rs 700-750 crore in revenues each year. By FY2011, GTL Infra is expected to have recurring revenues of Rs 1,800 crore and an EBITDA of Rs 1,200 crore.
The Aircel tower business sale is in line with the growing deal activity in this space with consolidation being the name of the game. Besides, nearly half a dozen new telcos have entered the market this year whose business existing players are eyeing. The passive infrastructure firms are expected to further benefit after the introduction of WiMax and 3G.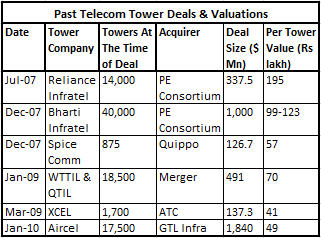 Telecom Towers: Falling Valuations
The present deal values between GTL-Aircel values each tower at Rs 48-49 lakh, signaling the trend of falling valuations of telecom towers since last year. Back in 2007 and early 2008, the Bharti Infratel Ltd and Reliance Infratel Ltd had valuations of between Rs 1.6 crore and Rs 2 crore per tower when they sold stake to private equity firm. The WTTIL and Quippo merger, which took place in early 2009, valued these at Rs 61-70 lakh. Though after this Nasdaq-listed American Tower Corporation (ATC) acquired companies at lower valuations, but these were smaller portfolios.