Godrej Consumer Products Ltd (GCPL) has acquired Soft & Gentle brand from Colgate-Palmolive in Britain through its subsidiary Keyline Brands Ltd for an undisclosed amount.
Adi Godrej, chairman, GCPL said the acquisition will add profitable scale to the company's UK business.
"Over the last few years, Keyline Brands has delivered good performance and grew in double digits in a very tough market environment that is witnessing little to no growth. Our UK business has historically had a higher mix of distributed brands than owned brands," he said.
GCPL has been working on changing the mix towards owned brands and building more scale in the business, according to Godrej.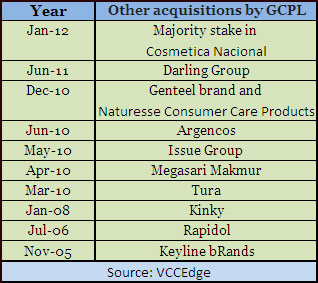 With the Soft & Gentle acquisition, the salience of owned brands will become greater than that of distributed brands. GCPL expects this acquisition to be accretive in the first year itself. With sales of £21 million in 2011, Soft & Gentle is Britain's fourth largest female deodorant brand by market share.
Anand Rangaswamy, managing director of Keyline Brands, said, "As the number four female deodorant brand in the UK (by market share), Soft & Gentle enjoys strong latent brand equity. We believe we can use the strong latent brand equity combined with updating the fragrance technology, developing further range extensions within the female personal care category and creating an integrated above the line support campaign to engage consumers and drive strong growth for the brand."
GCPL's consolidated net profit rose 25 per cent to Rs 159 crore in second quarter of the current fiscal. Revenue from international business has been boosting company's results and has grown faster than domestic sales.
In January, GCPL bought 60 per cent stake in Cosmetica Nacional, a market leader in hair colorant and cosmetics company in Chile that had sales of $36 million in 2011.
(Edited by Prem Udayabhanu)