In today's era, consumers have a vast range of options across all sectors, particularly in the retail and automotive industries. As a result, brands are crafting extensive product assortments customized for different segments of consumers to target, which has led to immense complexity in their demand and supply planning processes. Moreover, complexity increases further as the business scales up, especially in a geographically large country like India.
Multiple fronts contribute to this complexity, including sourcing and production of numerous products, inventory planning and management, fulfillment through various sales channels, and marketing and sales processes across multiple channels. In addition, unexpected disruptions such as the Covid-19 pandemic exacerbate the situation.
Outsourcing complexities: A key to success
Mature companies recognize that to succeed in the market, they must focus on their core competencies and outsource the rest of the complexities to experts. One such area is the supply chain and logistics, where companies seek collaboration with supply chain management companies in India who can work closely to build and deliver solutions to resolve supply chain complexities. The key selection criteria are understanding the company's requirements, experience of managing similar operations for other brands, the ability to innovate and manage critical situations, and expertise in managing inventory of comparable products.
Technology capabilities, an essential factor
Technology capabilities have become an essential factor in supply chain partners. As a result, supply chain management companies help their customers run their supply chains effectively and design tech solutions tailored to their unique problems while providing visibility and control over inventory and orders as they progress along the supply chain.
For over a decade, Holisol, one of India's leading supply chain solutions providers, has developed end-to-end tech-enabled solutions for the retail and automotive sectors. It manages complex supply chain solutions for over 200 customers across India by diving deep into their supply chains and creating solutions that resolve complexity on a large scale for omnichannel fulfillment, inbound and outbound supply chains, including exports. Holisol's tech stack digitalizes operations and solves complex supply chain planning issues such as production planning and control, finished goods allocation, demand-driven replenishment planning, automated end-to-end control towers, and more.
Product assortment customization for different consumer segments has led to increased complexity in demand and supply planning processes. Mature companies recognize that outsourcing complexities to experts who specialize in their respective fields are crucial to succeed in the market. Holisol's end-to-end tech-enabled solutions have benefited retail and automotive brands in managing complex supply chain solutions and providing visibility and control of inventory and orders as they move along the supply chain.
Holisol was founded in 2009 by Manish Ahuja, Naveen Rawat and Rahul S Dogar with a vision of empowering customers to achieve their business goals through their end-to-end supply chain management solutions. Today, it is a market leader, providing technology-enabled end-to-end supply chain logistics platforms for clients from fashion, lifestyle, beauty, personal care, e-
commerce, FMCG and auto. Holisol's solutions include omni-channel fulfillment for B2B and B2C retail. It is also an auto supply chain solutions that helps the auto sector, agriculture and the heavy engineering industry to optimise their supply chains. Its AI-ML-enabled supply chain and fulfilment tech solutions drive cost savings and efficiencies through the customer's end-to-end supply chains.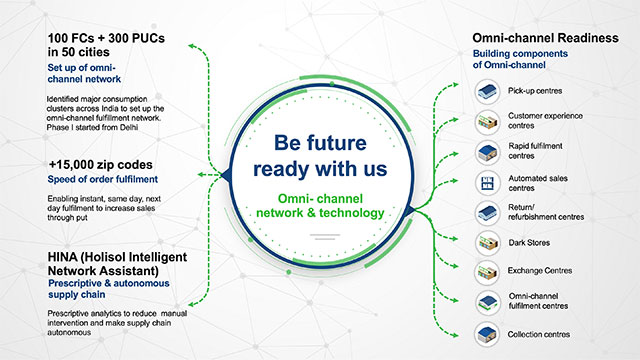 "Our value proposition is to operate like an extended arm of a customer; offering our ability to understand the need and propose design-implement-manage solutions which help them achieve their larger business objectives", says Rahul Dogar, MD and Co-Founder of Holisol. For further information, visit https://holisollogistics.com/
Brand Solutions is a marketing initiative for sponsored posts. No VCCircle journalist was involved in the creation of this content.