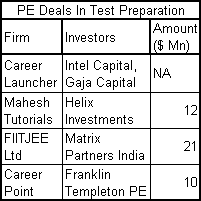 Franklin Templeton India's private equity arm has invested Rs 50 crore ($10.35 million) in test preparation firm Career Point Infosystems Ltd. The firm is based out of Kota in Rajasthan, and provides coaching for IIT-JEE, AIEEE and AIPMT exams. With this funding, Career Point will enter into Kindergarten to Grade-12 (K-12 School) and higher education (university) space, according to release.
This investment comes after Matrix Partners India's Rs 100 crore investment in FIITJEE Ltd, which also provides training for engineering entrance exams, earlier this month.
The investment in Career Point comes from Franklin Templeton Private Equity Strategy, a private equity portfolio managed by Franklin Templeton India and advised by Darby Asia Investors (India) Ltd. Darby is the private equity affiliate of Franklin Templeton, which raised an India-dedicated fund of Rs 630 crore last year with Franklin Templeton India. Deepa Sankaran, who heads Darby's India team, will join the board of Career Point.
India's education sector has continued to attract investments this year as PE & VC players look for their share in large non-cyclical opportunity. The private spending on education is increasing by 14% CAGR and is expected to reach $80 billion by 2012, says an IDFC-SSKI report.
Besides Career Point and FIITJEE, other test preparation firms which have raised funding are Career launcher and Mahesh Tutorials. The firm is headed by Pramod Maheshwari, the MD & CEO.
Career Point has also tied up with Kota's Global Public School to provide Synchro-School Programme. This programme integrates studies for academic and competitive examinations, starting from Class 8th. Global Public is owned by Career Point through a trust.
Career Point had 24,000 enrollments last year and has a presence in 29 cities through a mix of company run as well as franchisee operations.