India- and US-based pure-play analytics provider Fractal Analytics has acquired Mobius Innovations, a mobile-based context-aware Big Data startup based in Singapore, for an undisclosed sum. Mobius is a venture launched by Fractal's co-founder Nirmal Palaparthi in 2012.
"As consumers, we now expect companies we do business with to understand us people, know our context and help us solve our problem by offering us relevant products or information in real time," said Srikanth Velamakanni, co-founder and CEO of Fractal.
"Mobius acquisition will enable our clients to drive hyper-personalised customer conversations on mobile platforms through real time learning using customer context," he added.
Palaparthi launched the firm after quitting Fractal in 2012. An alumnus of IIM Ahmedabad and IIT Madras, he is currently working as a principal consultant at DBS Bank. In the past, Palaparthi had worked at SmithKline Beecham and Times Multimedia.
Mobius helps retailers and e-commerce companies create a personalised experience for their users on mobile by running machine-learning algorithms on user interaction history. It also creates a user profile by analysing users' social network data and combines all these with contextual information such as users' location, activity and time.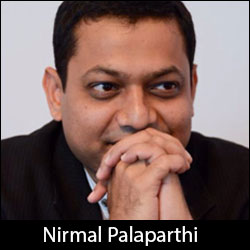 Its flagship product Contextudio is a context awareness platform that gathers information such as geo-location and open social media data and sentiments to strengthen customer intelligence. Contextudio also provides a mobile delivery app for iOS devices, enabling companies to personalise consumer offers in real time.
"As individuals, we live in a dynamic world where we are more than the sum of our stated preferences and transactions," said Palaparthi.
"We developed Mobius to enhance consumer intelligence based on when and where they are in their lives and at a given moment. This integration will help Fractal advance its innovative analytics platform to help serve the needs of clients around the globe," he added.
Fractal Analytics was founded in 2000 by a five-member team—Velamakanni, Pranay Agrawal, Nirmal Palaparthi, Pradeep Suryanarayan and Ramakrishna Reddy. It partners with consumer companies, retailers and financial institutions to understand, predict and influence consumer behaviour and improve marketing, pricing, supply chain, risk and claims management.
Fractal' flagship 'Customer Genomics' solution helps marketers learn complex customer behaviour at an individual level. Its solution learns from every transaction and customer interaction (including from social media), helping marketers build a complete view of individual customers. In addition, the company builds analytics solutions and forecasts business performance. Headquartered in the US Fractal has 13 offices across cities such as London, Mumbai, New Delhi, Singapore and Dubai. Fractal has clients in over 100 countries and currently employs 800 people.
In August last year, Aimia Inc., a Toronto Stock Exchange-listed company that provides loyalty management programmes to enterprises, had picked a minority stake in Fractal Analytics for an undisclosed amount.
In June 2013, Fractal had raised $25 million in funding from private equity investor TA Associates.
(Edited by Joby Puthuparampil Johnson)