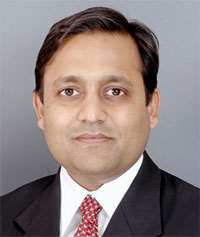 Shobhit Agarwal, a former senior executive at the Indian arm of global real estate consultancy firm Jones Lang LaSalle (JLL) Inc, has launched an investment banking firm called ANB Capital Advisors Pvt. Ltd.
Agarwal's new firm will focus exclusively on various asset classes of real estate. He had previously served as managing director (capital market) and international director at JLL India during a 17-year stay.
Headquartered in Mumbai, ANB Capital Advisors currently has a team of investment banking advisors who have worked in the industry for two decades.
The firm will operate across capital markets, corporate finance, hotels & hospitality, land, warehousing and logistics in India.
"The capital requirements in Indian real estate are immense," said Agarwal, who is managing director and chief executive officer of ANB Capital Advisors. "India still has a shortage of 18 million homes that requires $330 billion of construction funding. If we consider the larger sector beyond residential, the capital infusion requirements are virtually limitless."
The firm will work with developers, landowners, and those who provide capital including private equity funds, banks, insurance companies and financial institutions.
Agarwal's team will focus on structuring joint ventures, raising equity, debt advisory and guidance on disposals and acquisitions in core markets.
Agarwal said that intermediary services in the real estate space are limited and there is considerable scope for organised professional advisors.
According to Agarwal, quality office assets available at attractive valuations currently attract the majority of equity investments.
"Residential will continue to look for financing options till equity investors focus more on this sector. In the GST (Goods and Services Tax) era, there is also a lot of interest in warehousing and logistics," he said. "If REITs (Real Estate Investment Trusts) launch this year, we can certainly surpass the 2016 numbers with room to spare."
Since then, a slew of senior executives have left JLL India to either join Puri's firm or to start their own ventures.
Recently, Santhosh Kumar was named group vice chairman of ANAROCK. Kumar was previously chief executive officer of operations at JLL India.