Foreigners were net sellers in emerging Asia ex-China equity markets in March, hit by a banking crisis in the West while reduced demand from developed markets slowed business activity.
Data from stock exchanges in India, Indonesia, the Philippines, South Korea, Taiwan, Thailand and Vietnam showed foreigners exited from a net $906 million of equities in March, for their biggest such sales since December 2022.
South Korea and Taiwan suffered a foreign outflow of $686 million and $91 million, respectively, last month.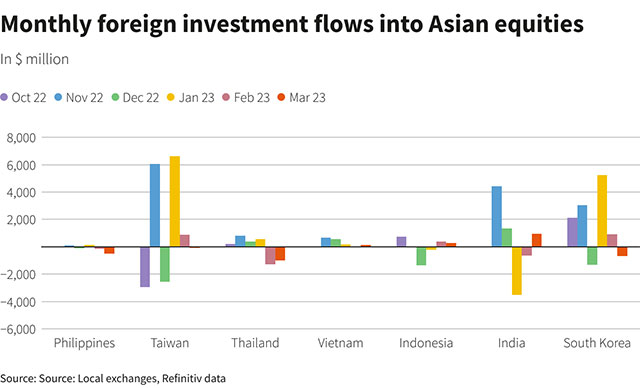 Alicia Garcia-Herrero, chief economist for Asia-Pacific at Natixis, said apart from risk aversion due to banking problems in the US and Europe, weaker Asia PMIs for March and poor data from China were also behind the regional outflows.
Asia's factory activity weakened in March as soft overseas demand hurt output, surveys showed on Monday, suggesting that a deteriorating global outlook will remain a drag on the region's recovery and keep policymakers on their toes.
Investors also withdrew $1 billion from Thai equities last month after removing $1.3 billion in February on caution ahead of elections.
"If we look at the past five elections, Thai equities have followed a consistent trading pattern, underperforming up to three months ahead of elections and subsequently outperforming," said Aman Patel, an investment strategist at Credit Suisse.
However, Indian, Indonesian and Vietnamese equities drew $967 million, $273 million and $129 million worth of foreign capital, respectively, last month.
"Risk appetite is still weak, and the U.S. dollar needs to break to lower levels for foreign institutional investors (FIIs) to build more exposure," Credit Suisse's Patel said.