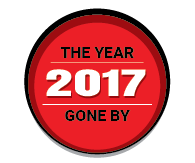 Private equity and venture capital deal activity in India decelerated in 2017, recording the sharpest-ever decline in the number of transactions, but a few large deals catapulted the flow of money to an all-time high.
The total number of private investment deals, including PE, VC and angel/seed investments fell 36% to 1,056 transactions this year, provisional data from VCCEdge, the research platform of News Corp VCCircle, for deals struck till December 18 show.
This is the lowest number of such transactions in the last four years and surpassed the previous big slide in the number of deals in 2009 when dealmaking had declined 29% in the aftermath of Lehman Brothers' collapse in September 2008 and the subsequent global financial crisis.
On the flip side, despite the gush of initial public offerings (IPOs) in the capital market that created an alternative channel for firms to raise money, the total amount of private investment hit a new high with $24.9 billion worth of transactions being announced this year. This surpassed the previous best recorded in 2015 when startups were a hot commodity and VCs fell over each other to back them, pushing up deal values.
The contrast picture between the value and volume of deals is explained by a clutch of large transactions in sectors such as e-commerce, banking, telecom tower and real estate that propped up the total value of private investments in the country. Factoring out the outliers, the view from the lens of the number of transactions—or the firms that got money—2017 marked another year where investors tightened their purse strings.

The number of private equity deals involving mature companies—growth equity as well as control deals—continued to slide in line with the trend for previous years and VC firms turned more cautious in backing startups.
However, the starkest picture was observed in the angel/seed funding stage. Angel/seed funding, which typically captures the first set of external funding for budding business ideas, more than halved this year. This, in particular, pulled down the overall number of startups getting funded to 771 as against more than 1,200 in 2016.
Japanese telecom and Internet conglomerate SoftBank was party to three major private investments this year. It invested in mobile wallet company Paytm and led a large investment in e-commerce major Flipkart and in cab aggregator Ola along with Tencent Holdings.
Other major private equity investments during the year include around $1.5 billion investment in India's third-largest private sector bank, Axis Bank. Bain Capital and along with Capital Group invested in Axis Bank last month. Singapore sovereign wealth fund GIC also pitched in with the largest-ever PE deal in the real estate sector with a $1.3-billion bet on DLF Ltd's rental arm – DLF Cyber City Developers.
Private equity firm KKR and Canada Pension Plan Investment Board (CPPIB) also joined hands for a near-billion-dollar deal in Bharti Airtel's telecom tower arm, Bharti Infratel.
Overall, financials sectors saw the most private equity investment during the year attracting 113 transactions worth $8 billion. It was followed by the information technology and consumer discretionary sectors, with transactions worth $5.5 billion each. The IT sector, thanks to tech startups, recorded 507 deals and the consumer discretionary sector recorded 194 deals during the year.
M&As
The merger and acquisition counter, too, reported a slowdown as a string of big-ticket transactions—such as those between HDFC Life and Max Life, IDFC and Shriram groups and between Reliance Communications and Aircel—came unstuck.
During the year, India recorded 820 M&A deals worth $38.1 billion. This was the lowest in six years by number of deals. Last year had seen 1,048 M&A deals with aggregate announced value of $45.3 billion thanks to a number of billion-dollar-plus transactions in the oil and gas, cement and power sectors, among others.
This year the M&A counter was propped up mainly by the $23.2-billion merger decision of telecom biggies, Vodafone India and Idea, creating the country's biggest telecom player.
The telecom sector also saw another major M&A deal that was triggered by the Vodafone-Idea merger plan. Both the firms sold their telecom tower assets to ATC for a combined valuation of around $1.2 billion.
Another notable India-related deal involved Altran Technologies acquiring KKR-backed Aricent Inc. for $2 billion, providing KKR with a complete exit from its more than 10-year-old investment.
Although US incorporated, Aricent has a large chunk of business operations in India. When KKR had struck the deal in 2006, it was the first-of-its-kind leveraged buyout for a business with India assets.
Overall, the telecom sector was the most active sector in terms of M&As this year with deals worth $13.8 billion across 12 transactions. It was followed by the IT sector with 225 deals worth $4.4 billion and the financial sector with 104 deals worth $2 billion.
Deals are marked by the original date of announcement and a transaction that spills over to the next year—like Chinese company Fosun's acquisition of a majority stake in Gland Pharma originally announced in 2016—is counted in the preceding calendar year.