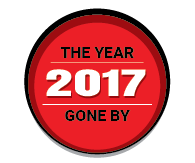 The food-tech sector in India went through a period of turmoil in 2015, when several startups had shut down, and a period of consolidation and correction last year. The situation turned for the better in 2017 as food-tech companies fine-tuned their business models and improved their unit economics.
The consolidation wave in the food-tech space saw as many as 24 mergers and acquisitions take place between 2015 and 2016. In 2017, two predominant models—restaurant marketplaces and cloud kitchens—evolved following the upheaval. The recovery was led by a reduction in delivery costs and increased penetration in existing markets.
"Consolidation is not negative, it is a sign of progression," Saurabh Kochhar, co-founder and chief executive of Foodpanda India, had said at a News Corp VCCircle summit this year, heralding a sign of things to come for the food delivery platform. Fast forward six months and homegrown cab-hailing major Ola agreed to acquire the Indian business of Foodpanda from its German parent Delivery Hero in an all-stock deal.
Ola's second shot at the food delivery business is one of the most significant developments in an industry that has been growing at a blistering pace over the past couple of years.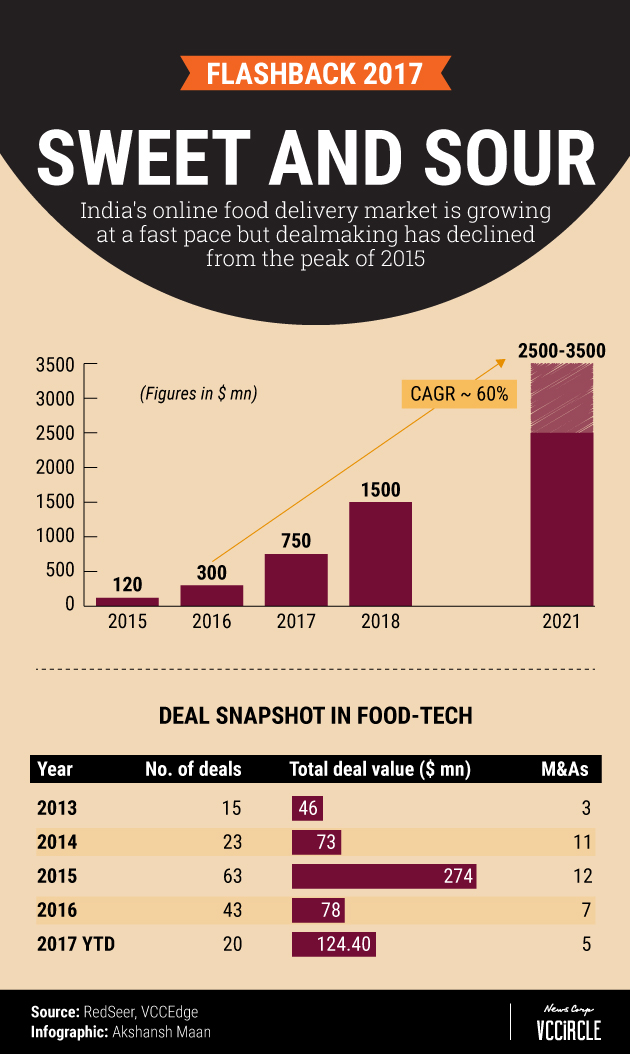 According to research and advisory firm RedSeer Consulting, the industry grew 150% from $120 million in 2015 to $300 million in gross merchandise value in 2016. The industry stayed at the same level in 2017 even as food-tech crawled back into a phase of revival from the rough days. According to RedSeer, the sector is on course to hit $1.5 billion by the end of 2018 and $2.5-3.5 billion by 2021.
Statistics from VCCEdge, the data research arm of News Corp VCCircle, corroborate this—the food delivery space saw 63 deals worth $274 million in 2015. The number of deals fell to 43 in 2016, amounting to a mere $78 million. Though 2017 saw 20 funding deals, the total cumulative value of those investments was $124 million.
Marketplaces versus cloud kitchens
A marketplace aggregates and advertises restaurants, besides deploying a tech-driven logistics infrastructure to deliver food. On the other hand, a cloud kitchen is a rather complex mechanism where operators attempt to build three components of food business—brand, tech infrastructure, and an entire logistics engine—to control the whole process in order to achieve profitability. Zomato, Swiggy and Foodpanda are the dominant marketplaces in India, while FreshMenu, Box8, Faasos and HolaChef are pure play cloud kitchens.
While Zomato and Swiggy continue to dominate the industry, Ola's commitment to inject $200 million into Foodpanda India to expand its business is likely to create a third strong player in the segment.
While Ola has the requisite capabilities in terms of logistics, network and on-ground infrastructure, it remains to be seen whether it can turn food delivery into a profitable business. Ola had launched two food-related initiatives in 2015 Ola Cafe and Ola Store, but the closed the verticals in 2016 to focus on its core business.
Food delivery and other food-tech companies in India typically operate on razor-thin margins. Foodpanda as well as its main rivals, Zomato and Swiggy, are making losses. Foodpanda, however, has lost less on every rupee in revenue than Zomato and Swiggy for the financial year through March 2017.
Late last month, Foodpanda had said its revenue for 2016-17 climbed to Rs 62.16 crore from Rs 37.81 crore the previous year, thanks to strong order growth in key markets. Losses narrowed sharply to Rs 44.81 crore from Rs 142.64 crore.
Bundl Technologies Pvt. Ltd, which runs Swiggy, clocked revenue of Rs 133 crore in 2016-17, a six-fold increase from Rs 20 crore the previous year. Its losses widened to Rs 205 crore in 2016-17 from Rs 137 crore the previous year as costs more than doubled. The three-year-old startup is one of the most promising food delivery players in the market currently.
According to several media reports in November, Japanese telecom and Internet conglomerate SoftBank was in discussions to invest around $200-250 million (Rs 1,288-1,610 crore) in the homegrown food delivery platform. Reports also indicated that Chinese e-tailer Alibaba also was exploring a possible investment in the firm along with its financial services affiliate Ant Financial.
Another media report in November suggested that Flipkart and Tencent were exploring options to co-invest $100 million into Swiggy. There were also reports of a potential Swiggy-Zomato merger.
Swiggy, which is one of the significantly funded startups in the food-tech space, has raised about $155.5 million so far. In May, it raised $80 million in a Series E round led by South African technology conglomerate Naspers. Swiggy is also backed by Accel India, SAIF Partners India, Bessemer Venture Partners, Harmony Partners and Norwest Venture Partners.
Zomato posted revenue of Rs 332.3 crore in 2016-17, up 81% from Rs 183.9 crore in 2015-16. It narrowed its losses to Rs 389 crore from Rs 590.1 crore. Zomato, however, is not just a food delivery company but also offers restaurant listings, table reservation and other services.
The year also saw cloud kitchen operator FreshMenu break into the top-five club of online food-ordering companies, thanks to an impressive increase in revenue for 2015-16. It got a fix on the cloud kitchen model much before most other food-tech startups, and stuck to it.
Companies in the food-tech space are increasingly moving towards integrated models with multiple monetisation channels. This is because the low ticket size of transactions, and high delivery, customer acquisition and operational costs make it very expensive to run a pure play food-tech business, Satish Meena, senior forecast analyst at Forrester Research, had told VCCircle. He believes a standalone food delivery business will be difficult to sustain, and 2018 will witness category consolidation, where companies will offer customers multiple products and services.
A case in point is Swiggy's recent launch of a new supply business vertical. The food delivery platform subsequently acqui-hired gourmet Asian food startup 48East to strengthen the new vertical.
Experts such as Meena and Anup Jain, managing director of retail consulting firm Redback Advisory Services, that VCCircle spoke to earlier are bullish on the proliferation of cloud kitchens in the new year.
Besides cloud kitchens, Meena and Jain expect business-to-business catering, packaged foods and the health food category to scale in 2018.
Jain also said he expects little investment at the growth and seed stage, with investors placing their bets on larger players in order to ensure sustainable business models.