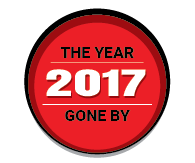 From being the darling of early-stage, venture capital and private equity investors in 2015, the ed-tech sector in India has been in free fall since then. From 44 early-stage deals in 2015, the sector saw only 16 deals in 2017. Venture capital funding also witnessed a similar drop.
Investor interest in ed-tech peaked in 2016, with startups securing a total deal value of $269 million for the year, data by VCCEdge, the research platform of News Corp VCCircle, show. This marked a significant increase from 2015, which saw $178 million worth investment flowing into the sector. However, the deal value witnessed a drop in 2017, with investors putting in a total of $162 million in ed-tech firms,.
Majority of the funding this year came from VC firms, who invested a total of $120 million, while angel and seed deals saw the least investments in terms of deal value, standing at $10 million, the data showed.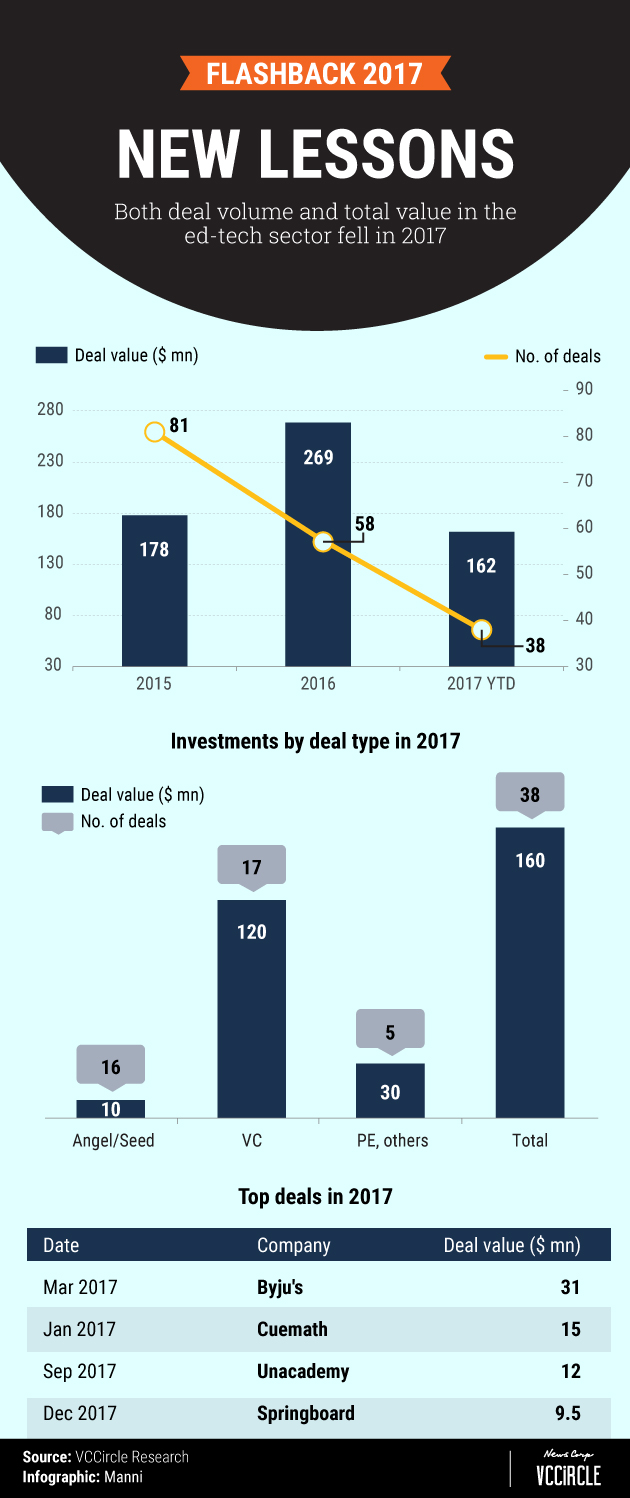 A large part of the fundraising in the past two years was dominated by Byju's.
2016 saw the Bangalore-based firm cash in some of the largest cheques in ed-tech. In September last year, it raised a whopping $50 million (Rs 332 crore) in a round led by Sequoia Capital and the Chan Zuckerberg Initiative (CZI), the philanthropic foundation of Facebook founder Mark Zuckerberg and wife Priscilla Chan. Times Internet Ltd, and existing investors Belgium-based Sofina and Lightspeed Ventures had also participated in the round.
A few months later, in December 2016, the International Finance Corporation, the World Bank's private-sector investment arm, put in $15 million in the ed-tech startup.
2017 was no different for Byju's as it continued to attract big ticket investments. In March, the startup raised about $30 million (Rs 195 crore) from Belgian family office Verlinvest. The round valued Byju's at around $700 million (Rs 4,252 crore). In July, Chinese Internet conglomerate Tencent Holdings put in around $35 million (Rs 225 crore) into the ed-tech company, valuing it at around $776 million (Rs 5,000 crore).
Till date, Byju's has raised around $200 million in funding.
Byju's has also been looking to expand itself in other areas of e-learning. To this end, in May, it was in final stage discussions to acquire Edurite Technologies Pvt Ltd, a division of online education company TutorVista, which was owned by British media group Pearson Plc. Pearson had paid around $175 million for TutorVista a few years ago.
Other ed-tech ventures that secured funds this year include exam preparation startup Unacademy. It raised $11.5 million (Rs 73 crore) in a Series B round led by Sequoia Capital India and SAIF Partners in September this year. Existing investors Nexus Venture Partners and Blume Ventures, and some angels also participated in the round. It had also raised $4.5 million (Rs 30 crore) in Series A round led by Nexus Venture Partners and existing investor Blume Ventures in January.
Springboard secured $9.5 million (Rs 62 crore) in a Series A funding round led by US-based early-stage venture capital firm Costanoa Ventures.
In January, math learning startup Cuemath raised $15 million (nearly Rs 102 crore) in a Series B round from CapitalG (formerly known as Google Capital) and existing investor Sequoia India.
In October, Toppr raised additional capital of Rs 45 crore (around $7 million) as part of its Series B funding round from existing investors SAIF Partners, Helion Ventures and FIL Capital Management, which is part of Eight Roads Ventures.
Another notable big-ticket investment in ed-tech went into executive education firm Eruditus, which raised Rs 53 crore ($8.2 million) in a Series B round from Bertelsmann India in April this year.
What stood out the most this year was that majority of the funding went into mature ed-tech startups. The year saw little investment going into early-stage ed-tech ventures.
Declining early-stage deals
The lack of early-stage funding in ed-tech could indicate that entrepreneurs are losing interest in the sector. Investors, however, assure that there are enough companies being founded by entrepreneurs. "We see a lot of interesting ideas. The problem is these are very early-stage firms and in education, it is a question of whether they can scale enough to be funded and also whether they can do it in a reasonable time frame," said Srikrishna Ramamoorthy, partner at Unitus Seed Fund, an early-stage impact fund focused on education, healthcare and fin-tech.
The government is still the largest player in the ed-tech sector, and entrepreneurs have a plethora of opportunities such as addressing the skill gap between education and industry, developing language, quantitative, and programming skills, and offering niche platforms to help teachers or lawyers, explained Ramamoorthy. "We are hopeful of finding entrepreneurs addressing the demands from underserved markets. There are several angel fundings happening but the preferred subsector seems to be K12," he added.
Education sector startups need to gain trust over time, says Anoop Polavaram, operating partner at Aspada Investments, another impact investment fund. "In 2015, companies and investors thought that ads could bring customers. The brand building takes years and you need to time the scaling up to perfection. Some of these brands in the offline and online world have been around for a generation. Byju's started offline and has been around for more than a decade," he says.
A 2017 joint study by consultancy firm KPMG and search giant Google showed that the online education market will touch $1.96 billion by 2021 from around $250 million in 2016. It predicts the growth to come from K12 education, test preparation, re-skilling, and online certification courses.
Globally, re-skilling and online certification are the largest categories. In India, K12 and test preparation dominate the market. "The first set of consumers are self-motivated and the second set, not so. Online education is not about content, and online teaching for the non-self-motivated consumer market is not a proven model yet globally. So, many Indian startups are challenging the fundamental thesis of education. You cannot have an online football team coach," says Mohan Kumar, executive director at Norwest Venture Partners.
Kumar of Norwest says that it will be years before these (ed-tech) startups can provide a long-term, robust and convincing financial model to investors. Byju's, however, seems to go against this. It has claimed to turn profitable and is targeting Rs 600 crore in revenue this year. It has reached 12 million students, while its paid subscription has touched 700,000 with renewal rates as high as 90%, the company said.
Polavaram says that ed-tech startups will grow slowly and will become profitable but they may not attract VC investments till they scale. "Funding will remain slow in 2018. The pedagogy has to keep up with today's requirement and there is an opportunity there. How fast that will happen, we cannot time it well," he says.