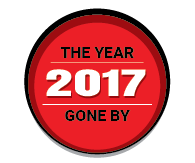 Indian entrepreneurs seeking funding for their new ventures faced greater difficulties in 2017, as the undoing of many well-funded tech startups in previous years and lack of exit opportunities made early-stage investors even more cautious than last year.
Overall, the number of startups getting their angel or seed money halved this year. In other words, startups received what is typically their first funding cheques every 20 hours on an average in 2017 compared with less than 10 hours in 2016.
This means the billion-dollar funding rounds in consumer Internet unicorns Flipkart, Paytm and Ola this year doesn't give an accurate picture of the overall startup ecosystem in India.
Provisional data from VCCEdge, the research arm of VCCircle, shows the number of angel and seed funding deals halved to 435 in 2017 from 901 in 2016. The total disclosed valued of these deals also fell sharply, to $245 million from $374 million.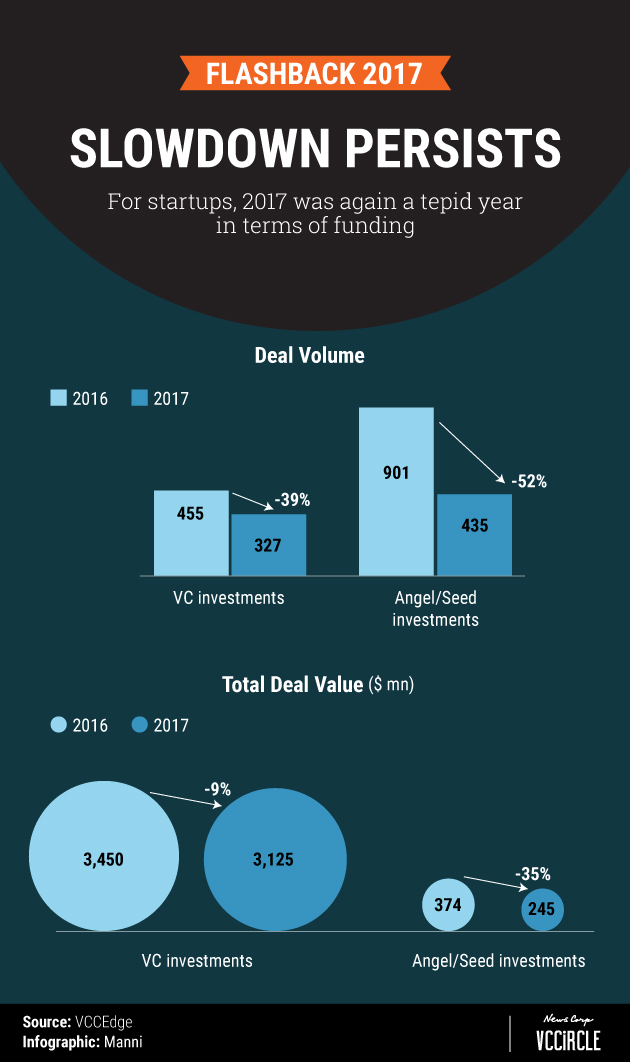 Angel and seed funding is critical for the startup ecosystem as it supports the ventures in their infancy – often at the product development stage. It is also the first funding cheque from external investors for most startups.
The number of venture capital deals dropped 40% to 327 in 2017 from 2016 while the aggregate value of such transactions decreased about 10% to $3.12 billion, indicating that investors are betting comparatively more money on fewer startups.
The data does not factor out angel-funded startups that may have received venture funding, but the number of such ventures will be too small to skew the overall trend.
Clearly, gone are the days of easy funding for startups. Many wealthy individuals, who had discovered startup funding as a new asset class in 2014 and 2015, seem to have burnt their fingers and withdrawn.
VC investors, who sit on millions of dollars of uninvested money, are taking a hard look at the business fundamentals of early-stage companies and spending far more time than before for writing cheques. A VCCircle analysis last month estimated that domestic VC and private equity funds are sitting on a dry powder of around $9.7 billion.
The fund crunch has also pulled down growth in the number of new startups emerging in India, according to a study by tech industry lobby group Nasscom earlier this year. According to the Nasscom-Zinnov study, around 1,000 new startups are estimated to have come up in 2017, significantly lower than than 1,400 last year.
A cross-section of VC investors and entrepreneurs VCCircle spoke to see this trend as a reflection of caution that prevails in the startup ecosystem.
"VCs have raised new funds. [But] investors have become selective," said Infosys co-founder Kris Gopalakrishnan, who is an active startup investor through his VC fund Axilor Ventures. "I don't see it as a problem. We had a period of exuberance in 2015 and its effects were there in 2016, too. 2017 brought some sanity," he said.
After a series of shutdowns, the focus of investors at the pre-series A, Series A and B levels is to work closely with their companies rather than expand their portfolio.
Mohan Kumar, executive director at Norwest Venture Partners, said that early stages are the toughest in India and startups take 12 to 15 years to enter the big league, if at all. "We now work with startups for up to 12 months before we invest in them," he added.
Also, for many VCs it is time to show some returns to their limited partners, or investors in their funds.
"Many funds are nearing the end of their term. So, general partners are busy with exits rather than new investments," said serial entrepreneur K Ganesh of Growthstory, which has BigBasket, Portea, Homelane, Bluestone and Housejoy in its portfolio.
Apoorv Ranjan Sharma, co-founder of the angel network Venture Catalysts, said that the VC ecosystem has been dormant due to a lack of exits. However, he expects new people making angel investments in Tier 2 and Tier 3 cities, and fresh interest in non-tech startups. Venture Catalysts made 33 investments this year against 14 in 2016, its debut year.
Norwest's Kumar said that instances such as angel investors in Ola making money had inspired many wealthy individuals to jump in. "They didn't see many startups fail. Now, there is a lot more scrutiny even for early-stage deals. Not many angels have it in them to do what it takes. You need patience in India when you are doing early-stage deals."