Investment activity in the real estate sector plummeted this year, in line with the overall slowdown in private funding and as the sector continues to struggle with weak demand.
According to provisional data from VCCEdge, the research platform of News Corp VCCircle, the sector attracted a total of $2.4 billion in 2016 across 122 transactions, down 54% in value terms and 40% in volume terms from 2015.
Capital flow had surged last year to a multi-year high of $5.3 billion as upbeat sentiment and the sector's long-term potential drew global sovereign wealth funds, pension funds and other investors.
The funding landscape in real estate continues to be dominated by debt. Of the total money the sector attracted in 2016, 81% came via debt. Developers used most of this debt to refinance existing borrowings.
Equity deals were the biggest casualty of the sluggishness in funding and debt players' aggression. In 2016, the sector received a paltry $488 million through such transactions, down almost 75% from last year.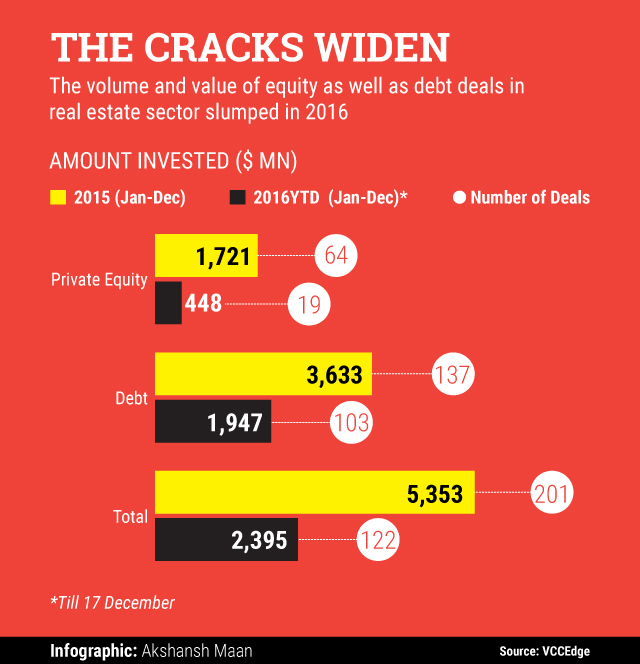 Interestingly, equity deals had made a strong comeback in 2015, with marquee global investors betting big on commercial as well as residential segments. A bunch of entity-level deals were sealed in the year gone by, raising hopes of revival in pure-play equity transactions. But that looks like a far cry now.
Given the cash crunch in the sector, non-bank finance companies have thrown their hat in the ring, giving stiff competition to equity investors. Over the past couple of quarters, the lending game has moved to commercial real estate as well, with some of the most active NBFCs adding rent-generating assets to their investment horizon.
The reliance on lenders has gone up so much that some of the biggest deals in the sector are now debt in nature, as opposed to equity deals a few years ago.
To be sure, the slowdown in capital flow into real estate is in tune with the drop in overall private equity and venture capital activity during the year.
According to data collated by VCCEdge through mid-December, the volume and value of PE and VC deals declined sharply in 2016, indicating that the slowdown was widespread. The only bright spot was angel and seed-level investment, with around 1,000 startups getting their first funding cheques.
Residential, commercial segments
Among the top deals in the residential segment, Piramal Fund Management, the real estate investment arm of Piramal Enterprises, backed Mumbai-based Lodha Group with a cheque for about $346 million across a bunch of projects.
In the commercial segment, Bangalore developer RMZ Corp bought Equinox Business Park in Mumbai from the realty arm of Essar Group for almost $353 million in one of the biggest property deals in rupee terms.
In another major deal, Dutch pension fund APG Asset Management bought three retail assets of Virtuous Retail, the mall management arm of The Xander Group, for around $300 million and agreed to invest $150 million more for new projects under a joint venture.
Global private equity giant Blackstone, which has one of the biggest portfolios of commercial assets in India and is trying to an encore in retail, clinched a deal for Seawoods property in Mumbai from L&T Realty for around Rs 1,400 crore.
Singapore sovereign wealth fund GIC, which has consistently ramped up its play in the Indian real estate market, bought around 50% stake in Viviana Mall in Thane for around Rs 1,000 crore.
The year also saw Mumbai-based developer Hiranandani Group agree in-principle to sell its commercial and retail assets in Powai to Canadian firm Brookfield Asset Management for a whopping $1 billion. The deal is yet to close.
Next year, the sector will see a mega deal when the promoter group of DLF Ltd sells its rental stake for anywhere between Rs 12,000 crore and Rs 14,000 crore.
Besides, in what shows the rising interest of Chinese developers and investors in the Indian market, business conglomerate Fosun Group is said to be in the process of setting up a real estate-focussed platform in India that will invest $1 billion through equity transactions.