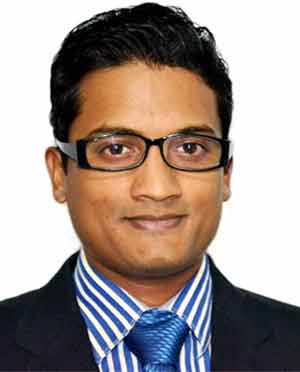 Mumbai-based Toflo Fintech Consulting Pvt Ltd, which runs an investment advisory and incubation platform for financial technology (fintech) startups under TOFlo, has raised seed funding, the company's founder Naveen Peter, told VCCircle.
Tania Johny Palathinkal, a business partner in another venture of Peter, put in $100,000 (Rs 65 lakh) in TOFlo.
The money raised will be used by TOFlo to launch an incubation and funding programme for startups in the financial technology space.
"The aim is to help startups which are working on fintech ideas. We will first help incubate them. We will also raise funding for some of them," Peter said.
Tania is a senior legal counsel at Singapore-based Unchartered Group. Since 2008, she has worked with companies such as Damo Resources Pvt Ltd, MC Corporate Services Pte Ltd, Godrej & Boyce Mfg Co Ltd and others.
Interestingly, both Peter and Tania are directors at Prime Hub Management Consulting Pvt Ltd, a firm that partners with angel investors to provide startup incubation services in Singapore and Mumbai. Peter did not give more details.
TOFlo, which claims to be India's first platform for fintech funding, will start its first incubation programme in October this year. About five startups will be selected from each incubation group as part of a process in which around 15 startups are expected to participate, Peter, who has worked with Deutsche Bank and JP Morgan Chase before, said.
"In the incubation programmes, we help the entrepreneur with all services that are required, including office space in Mumbai's Bandra Kurla Complex. While we will not charge anything from the fintech startups for incubation, they will be charged on the basis of the funds they raise, if they are selected for funding," Peter said.
TOFlo is already in talks with eight Indian startups for its services, he added.
The financial technology space has become a preferred one for venture capital and early stage investments in the country. There is heightened interest in this sector as several startups are using technology to disrupt the current systems of lending, borrowing, personal finance and financial inclusion in the country.
Recently, Bangalore-based Scripbox.Com India Pvt Ltd, which runs an online fintech portal Scripbox, raised Rs 16 crore ($2.49 million) in its Series A round of funding from Accel Partners and a group of angel investors. Prior to that, New Delhi-based IndiaLends raised an undisclosed amount in a pre-Series A round led by DSG Consumer Partners and angel investors including Siddharth Parekh.
In the last few years, several crowdfunding styled angel investor platforms have emerged with the aim of helping startups raise capital. Recently, GREX Alternative Investments Market Pvt Ltd, an integrated exchange-like platform that allows startups and unlisted companies raise capital from private investors, secured Rs 4 crore ($625,000) in its first round of fundraising from angel investor Kunal Bajaj, MSCI's Chandru Badrinarayanan and a group of unnamed private investors.