More than 250 entrepreneurs, CEOs and investors, many of whom are disrupting the Indian agriculture and food sector, will attend the 7th edition of the VCCircle Agri & Food Investment Summit on October 28. The summit will provide a platform for participants to discuss the emerging opportunities and evolving challenges in the sector. So, if you are among those who closely track the farm and food sector in India, make the most of this last opportunity and register now as very few seats are available.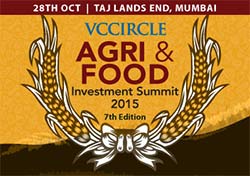 Here is the agenda and the list of speakers:
8:30 am - 9:30 am
Tea, networking and registration
9:30 am - 9:45 am
Introductory note
9:45 am – 10:15 am
Keynote address: "India's changing consumption basket: Are Indian agriculture and food businesses ready?"
By Ireena Vittal, business consultant and an expert on Indian agriculture and urban change
10:15 am – 11:05 am
Panel I: Back to the Beginning: Digital Innovations at the Farm Input Level
Digital innovations and technology can play an important role in the farm and food business by making processes more efficient and helping stakeholders adopt a more consumer-centric approach. The panel will discuss what disruptive actions are underway in the farm and food sector, how innovations help boost output and, in turn, make back-end and front-end linkages more efficient.
The panel will also discuss investment opportunities in farm technology and infrastructure including irrigation, and the groundwork required to make technology adoption more feasible and affordable. Besides, it will analyse how precision farming, micro and drift irrigation, applied farm analytics and adoption of information and communications technologies can increase farm productivity.
The panelists:
Krishna Kumar, Founder and CEO, CropIn Technology Solutions
Rohtash Mal, CMD, EM3 Agri Services
Karthic Ravindranath, Director, Surya PowerMagic
VT Bharadwaj, MD, Sequoia Capital India
Girish Nadkarni, Partner, IDFC Alternatives (Moderator)
11:05 am - 11:30 am
Tea and networking
11:30 am - 12:20 pm
Panel II: From Farm to the Dining Table: Innovations in Supply Chain and Cold Storage
Smart supply-chain management at harvesting can ensure that the produce reaches consumers without wastage. Innovation in logistics and supply chains is essential, especially for fresh produce with short shelf life. The panel will discuss topics including the role of plastic silos in logistics, cost-effective solutions to removing hurdles in intra-city distribution and emerging trends in cold storage.
The panel will seek to identify the innovators linking primary (inter-city) and secondary (intra-city) distribution networks efficiently. Besides, it will analyse how smarter back-end efficiencies can benefit front-end operators in online grocery, retail, beverages and the dramatically expanding food delivery and services segment.
The panelists:
P Vijayaraghvan, Director and CEO, LEAF
Arvind Gangoly, CEO, Schedulers Logistics India
Hitin Suri, Joint MD, Suri Agro Fresh
Rajat Gupta, Founder-CEO, Tessol
Anil Chaudhary, MD and CEO, NHBC
12:20 pm - 1:30 pm
Lunch and networking
1:30 pm – 2:20 pm
Panel III: Emerging Business Opportunities in New Foods
The Thirsty Indian and You – The rise of microbreweries, cold-press juices and other healthy-for-you beverages: Demand for such beverage niches has increased dramatically. How can entrepreneurs and investors tap into this phenomena? Can these businesses scale and what can hold them back? What are the emerging intersections of taste and health?
India's Sweet (and Savoury) Tooth – The transformation of bakery and confectionery foods, frozen desserts and branded sweets: What's the missing link in balancing local quality and scale? What role can technology and branding play? How is retail and the café culture expanding the business opportunities? Is there a healthy business opportunity around children and sweets?
The Mobile Snacker: The on-the-go snack boom: India has thrown up opportunities for biscuits and potato-based snacks even before. But with tastes and health concerns evolving, what are the emerging challenges and opportunities in this huge sector?
The panelists:
Anuj Rakyan, MD, Raw Pressery
Gregory Kroitzsh, Founder and MD, The Barking Deer Brewpub
Dev Lall, MD, Bakers Circle
Raghav Verma, Co-founder, Chaayos
Pawan Raj Kumar, Founder, Supa Star Foods
Aditya Bagri, Director, Bagrrys India Ltd
Deepak Shahdadpuri, Founder & MD, DSG Consumer Partners (Moderator)
2:20 pm – 3:10 pm
Panel IV: Mapping Opportunities in Mainstream Food Businesses
Cattle Farms: Modern cattle farms still don't seem to be a priority for many investors, despite seemingly huge potential. What is happening in cattle farming? What role is technology playing?
Poultry: A contentious issue remains whether poultry should be raised on hormones and antibiotics or fed naturally. Is there a middle ground? Should there be one? What are the latest innovations in this huge and vibrant space?
Dairy: A brand-led evolution in tastes and uses has opened up sizeable opportunities in India's dairy sector. Learn what lies ahead in the dairy sector from those who have been on this journey. Can successful dairy entrepreneurs leverage their expertise and resources into related segments?
The panelists:
Murali Krishnan, CEO, The Nilgiri Dairy Farm
Ashish Mantri, MD, Abhay Cotex
Dr GNS Reddy, MD, Akshaykalpa Farms and Foods
Vigyan Gadodia, MD and CEO, Sahaj Agro Farms
Senthil Natarajan, MD, Kovai Pazhamudir Nilayam
Rakesh Sony, Director, Black River Food Fund (Moderator)
3:10 pm - 3:40 pm
Tea and networking
3:40 pm – 4:30 pm
Panel V: Is India Ready for an Organic Food Revolution?
The panel will discuss whether organic foods should be restricted to rice, grains and pulses or be expanded to new categories. What benefits will Indian producers and consumers get from a more sustained push toward organic food? What does data say about whether the organic food revolution sweeping the West is taking hold in India? The panel will also discuss responsible farming and the opportunities in organic products and ingredients.
The panelists:
Vijaya Pastala, Founder and CEO, Under The Mango tree
Ashmeet Kapoor, Founder and CEO, I Say Organic
Rahul Garg, Principal, Premji Invest
Gajjender Yadav, Co-founder, 4S Foods
Arvind Godara, MD, Natureland Organic Foods
Hemendra Mathur, MD, SEAF India Investment Advisors (Moderator)
4:30 pm - 5:20 pm
Panel VI: Mapping Technology-Centred Food Models: Food-Tech to the Forefront
We try and understand emerging trends in food-tech, how they can drive demand and open up new business and investment opportunities. How to balance convenience with logistical and technological challenges around execution? How does the SaaS model fit into food-tech management at the restaurant end? Is the promotion-based, cash-burn customer acquisition model driving loyalty? What are the new, sticky engagement and longer-term consumer loyalty enhancing models?
The Must-Have-Now Foodie Emerges: An in-depth analysis of food ordering platforms, ready-to-cook, ready-to-eat and made-to-order food delivery models to hyper-local food delivery services. Who is winning and how to get to profitability?
Quick Service Restaurants: How QSRs and fast-food chains are bringing new culinary experiences to Indian consumers.
The Chef as the Curator: From the few celebrity chefs to the many taste-makers, the role of behind-the-scene chefs has evolved quickly into front-end innovators in emerging business models. With global chains coming in and unorganised players pushing into organised food and beverages space, how can businesses leverage traditional chef skills? What insights do more evolved food markets, such as New York or London, can offer to India? What ideas can India export? What is the role of Master Chefs in the industry?
The panelists:
Prasoon Gupta, Founder and Director, Sattviko
Chirag Arya, Founder, iChef.in
Pradeep Gidwani, Coach and Founder, The Pint Room
A Mahendran, CMD, Global Beverages & Foods
Jinesh Shah, Partner, Omnivore Partners
Sagar Daryani, Co-founder and CEO, Wow! Momo
Rajesh Srivastava, CMD, Rabo Equity Advisors Pvt Ltd (Moderator)
5:20 pm – 5:50 pm
VCCircle Showcase: A curated platform for select companies in the farm and food sector to showcase their innovative services and products.
5:50 pm onwards
VCCircle Unwind: More networking time for entrepreneurs and investors over cocktails.
Send us your views, ideas and suggestions on Twitter; use our event hashtag: #VCCAGRI
To participate, register now or write to Kanika at register@vccircle.com or call 0120-4171111.
For branding and sponsorship opportunities, write to Nayab at nayab.k@vccircle.com.