India started the year with some positive data as foreign direct investment in the country increased by a whopping 111 per cent to $3.61 billion in April compared with last year, according to data released by Department of Industrial promotion and Policy (DIPP) on Monday.
Sequentially, FDI rose 71 per cent over March 2015.
FDI inflows at $3.61 billion are the second-highest in over one-and-a-half years barring January this year when foreign flows amounted to $4.4 billion.
Though the government was successful in passing amendments in the last fiscal to increase the cap of FDI in defence and insurance, the effects are yet to show in FDI data. But the current number brings a glimmer of hope for the government which is poised to make an even greater effort to promote its Make in India campaign.
Computer software and hardware sector attracted 20 per cent of the inflows followed by automobiles (18.6 per cent) and trading (12.3 per cent). Last fiscal, services and telecom attracted the highest quantum of foreign investment.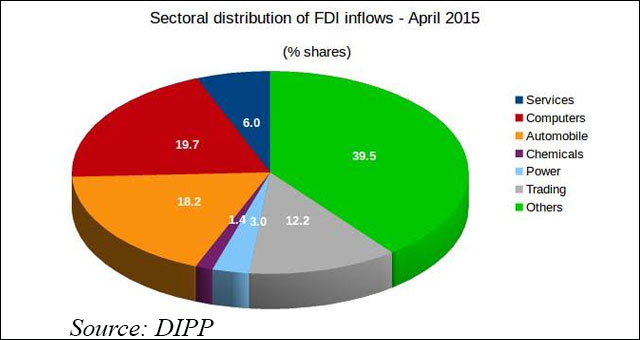 Singapore was the top source of FDI in April followed by Mauritius. Both the countries are used as a routing pit stop for foreign investors due to the favourable tax treatment of money flow.
The share of top six countries in terms of inflows was 88 per cent, with Mauritius and Singapore accounting for 56 per cent of the total.
With foreign investors' confidence in the one-year-old government's ability to implement reforms waning faster than expected, the BJP-led government will have to move quickly on the reforms front to keep its Make in India programme working and attract more capital. The government estimates show that the country still needs $1 trillion of investment over the next five years to improve infrastructure to boost growth. While figures for April show a good start, there still is a long way to go for the government to achieve the target.