Foreign direct investment (FDI) equity inflows in India declined 11% year-on-year in dollar terms for the first half of the current financial year, with flows from or through Mauritius taking a 66% hit, showed data from the commerce ministry. (FDI equity inflows do not include re-invested earnings.)
India attracted FDI worth just over $22.64 billion as compared to $25.35 billion 
FDI in India declined from $25.35 billion to $22.66 billion during the period, with inflows from or through Mauritius going down a whopping 66% from $11.46 billion to $3.88 billion. Interestingly, flows from Singapore, Japan and the United Kingdom (UK) spiked 63%, 98% and 183%, respectively, to $8.62 billion, $1.88 billion, and $845 million.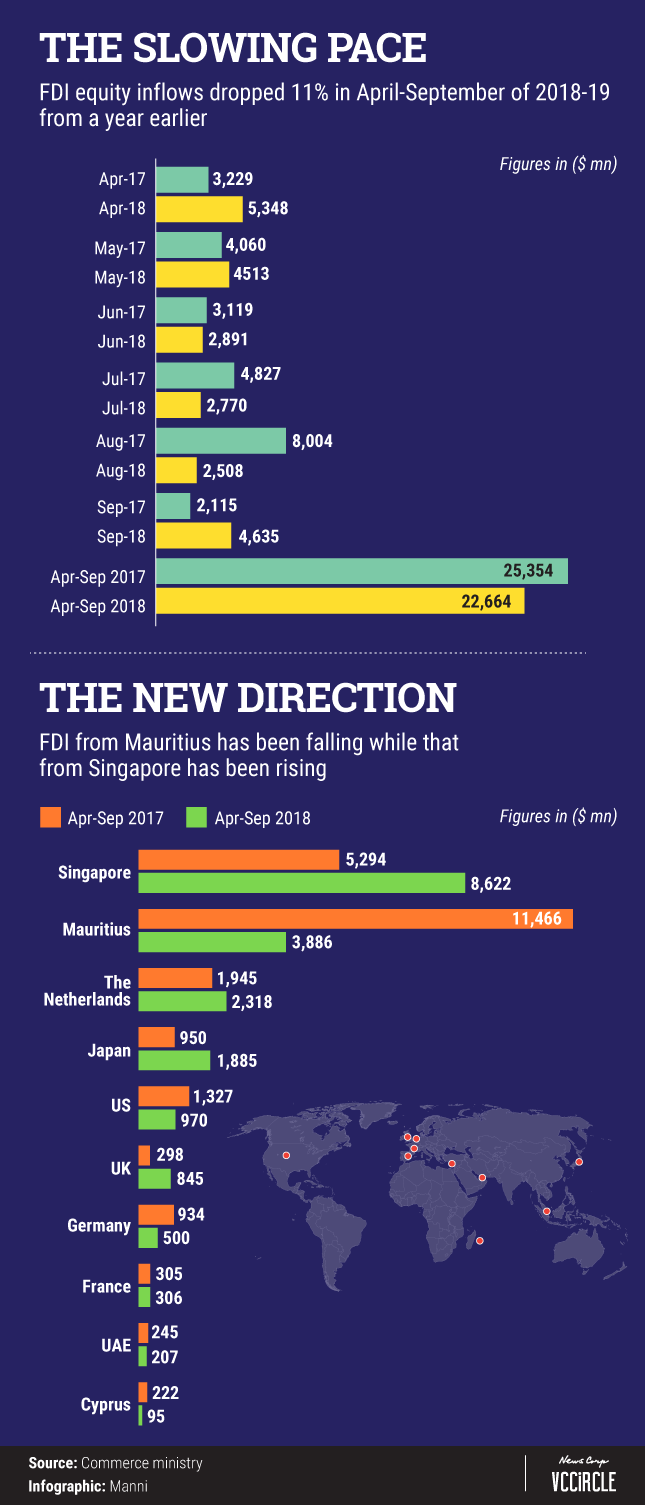 To be sure, though, in rupee terms, FDI in India for the first half of the current financial year declined only five per cent, but that could have been on account of the depreciation of the Indian currency.
The FDI data from the commerce ministry comes in the wake of acting finance minister's interim budget remark on Friday that India has received massive foreign direct investment worth $239 billion in the last five years on account of a stable and predictable regulatory regime, growing economy and strong fundamentals. 
"This period also witnessed a rapid liberalisation of the FDI policy allowing most FDI to come through the automatic route," Piyush Goyal said in his budget speech for 2019-20 on Friday.
To be sure, foreign investment norms have been relaxed in single-brand retail, defence, airlines, food processing, and other sectors.
Although certain segments need government approval for foreign investments, several sectors attract inflows through the automatic approval route.
Another report on FDI highlighted a declining trend.
In June 2018, United Nations Conference on Trade and Investment (UNCTAD) had said in a report that India's FDI inflows fell around 10% to $40 billion in 2017. (FDI inflows here include equity inflows and re-invested earnings.)
However, in a piece of news seen as boosting investment sentiment, India rose through the ranks on the Ease of Doing Business Index. 
In October last year, World Bank said in a report that India jumped 23 places to 77th rank in its Ease of Doing Business Index for 2019, up from 100th in 2018 and 130th in 2017.