Prime Minister Narendra Modi's numerous foreign trips have been a talking point during his four years in power, with the government frequently citing this outreach as a major factor for the record inflow of foreign direct investment (FDI) into India. These claims had been backed up by impressive numbers — until now.
In 2014, midway through which Modi assumed office, India attracted FDI inflows to the tune of $34.6 billion. In the two subsequent years, the figure jumped successively to $44.1 billion and $44.6 billion respectively.
In April 2016, a report by fDi Intelligence, a division of Financial Times, said that India had pipped China as the most preferred FDI destination, with $63 billion worth of FDI projects being announced in 2015.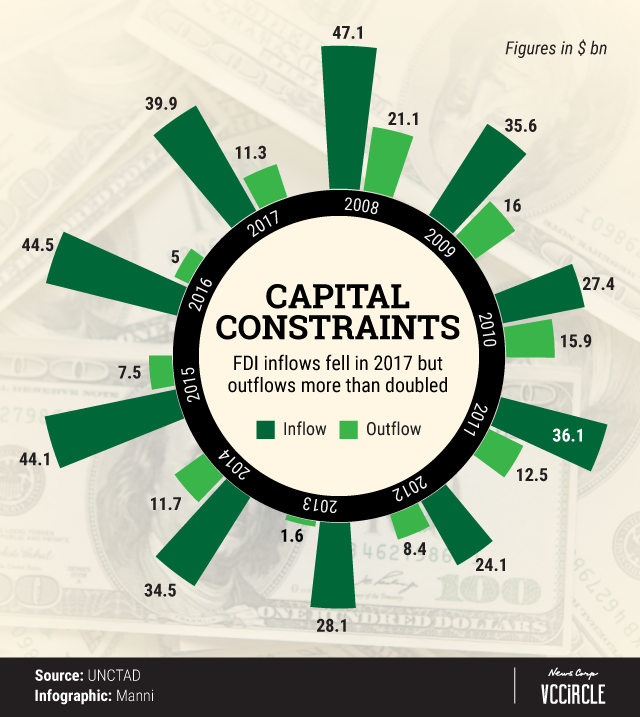 But this trend seems to have halted for now, if a recent report by the United Nations Conference on Trade and Investment (UNCTAD) is to be believed. The UNCTAD World Investment Report for 2018 released earlier this week says that not only did India's FDI inflows fall around 10% in 2017 from record levels the previous year, but outflows also more than doubled. According to UNCTAD, while India attracted nearly $40 billion in FDI inflows, its outflows jumped to $11.3 billion. UNCTAD sourced its data from the Reserve Bank of India, among other agencies.
Interestingly enough, India's FDI inflows went down even as the country attracted big-ticket foreign investments including the $13 billion that Russian oil giant Rosneft and other investors pumped in to acquire a controlling stake in Essar Oil Ltd, operator of India's second-largest private-sector refinery.
Other big-ticket FDI deals included a $1.4 billion infusion into the parent of mobile wallet Paytm by Japan's SoftBank and an equal amount injected into e-tailer Flipkart by Microsoft, eBay and China's Tencent.