From L to R: Goldfarm's Abhilash Thirupathi, farMart's Alekh Sanghera, Trringo's Atindriya Bose and Kushal Agarwal of Aspada
Intervention of new-age technologies in India's agriculture sector are bringing new business avenues for tech firms, while empowering farmers, even smaller ones, with the latest know-how in improving farm efficiencies.
At a panel discussion during the 9th edition of the News Corp VCCircle Food & Agri Investment Summit, panellists said that farming-as-a-service (FAAS) is a big idea in India's agriculture space. The agriculture sector needs greater participation from the government and financial institutions, besides deeper penetration of technology, they said.
"The agri or farm services space needs more participation by financial institutions. In the present day, there are gaps in the chain due to various reasons like geographies and data unavailibility among other things," said Abhilash Thirupathi, co-founder, Goldfarm, an agri products and services platform that helps connect customers or farmers with a bank besides offering various agri-tech solutions.
Thirupathi also discussed the need for agri-tech companies to have greater visibility in the market, highlighting areas that can be brought under supervision.
"For instance, team building is under a firm's control. On the other hand, Internet penetration is a result of many variables but can be brought under control. Internet access increases the chances of converting a person into a customer by 10 times," Thirupathi said, adding that favourable government policy is also required.
While India is the second largest online market in the world, second only to China, the number of people using the Internet versus the total population remains low. According to statistics by various technology companies, only 25-30% of India's population have accessed the Internet in 2016. In China, Internet penetration stands at over 50%, while in the US, it is over 80%. More importantly, only 109 million of India's over 750 million rural population has access to the Internet.
Alekh Sanghera, co-founder and chief executive officer of farMart Service, said that application-based penetration remains low even as many people have access to or use smartphones.
"Engagement level is low. Reliance Jio penetration has shown positive results but it will take three-four years for the industry and farmers to engage better with each other," Sanghera said, adding that agri-tech companies need to better assess the creditworthiness of the farming population to improve agri-financing.
"There is a need to partner with financial institutions because farmers need credit for various farming activities. There is a need to also partner with the government to spread awareness and increase digital literacy. Another alternative is to encourage companies' CSR (corporate social responsibility) agri and agri-tech space," Sanghera said.
Atindriya Bose, CEO of Trringo.com, Mahindra & Mahindra's tractor-hailing app, said that agri-tech companies need to work closely with government policies to accelerate growth in the space.
"Agri-tech is a very young industry. We need to look at ways to scale up and reach the next level. Along with digital literacy, we also need to build digital trust and security for customers. Trust penetration is a continuous exercise," Bose said.
Trringo is affiliated with the Andhra Pradesh and Rajasthan state governments to enable farmers to not only use government sops or subsidies for farm mechanisation but to also monitor the use of such sops and track progress.
In a separate discussion on the role of Internet-of-Things (IoT) and big data in removing inefficiencies in farming, panellists said that digitisation and technology are already being implemented in the agriculture sector as opposed to it only being a concept a few years ago.
Ranjith Mukundan, co-founder and CEO of Stellapps Technologies Pvt Ltd said that his firm has built IoT systems used in the dairy industry. The technology has helped reduce input costs besides improving yield and efficiency and has enhanced better data analytics for the firm's clients.
"We have sensors installed across the supply chain. We believe that data collected at one end should be co-relatable with the ones collected at the other end," Mukundan said.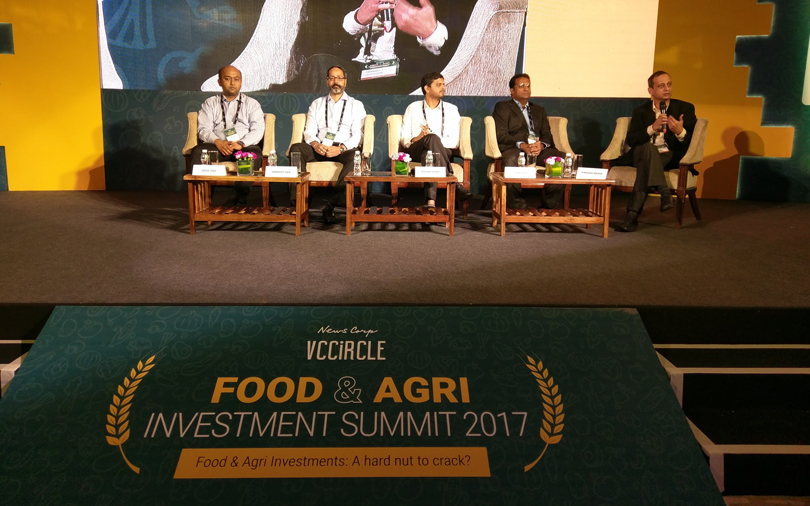 Krishna Kumar, founder and CEO of farm management software solutions firm CropIn Technology Solutions Pvt Ltd, also believes that agri-tech solutions will reduce costs and improve efficiencies and said that data analytics has helped the entire ecosystem.
Amardeep Sibia, CEO, SatSure also said that data analytics brings visibility in the agriculture value chain and provides a huge opportunity to use multiple data sets.
SatSure is a data analytics company that uses satellites, weather forecasting information, and IoT inputs to provide farmers with insights. It also offers them financial security and crop insurance.
Sibia explained that a modern day satellite imaging device can capture an area of around 250 x 250 km in one image within minutes, and one state can be covered in roughly two days. This digitisation offers better visibility about weather and economics of a geography, Sibia said adding that data for 1 km can cost as low of $1-2.
Jinesh Shah, founding partner of Omnivore Partners, a venture fund that invests in agriculture and food technology, said that investor perception is changing as the agriculture sector has evolved over the last three-four years.
"People here do not pay for software. So we looked at ways where we can combine the hardware with the software. Data is being used to monetise and gain value out of it," Shah said.