Fairchem Speciality Ltd, a Mumbai-listed chemicals maker backed by Canadian billionaire Prem Watsa's Fairfax Group, is going through a restructuring exercise to sharpen focus on its main businesses.
In a multi-layered transaction, the speciality chemicals maker plans to merge wholly owned unit Privi Organics India Ltd with itself and create a new subsidiary called Fairchem Organics Ltd.
The merger with Privi Organics will bring the company's aroma chemicals business under one roof, Fairchem Speciality informed stock exchanges on Monday. This merged entity will be renamed as Privi Speciality Chemicals Ltd. Also, the company will hive off its oleo chemical and nutraceutical businesses into Fairchem Organics.
Shareholders of Fairchem Speciality will get one share of Fairchem Organics for every three shares of the parent company as part of the restructuring scheme.
Fairchem Speciality said the decision to create two niche and focused segments without any business overlap will be prudent to raise capital as the "growth profiles and the capital needs" of these businesses are very different.
It added that the restructuring will allow management of the two new entities to explore opportunities for each individual business, enhance the efficiency of operations and eliminate inter-corporate dependencies.
Fairfax had first acquired a 45% stake in Adi Finechem Ltd in 2016 for $20 million. In July 2016, Fairfax agreed to buy a 51% stake in Privi Organics for about $55 million. As part of that deal, Privi Organics merged some of its business with Adi Finechem. Subsequently, Adi Finechem was renamed as Fairchem Speciality.
Shares of Fairchem Speciality have more than doubled since Fairfax invested in the company. The shares gained 3.86% on Monday to close at Rs 553.95 apiece.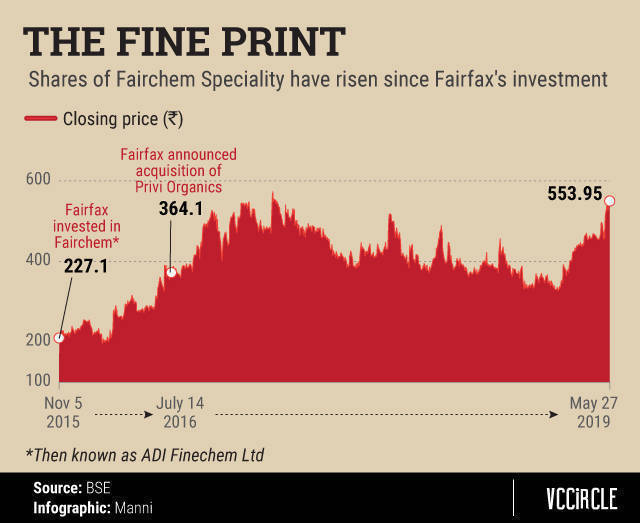 As of March 31, 2019, Fairfax held a 48.76% stake in Fairchem Speciality. Including Fairfax's stake, the total shareholding of the promoters is a tad above 74%.
The shareholding structure of Fairchem Organics will be the same as that of the parent. However, as part of the restructuring scheme, Fairfax has agreed to acquire the 17.9% stake to be held by Privi's promoters in Fairchem Organics. The promoters of Adi Finechem will acquire a 4.78% stake from Privi's promoters in Fairchem Organics.
Fairfax will also grant a call option to Privi's promoters representing a 9.84% stake in Fairchem Speciality.
A call option gives the holder a right but not the obligation to buy shares or a security at an agreed price on or before a particular date.
Similarly, Privi's promoters will grant a put option to Adi Finechem's promoters for a 2.62% stake in Fairchem Speciality. In a put option, the holder has a right but not the obligation to sell shares.
Fairfax India, a dedicated investment vehicle for the country, has invested aggressively across sectors such as financial services, chemicals, aviation and logistics.
Since it began investing, Fairfax has made a series of acquisitions directly through the India investment vehicle as well as publicly listed companies Thomas Cook (India) Ltd, IIFL Holdings Ltd and Quess Corp Ltd, among others.
For instance, Thomas Cook has struck a handful of acquisitions. In February, Thomas Cook agreed to buy a majority stake in Dubai-based digital imaging services and solutions provider Digiphoto Entertainment Imaging to expand its core business portfolio. Quess Corp has struck two dozen acquisitions over the past few years.
Last June, Fairfax-backed Go Digit Infoworks Services Pvt. Ltd, the parent of Go Digit General Insurance Ltd, agreed to acquire ITI Reinsurance Ltd from The Investment Trust of India Ltd to expand its presence in India's insurance industry.
In March this year, it announced the purchase of a significant minority stake in Seven Islands Shipping Ltd for Rs 500 crore ($72 million). Seven Islands was planning an initial public offering and had filed its proposal with the capital markets regulator.