Chennai floods coupled with a slow rise in new orders and output pushed India's factory activity in December towards contraction, a survey showed on Monday.  
Factory activity contracted ending a 25-month sequence of growth with Nikkei Manufacturing Purchasing Managers' Index (PMI), which is compiled monthly by financial information services firm Markit, slowing to 49.1 in December. PMI declined for a fifth straight month from 50.3 in November.
The index, previously known as HSBC Manufacturing PMI, measures the health of the manufacturing sector based on surveys of private sector companies—a reading below 50 signifies contraction.
"Consumer goods bucked the sub-sector trend and was the only category to see improving business conditions in December as production and new orders rose. Conversely, incoming new work and output fell in both the intermediate and investment goods market groups," the report said.
The report presented an even more disappointing picture as the depreciating rupee pushed inflation to a seven-month high.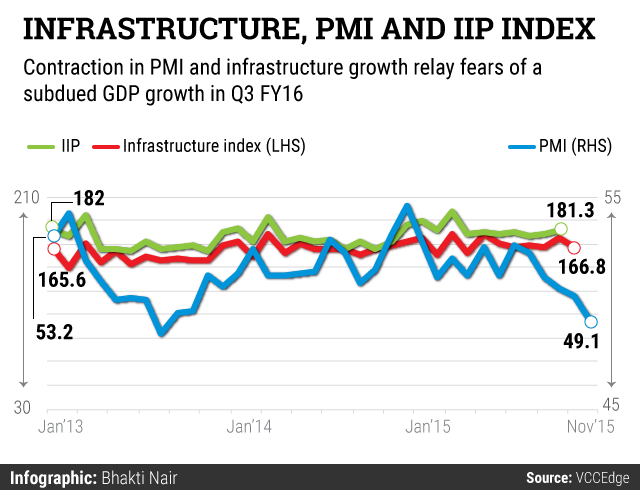 Infrastructure index numbers for November, which were released on Friday, showed the core sector growth contracting 1.3 per cent after expanding for six straight months as a slump in the steel sector dragged down growth.
While infrastructure represents 38 per cent of the index of industrial production, a clearer picture may emerge once IIP data for November are released on January 12, 2016, given the dichotomy between index of eight core industries and the IIP data.
"Overall, the weaker performance of key lead indicators such as the core sector, merchandise exports and automobile production in November compared with the previous month portend a sharp dip in IIP growth as compared with the robust 9.8 per cent recorded in October 2015," said Aditi Nayar, senior economist at ICRA. 
While a lot of the variation comes from the base effect, festive session and flood, the industrial sector still seems far from moving to a growth territory and may not able to replicate its strong performance in the second quarter of 2015-16.