Credit: Shah Junaid/VCCircle
Unless you have been living under a rock, you are aware of the absolute duopoly in India's cab-hailing market. Between global major Uber Technologies, Inc's India arm and its homegrown rival Ola, almost all of the country's roads are mapped, leaving little room for new entrants.
That fact seemed to have been lost on a bunch of regional cab aggregators, which now seem all but ready to give up on their ambitious dreams of capturing a slice of the pie. At least a dozen homegrown taxi aggregators that proliferated over the past two years have either winded up their operations or pivoted. And the ones that have managed to stay afloat are grasping at straws.
While aggregators Lelo Cab and Kerala Taxi shut shop, auto-rickshaw aggregator Jugnoo got cold feet—it never really launched the cab service it announced. Bike taxi provider Baxi chose not to aggressively pursue its four-wheeled aspirations while Mumbai-based Cabby is slowly shifting focus to international markets that are yet to see a clear leader. Namma Tiger Cab, backed by former Karnataka chief minister HD Kumaraswamy, has already postponed its launch multiple times.
Will smaller taxi-hailing ventures continue to fall by the wayside in the face of Ola and Uber's domination? What will they need to do differently to ensure they piggyback on the success of the leaders instead?
Courtesy of steep rider discounts and driver incentives, Ola and Uber together command close to 95% of the country's cab-hailing market in metro cities, reveals a study by research firm Kalagato based on the number of app installs. The rest of the players, 15-20 of them, are battling to capture whatever little remains.
Some experts feel it simply boils down to the strength of the war chest, an area where the small, local players can't even compete.
"Many smaller companies are trying to build a business in niches not core to Ola or Uber. But this is a supply-side game. Taking on Uber or Ola will require very deep pockets and a long-term commitment to the market... They (Uber or Ola) will not be affected in the near term. Both are busy fighting each other and focusing on core offerings. They can enter these markets any time they please, either on their own or through an acquisition," says Aman Kumar, chief business officer, Kalagato.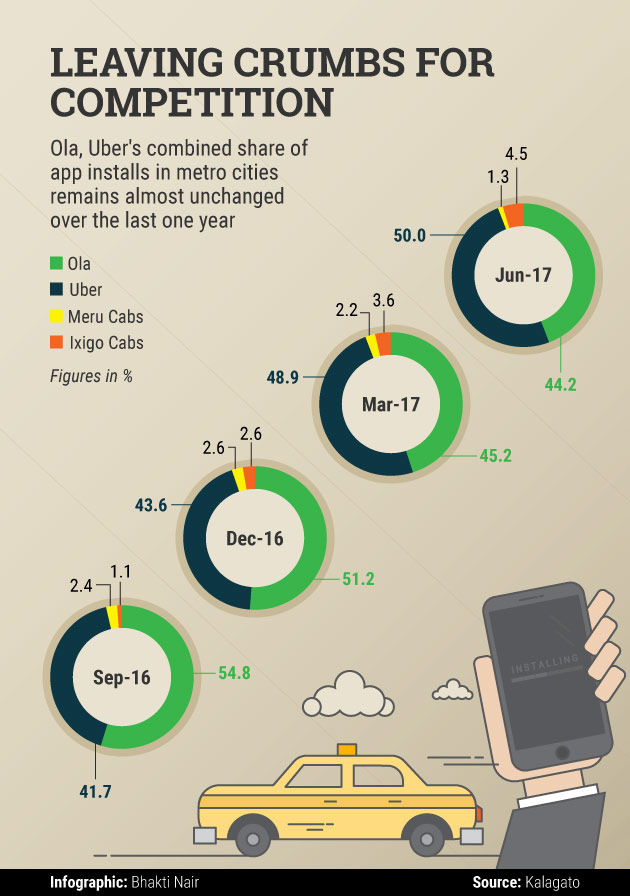 A slew of other players, such as Bro Cabs, Mango Cabs, Vihik Cabs, Utoo, bTag, Hi Cabs, Sewa Cab and Ixigo Cabs, have come up in different Indian cities. While some of them were launched by disgruntled drivers in metros over shrinking incentives at Ola and Uber, the rest focus on regions where the two cab-hailing majors do not have a stronghold. And most of them are attempting to differentiate themselves by offering new services like daily subscription and roadside pickup.
"In India, we need to have roadside pickup models," says Ashutosh Johri, co-founder and chief executive of Baxi, which allows both 'hail and go' service and app-based bookings. However, Johri said the company was not aggressively focusing on cab services as it didn't want to burn a lot of cash.
"For cars and autos, we have given the app to drivers but we don't force them to use that meter. We just want to supplement an existing scenario with the help of technology," he adds. Baxi charges a small percentage every day for the use of its application.
Ola saw its losses widen three-fold in the financial year through March 2016. It posted a consolidated net loss of Rs 2,311.7 crore for FY16 compared with Rs 796 crore in FY15. Total expenditure surged more than three-fold to Rs 3,078.19 crore from Rs 899.7 crore the year before, indicating higher cash burn. As a result, Ola has been drawing copious amounts of capital from SoftBank's coffers.
While rival Uber's India numbers are unavailable, the company has been making losses globally. Its 2016 net revenue stood at $6.5 billion while adjusted net losses were $2.8 billion.
Johri feels the two cannot keep burning cash forever. "Our model was never to burn money; we don't intend to do that. We would like to see how long Ola and Uber would keep subsidising."
Sahil Arora, founder of Mumbai-based Cabby, claims his venture guarantees minimum pay for drivers and enhanced experience for riders with its advertising-cum-ridesharing model. Arora leverages the service of his other venture, in-cab entertainment solution Tabverts, to supplement the ride-hailing business.
"Tabverts screens advertisements, sells content, gives gaming space to publishers and sells music – everything on the tab is completely monetised," he adds. Arora claims the company makes Rs 1,200 daily from each tablet, and nearly 2,100 tabs are equipped with such tablets. The company shares 25% of the revenue generated from Tabverts with the driver.
The company, which partnered two driver unions to get as many as 27,000 drivers on its platform, had managed to expand to Delhi and Bangalore. While its unique business model seems to have worked, the driver base has dropped substantially to around 3,000. Arora says clashes between unions caused its driver partners to leave the platform.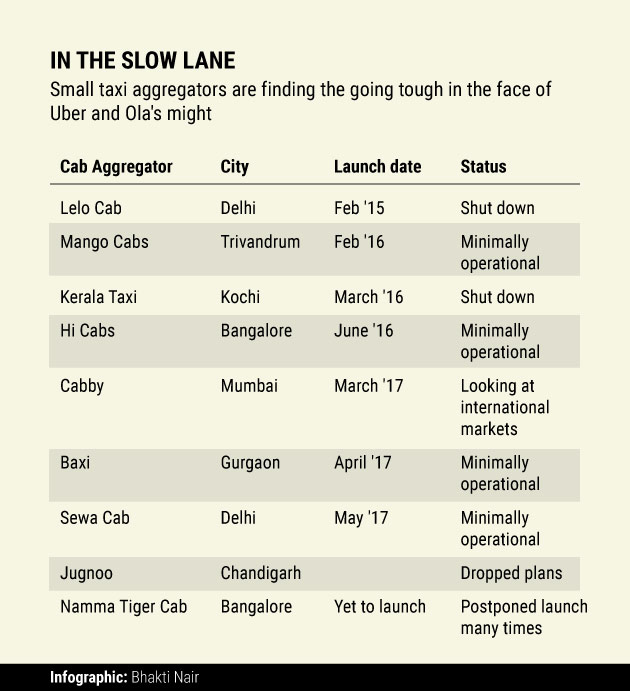 Then there are the likes of Fast Track Call Taxi, one of India's oldest cab services that's looking to raise capital to survive the competition. Another long-time player Mega Cabs, which runs a combination of aggregation and cab-leasing, continues to make losses. Meru Cabs, the leader in all the key markets it operated till August 2014, is struggling to stay relevant and has already slashed fares.
Besides, there are factors like technology, app design and overall user experience. Once a customer has explored Uber or Ola, it's unlikely they will settle for patchy apps and below-par riding experience.
"The local players have failed to predict the market. Meru is a classic example and, even now, they are not innovative. The user interface of local apps is not as good as those of big players. Uber and Ola will be unaffected except in case of, say, inter-city rides or Limo service," says Anup Jain, managing partner at consumer and retail consultancy Redback Advisory Services.
Backing of unions, politicians
In the aftermath of nationwide protests by Ola and Uber drivers against falling incomes, a number of cab services backed by driver unions emerged in cities like Mumbai, Delhi, Kolkata and Cochin. While some of them managed to bring together various facets such as technology, customer care, operations and marketing, most failed to position themselves as a viable alternative for the driver community.
"It's hard for companies taking support from political parties and unions to gain credibility. People will give you a chance if you have some credibility and are ethical," Arora says.
For instance, Sewa Cab, launched by taxi drivers' union Chalak Shakti in Delhi, promised no surge pricing and road-side pickups. Four months on, the company is barely operational. Similarly, the future of Namma Tiger Cab in Bangalore remains uncertain. Kerala Taxi, one of the earliest initiatives by a driver union in India, is inactive.
"Union-backed or politically-motivated players will not be able to compete without resorting to some form of regulatory safeguard. They possess
none of the technology, nimble-mindedness or capital to compete," says Kalagato's Kumar.
Is there a future for smaller players?
Jain says Ola and Uber have created the business-to-consumer category in the cab-hailing market and, hence, they own the mindshare as well as market share. "At this time, when both of them are still to become cash-positive, I doubt if another funding will take place for a third player. They (other players) should stick to business-to-business and full-day contracts, and continue to tap the segment with niche offerings," he adds.
Kumar agrees that emerging victorious in a niche should be the first step. Unless they manage to win in a niche (a town or city), become cash flow-positive or achieve breakeven, new investors wouldn't be willing to invest.
And if the domestic market is chock-a-block, setting sights on overseas markets may not be a bad idea. Cabby, for example, is focusing on expanding to international markets like South Africa, the UAE and Lagos (Nigeria's largest city), where opportunities still exist. "Offering significant value to drivers is what matters the most. Creating a model that doesn't depend on investments is the only way to survive in this market. Capital that you create should be spent on your growth," says Cabby's Arora.
Baxi's Johri feels India's taxi-hailing market is yet to evolve completely for a sustainable model to be identified, and that he would wait for that time to take the plunge.
"Charging drivers a percentage of their earnings is never going to be a sustainable model. Once you stop giving driver incentives and charge 20-25% of their earnings, no one will accept it. The market will correct itself gradually to identify the right model," he explains.