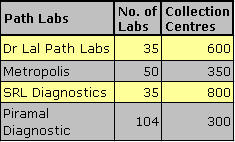 A consolidation in the diagnostics industry is underway. Standalone laboratories in tier II cities are being picked up by larger rivals. Metropolis Health Services (I) Ltd, an ICICI Venture funded diagnostics company, has acquired two path labs in North India. One of them is in Bihar while the other's location is unavailable.
The two acquisitions were made about one or two months back. With these deals, Metropolis has made 12 acquisitions in the past five years. It recently acquired a majority stake in Bangalore based RV Diagnostic Laboratory.
"Metropolis is following a dual growth model. One of them is acquisition based while the other is based on organic growth," Ameera Patel, Executive Director, Metropolis Health Services, told VCCircle.
According to Patel, the path labs business is based on trust and credibility of the local community where the lab is set up. "So for us to just go and open labs becomes difficult. And that is why we feel that partnering with a local lab in that region which has got a good brand, accreditations, good quality and service makes a lot more sense for us."
Metropolis wants to expand by identifying such path labs, acquiring them and using it as its hub. A lot more consolidation is expected in this area as there are only a few big players in the path labs space. There are only handful of players that operate at a national level, such as Religare Laboratories, Dr Lal PathLabs, and Piramal Diagnostics besides Metropolis Health Services.
Hari Buggana, MD, Evolvence India Life Sciences Fund, feels that the demand for path labs will go up in the future. "The healthcare sector is expanding at very good clip. A lot of projects that had started will be completed soon and they all need diagnostic capacities. Secondly, the government is also spending a lot on easing the primary and secondary care sectors," he said adding that the unmet need for path labs in India was quite significant.
The size of the Indian path labs market is estimated at around Rs 4,500 crore and has been growing at about 10-12% annually.
Not only is the diagnostics industry as a whole small, the consolidated part in the industry is small too. "There is a lot of fragmentation in the area and only 5% of the diagnostics sector is consolidated, so there's definitely a lot more scope for consolidation," says Patel.
Buganna feels that the sector would remain fragmented in the future as well. He said: "About 4-5 players together will account for more than half the diagnostic market and the rest will always be fragmented because it doesn't cost a lot to put a path lab in place. At least 50%-60% of the market will be fragmented."
Piramal Diagnostics had last year acquired around 16 path labs in the country. Mertopolis, which has 50 laboratories across the globe, plans to continue with its consolidation practices and add about 5 more labs within this year.
The other players like Dr Lal PathLabs and Religare Laboratories are also planning acquisition in this space. Religare Labs CEO Sanjeev Chaudhry was earlier quoted as saying that they would look at acquiring standalone laboratories. "The centres should match the standards of our laboratories and the acquisition would be in the range of Rs 2-20 crore," Chaudhry was quoted as saying by The Economic Times. 
According to Buggana, more investments are expected to be made in the sector. He also anticipates capacity additions and innovative business models to be tried out in the semi urban and rural segments. Besides, one can also expect to see some national players emerging in the path labs space.