Indian companies are raising more and more funds through private placement of corporate bonds, as yields soften and banks struggling with bad loans curb lending.
The capital raised through private placement of corporate bonds in the first seven months of this financial year is 33% higher than a year earlier according to a VCCircle analysis of data from the Securities and Exchange Board of India.
Fundraising through this route has risen every year over the past decade except in 2013-14, and looks very likely to set a new record this financial year. In October alone, companies mobilised Rs 70,395 crore. That's the third-highest monthly amount in at least 10 years.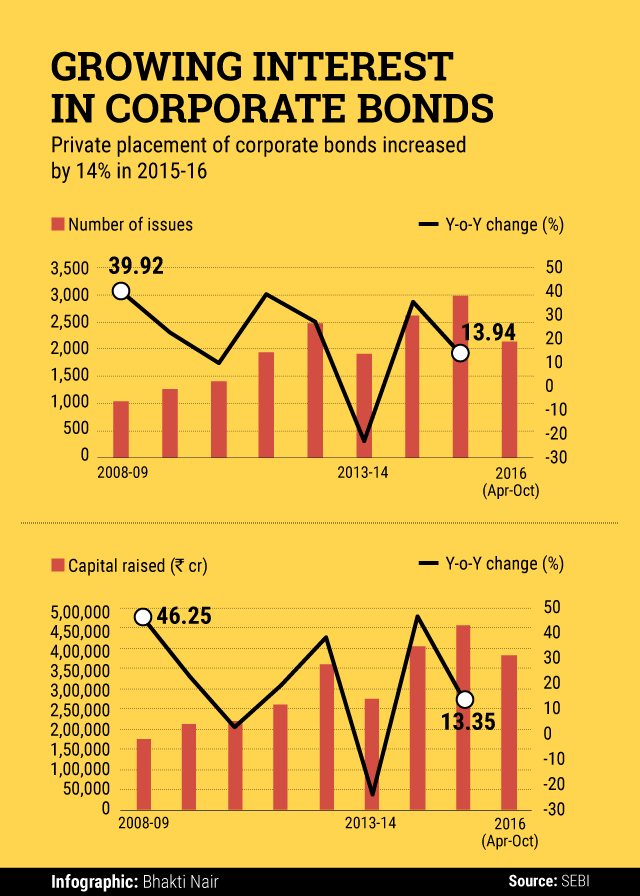 Higher fundraising via private placement of corporate bonds is also in line with a similar rise in issuance of non-convertible debentures.
Raising capital via corporate bonds is a relatively cheaper alternative to bank loans. While banks could charge companies an interest rate of 16% and above per annum, yield on corporate bonds could be as low as 8%. Yields have fallen over the past couple of years as the central bank cut benchmark interest rates.
Volatility in stock markets could be another reason for the rise in bond issuance. The 30-stock benchmark BSE Sensex has swung between 22,494.61 and 29,077.28 points in 2016. This has prompted many companies to shelve plans for public offerings, although several other firms have gone ahead and made successful debuts on the stock markets.
Like this report? Sign up for our daily newsletter to get our top reports.