India's industrial growth slowed albeit marginally to grow 4.2 per cent in July with capital goods output propelling overall output, according to official data released on Friday. Industrial output as measured by Index of Industrial Production (IIP) had risen 4.36 per cent in June as per the revised estimates, which show IIP rising over 4 per cent for a second consecutive month and coming in contrast to the slow growth in eight core industries.
IIP rose despite growth in eight core industries slumping for third straight month. The index of eight core industries, which constitutes 38 per cent of the IIP, increased only by 1.1 per cent in July.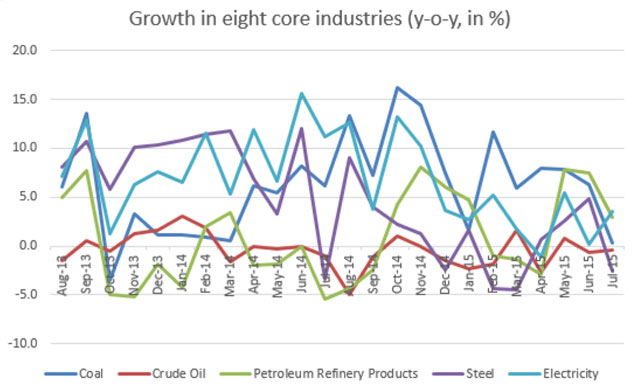 All three major sectors in IIP—mining, manufacturing and electricity—rose in July. The mining sector saw 1.3 per cent rise in output against a decline of 0.5 per cent in June, while the manufacturing sector grew 4.7 per cent against 5.4 per cent in June. Electricity generation was up 3.5 per cent.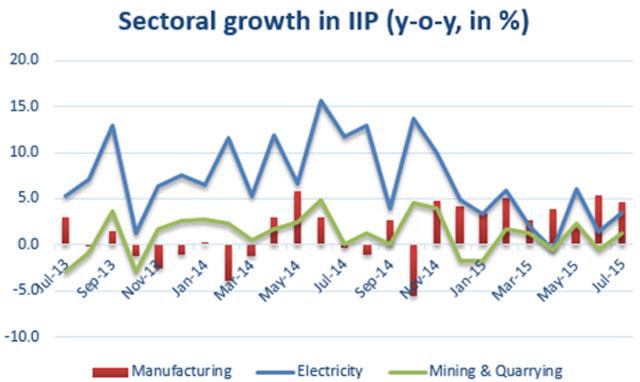 In terms of industries, 12 of the 22 industry groups in the manufacturing sector have shown positive growth during the month, which shows the industrial growth is not yet broad-based.
As per use-based classification, basic goods output was up 5.2 per cent but capital goods expanded by a strong 10.6 per cent down in July, fastest in six months. The rise in capital goods output, a lead indicator of business activity picking in the near term, is a good sign for the economy which has been struggling due to global slowdown exacerbated by slow momentum in Chinese economy .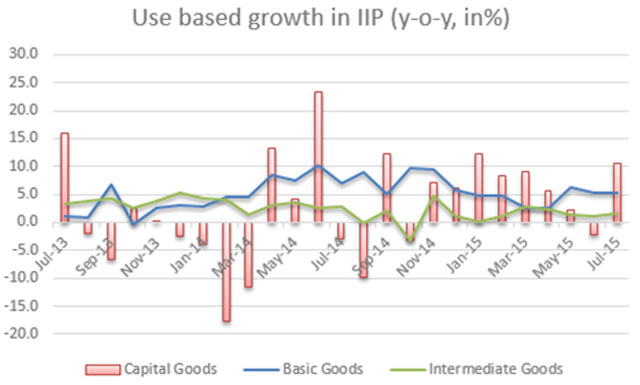 Within the consumer goods basket, consumer durable rose at a slower pace at 11.4 per cent while non-durable sector declined 4.6 per cent , the overall consumer goods declined 1.3 per cent.
While GDP growth at 7 per cent for the first quarter of FY15 was disappointing, the industrial growth figures for the fourth month of the new financial year could be a harbinger of better quarter for the Indian economy.
RBI is expected to wait for the consumer inflation data to be released on Monday, September 14, before it takes a call on rates in its policy review at the end of the month.