The flow of capital into India's real estate sector halved in the first six months of 2016 in comparison with the same period previous year as investors maintained a cautious stance on a sector that has struggled to revive property sales.
The sector attracted a total of $1.65 billion in the first half of 2016 compared with $3.27 billion a year earlier, according to VCCEdge, the data research platform of VCCircle. Sequentially, capital flow dropped in the second quarter of 2016 to $795.30 million from $850.72 million in the first quarter. 
The amount includes both debt and equity investment. Although total capital flow in the April-June period was lower than the first quarter, equity investment was higher. This offers a ray of hope to developers looking for cheaper capital and indicating that investors are making riskier bets.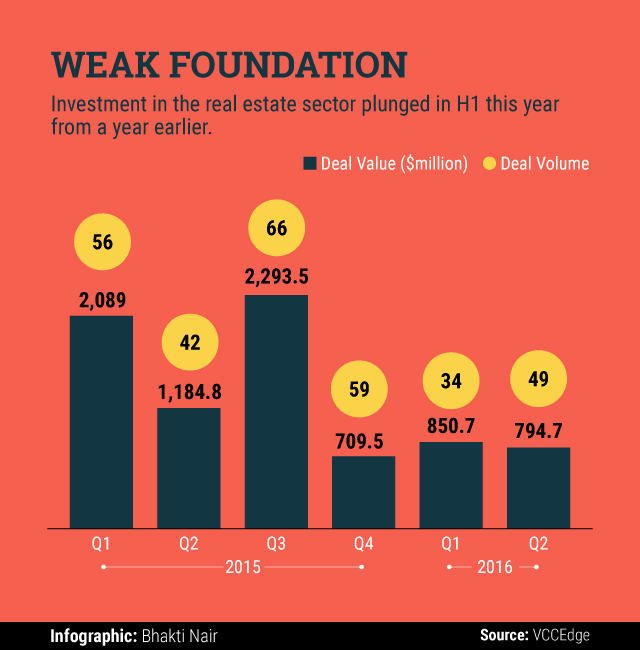 Equity investments had plunged in the fourth quarter of 2015 but strong inflows in the first three quarters pushed the total to a seven-year high of $2.8 billion.
To be sure, overall private investment activity has been sluggish across sectors. Both the volume and value of private equity and venture capital deals have fallen in the first half of this year. The number of PE deals slumped 43% between January and June while VC transactions dropped by a third from a year earlier.
In the real estate sector, investor sentiment had turned positive after the formation of the Narendra Modi-led government in 2014. The sector saw marquee investors such as Warburg Pincus and Goldman Sachs return in 2015 after a long gap while sovereign wealth and pension funds queued up to strike deals. The sector also saw a bunch of entity-level deals—which had vanished earlier—last year.
The euphoria seems to have ebbed now. The residential real estate segment has seen an uptick in some pockets but a broader recovery is at least a year away, say market analysts. The commercial segment, however, has been on an upswing with leasing activity improving. 
Meanwhile, deal making in real estate continues to be dominated by debt transactions on the residential side (at least in terms of volume) from PE firms and non-banking financial companies (NBFC). Developers are opting for multiple rounds of refinancing to stay afloat in a market where healthy cash flow continues to be a challenge and high interest cost remains a pain point.
BMR Advisors partner Kalpesh Maroo said debt will remain the mainstay for the sector over the next couple of quarters and equity money will be concentrated across a few large deals.
Indeed, many top deals in the April-June quarter were sealed in the form of debt and structured debt. Piramal Fund Management, one of the biggest lenders in the real estate market in India, invested $63 million (Rs 425 crore) as fixed-return debt for a Lodha Group project located in central Mumbai.
In another big-ticket transaction, private equity major KKR, which invests in real estate in India through its NBFC, sealed a $45 million transaction with Puranik Builders for two projects in Pune. Some other significant transactions during the period include the UK government-owned CDC backing affordable projects of Tata Housing Development with an investment of $25 million (Rs 168 crore) and KKR Group sealing another debt deal of $21 million with Bangalore-based realtor Mantri Developers. 
Despite the first-half drop in capital flow, Maroo is optimistic the sector will garner significant capital flow in 2016. "If DLF's rental stake sale and Brookfield's buyout of Hiranandani's office park fructify this year, the numbers will rise," he said. "While it might not be as high as what the sector received in 2015, the deal flow will continue to be healthy."
Like this report? Sign up for our daily newsletter to get our top reports.