Paving the way for India's largest ever spectrum auction, the Cabinet on Wednesday approved the sale of all available spectrum as well as pricing them across various bands, including 700 megahertz (MHz)— preferred for deploying services such as 4G.
The Cabinet has approved norms for auction of spectrum, finance minister Arun Jaitley told reporters after the Cabinet meeting. "This will be the biggest spectrum auction ever held in the country," said Jaitley.
The 700MHz is a much sought-after band for offering high-speed broadband services and for long-term evolution (LTE) deployment around the world due to its efficiency and higher penetration inside buildings. Due to lower frequency, it provides wider coverage, which reduces the number of towers required to set up a LTE network and significantly cuts down capital expenditure involved in making the network live.
Around 2,000 MHz of spectrum—in bands such as 700MHz, 800MHz, 900MHz, 1,800MHz, 2,100MHz and 2,300MHz—will be auctioned and is expected to generate Rs5.44 trillion as revenue for the government. This amount is five times the amount raised from the auction in in 2015. Last year, the government had earned revenue of Rs1.1 trillion from the spectrum auction.
In the Union budget of 2016, the government said it was expecting Rs9.89 trillion from communication services including proceeds from spectrum auction.
Telecom Commission, the highest policy making body of the department of telecommunications, in its meeting on 30 April had cleared these proposals which were sent to the Cabinet for its approval.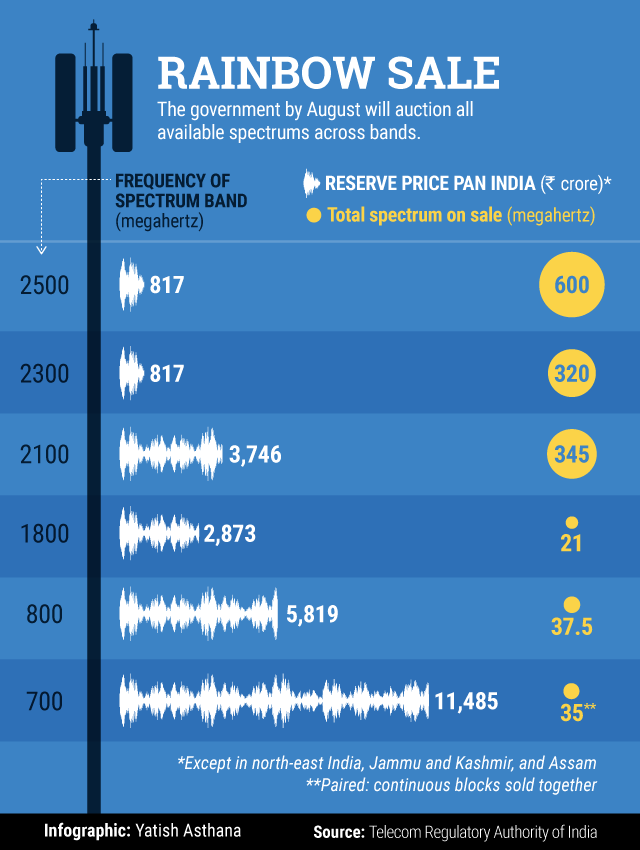 For the first time, 700MHz will be auctioned in the country at a reserve price of Rs11,485 crore per MHz pan India.
The companies who will be allotted this spectrum in higher frequency bands—above 1 gigahertz (GHz) such as 1,800MHz, 2,100MHz, 2,300MHz, 2,500MHz—should make 50% upfront payment and rest in 10 years after a two-year moratorium. Earlier, companies were given option to make 33% upfront payment. For spectrum below 1GHz band such as 700MHz, 800MHz, 900MHz, companies will be required to pay 25% in upfront payment and rest in 10 years after a two-year moratorium.
For 1,800MHz spectrum, widely used for offering voice services, the reserve price has been kept at Rs2,873 crore. For spectrum in 900MHz band, 800MHz band, 2,100MHz band and 2,300MHz band, the reserve price is kept at Rs3,341 crore, Rs5,819 crore, Rs3,746 crore and Rs817 crore, respectively. The price for 2,500MHz, which will also be auctioned for the first time, has been kept at the same level of 2,300MHz.
According to the Telecom Regulatory Authority of India, the cost of delivering mobile services in 700MHz band is around 70% cheaper than 2,100MHz band (used for 3G services).
The Cabinet, however, decided to refer back the issue of spectrum usage charges (SUC) to the Telecom Regulatory Authority of India (Trai) for a relook. Jaitley said various consultations were held on this issue and Trai, Telecom Commission and the attorney general presented their views on SUC. It has been decided to seek an opinion of Trai which should come out in the next few days.
Telecom Commission had recently cleared the proposal of approving weighted average formula for calculating spectrum usage charge (SUC) based on the total spectrum held by a telecom operator.
Operators pay SUC as a percentage of their adjusted gross revenue. Weighted average formula will take all spectrum holdings into account with different SUC rates as per current policy and come up with a unique SUC rate to be paid by a telecom operator. They have been paying different SUCs for different bands acquired through auction. For administratively allocated spectrum, it was in the range of 3-8% for all bands except for 2,300MHz wherein operators pay 1% SUC.
Like this report? Sign up for our daily newsletter to get our top reports.