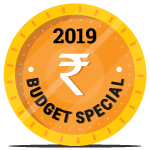 India's new finance minister, Nirmala Sitharaman, is all set to present her first budget today, as the Narendra Modi government gets set to roll out its economic agenda for the next five years.
As the Economic Survey said on Thursday, the government's goal of making India a $5-trillion economy by 2025 will require the economy to grow by at least 8% in coming years. 
In May, Sitharaman had created history, of sorts, by becoming the first woman to hold the finance portfolio, at least the first since Indira Gandhi, who held it while being prime minister.
Today, as she presents her maiden budget, she would seek to go beyond that and focus on reviving the economy's animal spirits, even as the global macroeconomic situation and the rising gold and falling crude prices show that the world may be staring at another economic crisis, just over a decade since the 2008 crisis hit.
Here's a minute-by-minute snapshot of the proceedings on the budget day.
1:10 PM: Budget speech ends.
1:08 PM: Fiscal deficit to be brought down to 3.3% in FY20 from 3.4% in FY19.
1:07 PM: Sitharaman announces a legacy dispute resolution scheme for GST-related cases.
1:05 PM: Customs duty on gold hiked. Special additional excise duty imposed on petrol and diesel. Nominal basic excise duty on tobacco imposed.
1:02 PM: Customs duty exempted on certain parts of electric vehicles. Exemptions on customs duties on several items being made in India withdrawn. Customs duty imposed on imported books.
1:00 PM: Imported defence equipment not being manufactured in India exempt from basic customs duty.
12:58 PM: Surcharge hiked on taxable income for those earning more than Rs 2 crore.
12:56 PM: Business establishments with annual turnover of Rs 50 crore or more to offer digital payment modes like BHIM to their customers, free of charge.
12:54 PM: Propose 2% TDS on cash withdrawal of more than Rs 1 crore a year for business transactions to encourage digital payments.
12:53 PM: Faceless e-assessment of income tax returns to be launched.  Pre-filled tax returns to be made available with all information.
12:52 PM: Measures to make compliance easier for taxpayer. PAN and Aadhaar to be made interchangable.
12:50 PM: Relief in levy of Securities Transaction Tax by restricting it only to the difference between settlement and strike price, says the FM.
12:47 PM: A person purchasing an affordable house of up to Rs 45 lakh will now get an enhanced tax deduction of up to Rs 3 lakh a year.  
12:44 PM: Propose to ease angel tax norms. Funds raised by startups will not require any scrutiny by the income tax department, the FM says.
Benefits available to category 1 AIFs to be extended to category 2 AIFs.  
12:42 PM: Additional income tax deduction of up to Rs 1.5 lakh on the loan taken to purchase an electric vehicle. Net benefit will be of the order of Rs 2.5 lakh, the FM says.
The FM says India aims to become a global hub of manufacturing electric vehicles. The GST rate on electric vehicles lowered from 12% to 5%.
12:40 PM: Government planning phased reduction in corporate taxes, the FM says. All companies with an annual turnover of up to Rs 400 crore to be taxed at 25%; more than 99% of all companies will now be covered under this rate, she says.
12:39 PM: The FM says direct tax revenue growing at double-digit rate every year. Direct tax revenue up by 78% from 2014 to 2019, she says.
12:37 PM: Now, the FM is talking about direct taxes and begins by "thanking"  "honest" taxpayers.
12:35 PM: Foreign shareholding limit in case of PSUs to be raised for companies in the emerging market index.
12:32 PM: Investment into CPSE ETFs to be made on a par with ELSS.
12:30 PM: Disinvestment target raised from Rs 90,000 crore to Rs 1,05,000 crore. Strategic disinvestment of select PSUs, including Air India, remains a priority.
12:29 PM: Govt to consider lowering its stake in non-financial PSUs below 51%. In some PSUs government proposes that its stake could go below 51% including stake held by government-owned institutions.
12:28 PM: Net-owned fund requirement for foreign reinsurers to be reduced from Rs 5,000 crore to Rs 1,000 crore.
12:27 PM: NPS trust to be separated from the PFRDA to maintain arms-length distance
12:26 PM: Rs 100 lakh crore to be invested on infrastructure over the next five years, the FM says. A committee to be set up in this regard.
12:24 PM: The FM says RBI to regulate housing finance companies, instead of the National Housing Bank.
12:22 PM: Govt to provide one-time partial credit guarantee to banks for buying high-quality financial assets of NBFCs. 
12:21 PM: Six state-run banks are outside the RBI's corrective action framework, says the FM.
State-run banks to be provided Rs 70,000 crore capital to boost credit, says the FM.
12:19 PM: Financial gains from the cleaning of the bankIng system are now visible with NPA down by Rs. 1 trillion in the last one year and IBC having recovered Rs. 4 trillion, says the FM.
12:15 PM: Aadhaar cards for non-resident Indians who hold Indian passports, without waiting for the mandatory 180-day period.
12:12 PM: Women self-help group interest subvention programme to be rolled out in all districts of India, the FM says. One woman in every SHG to be made eligible for a loan of Rs 1 lakh.
12:08 PM: Government to launch a "massive program" on railway station modernisation this year, the FM says.
12:06 PM: The FM says the government's scheme on LED bulbs has led to an annual cost saving of Rs 18,314 crore every year.
12:04 PM: To start a new TV channel for startups under the Doordarshan umbrella. Channel to be managed by startups themselves, the FM says.
12:02 PM: Government proposes to streamline multiple labour laws into a set of four labour codes.
11:59 AM: Government to focus on new-age skills including artificial intelligence, 3D printing, which also have a market outside India, to enable people to get jobs outside India.
11:57 AM: Government to allocate Rs 400 crore for "world-class institutions" and to start a programme 'Study in India' to bring in foreign students for higher education.
11:54 AM: The FM says the government will bring in a new National Education Policy and establish a National Research Foundation, which will assimilate the grants being given by each ministry independent of each other.
11:50 AM: The FM says the USO fund will be used to target internet connectivity for every gram panchayat under the Bharat Net programme.
11:48 AM: Under the Swachh Bharat scheme, 9.6 crore toilets have been built since october 2014. Propose to expand scheme to undertake solid waste management in villages.
India to be open defecation free by 2 October, this year, the FM says.
11:47 AM: The FM says that by 2024, all rural households to have water supply under the 'Jal Jeevan Mission.' "Har ghar jal" for all rural families, the FM says.
11:46 AM: The FM is now talking about "zero budget farming" as she says "we need to go back to the basics". She says the e-NAM Act should not hamper farmers from getting a fair price for their produce.
11:44 AM: Government to help set up 10,000 new farmer producer organisations.
11:42 AM: Government to set up 80 livelihood business incubators and 20 technology business incubators in the rural agro sector.
11:40 AM: The FM says all-weather road connectivity has been provided to 97% of the areas where it was feasible, under the Pradhan Mantri Gram Sadak Yojana. More than 1.25 lakh km of roads will be upgraded under the scheme at a cost of more than Rs 80,000 crore.
11:37 AM: Under Pradhan Mantri Awas Yojana-Rural, which aims to provide housing to all, 1.95 crore houses will be built during FY20 and FY21. The FM says the period required for the completion of houses is down to a third since 2015-16.
The FM says that every rural family to have electricity and clean cooking mechanism (LPG connection).
The FM says that 'antyodaya' is at the core of the government's efforts. "Gaon, gareeb aur kisan" is at the centre of the government's policy play, she says.
11:35 AM: The department of space has incorporated a new commercial arm, the FM says.
11:34 AM: The NRI portfolio investment scheme route to be merged with the FPI route to encourage more non-resident Indians to invest in the country.
To provide NRIs seamless access to Indian equities, NRI portfolio investment route to be merged with foreign portfolio investment route: FM @nsitharaman #BudgetForNewIndia #Budget2019 pic.twitter.com/9uqf4qr2Y9

— PIB India (@PIB_India) July 5, 2019
11:33 AM: Government looking at hosting an annual investment summit of top global investors.
11:32 AM: To ease FDI norms in aviation, media, animation and insurance. Govt to allow 100% FDI in insurance intermediaries, ease local sourcing norms in single-brand retail.
The FM says that despite a global downturn in FDI inflows, inflows into India remained strong.
11:31 AM: The FM says that it is important to ensure that retail investors invest in T-bills and that the government will take measures in this regard.
11:29 AM: Announces a social stock exchange for listing social enterprises and voluntary organisations.
11:28 AM: The FM says that it is the right time to consider raising minimum public shareholding in listed companies; says she has asked SEBI to consider raising the threshold from 25% to 35%.
11:26 AM: Govt planning a number of measures to deepen the bond market. The FM says investments made by FIIs into debt instruments will be allowed to be transferred to any domestic investors.
11:25 AM: Sitharaman said the government will offer pension benefits to 3 crore shopowners under the new Pradhan Mantri Man Dhan Scheme.
11:23 AM: Sitharaman said the government will finalise a modern tenancy law and announce other reform measures to promote rental housing.
11:22 AM: The FM says Rs 350 crore has been allocated for interest subvention on MSME loans. The government will create a payment platform for MSMEs.
11:21 AM: Talking of the UDAY scheme for power discoms, the FM says the government is examining the scheme and it will be improved. A power tariff policy will also be announced soon.
11:20 AM: The FM is now talking about developing gas grids, water grids, regional airports and highways. The FM says the government will take the PPP route to complete railway projects.
11:18 AM: Meanwhile, the markets continue to trade almost flat, as no new concrete proposals have been announced so far.
11:17 AM: The FM says that a national highway grid will be created, in which the states will be helped to develop state roads.
11:16 AM: Sitharaman announces a scheme to encourage electric vehicles. She says the upfront incentives will be offered for purchasing electric vehicles.
11:14 AM: The FM says that 300 km of metro lines have been approved and more than 200 km operationalised. She is now talking about an interoperable payment card for transportation.
11:12 AM: The FM says the Udaan scheme is providing air connectivity to small cities and talks about initiatives to boost the aviation sector. She says the time is right for India to enter aircraft financing. The government will also promote maintenance, repair and overhaul (MROs) facilities in the country.
11:10 AM: The FM is now talking about her government's flagship 'Make in India' initiative, that never really took off in the last four years.
11:08 AM: The FM says the government needs to invest heavily in MSMEs for job creation, apart from infrastructure and the digital economy, echoing the Economic Survey.
11:07 AM: The FM is now talking about the need for structural reforms that the government needs to undertake. Sitharaman calls for reform, perform and transform.
11:05 AM: The FM says the previous government brought the economy's size from $1.85 trillion to $2.7 trillion. So, she says, the goal of $5 trillion by 2025 is achievable. She says that India will be a $3-trillion economy in the current financial year itself.
Finance Minister Nirmala Sitharaman: The Indian economy will grow to become a $3 trillion economy in the current year itself. It is now the sixth largest in the world. 5 years ago it was at the 11th position. #Budget2019 pic.twitter.com/SSPypa8ajC

— ANI (@ANI) July 5, 2019
11:04 AM: The FM lists the spends on food security, patents issued, last-mile delivery as some of the main achievements of the previous government. She says the initiatives taken by the previous government will be accelerated.
11:03 AM: The FM says that the first Modi government "set the ball rolling for a new India".
11:02 AM: The FM says that the Modi government's electoral victory means that the voters have reaffirmed their faith in his government's policies.
11:00 AM: Sitharaman begins budget speech.
10:57 AM: The house is now in order. The finance minister should begin speaking any time now.
10:54 AM: The union cabinet has cleared the budget.
10:52 AM: Speculation is rife that the banking cash transaction tax could be brought back. Meanwhile, Congress leader Digvijay Singh says he has suggested to the finance minister that the GST on coaching institutes should be abolished as it is a potential employment generator. But the budget per se will not take a call on GST rates as that is under the ambit of the GST Council.
10:50 AM: The copies of budget documents are finally at the parliament house. As always, these papers come in sealed bags in a truck! This has to be a uniquely Indian tradition that is still alive in this day and age of technology.
Union Cabinet meeting begins in Parliament. #Budget2019 https://t.co/6IAgi6yBLZ

— ANI (@ANI) July 5, 2019
10:45 AM: The stock markets have lost the day's gains, with the Sensex falling below 40,000.
10:30 AM: The finance minister's parents have also arrived at the parliament house, as she is minutes away from beginning her budget speech
10:15 AM: Media reports say the finance minister could look at enhancing the tax exemption limits on home loan interest from Rs 2 lakh per annum right now.
10:10 AM: The finance minister has reached parliament, and the cabinet meeting could be starting anytime now.
10:05 AM: The union cabinet is set to meet at 10:15 AM, even as junior finance minister Anurag Thakur has been seen praying at a temple an hour before the budget speech begins.
10:00 AM: The finance minister and her team of officials have met President Ramnath Kovind to appraise him of the budget. This is only done as a matter of convention.
9:55 AM: Individual taxpayers could expect some relief, if the buzz going around is anything to go by. While the finance minister may raise the threshold limit of minimum taxable income, she may also grant exemptions under Section 80C and 80CCD (1B) of the Income-Tax Act.  
9:50 AM: On the social sector front, the budget could have a big focus on water conservation, which the prime minister has spoken about since he assumed office for a second term, in May this year.  
The budget is also likely to focus on the government's flagship universal healthcare scheme, Ayushman Bharat, whose scope could probably be enhanced. Apart from that, low-cost housing could again take the centre stage.  
9:45 AM: Although in the past years, the government had struggled to meet its disinvestment targets, the last two financial years did see it go past the target. This year's target is Rs 90,000 crore, as had been outlined in February's interim budget.
9:40 AM: This budget comes amid at least three red herrings that the finance minister will do best not to ignore--GST collections have come down, impacting the revenue and fiscal deficits; manufacturing growth in June has slowed; and the core sector growth also slipped in May.
9:35 AM: If the tenor of the economic survey is anything to go by, the budget should certainly focus on two things--incentivising domestic savings, perhaps via tax exemptions, and giving sops to the MSME sector. This, the government will hope, will set off a "virtuous cycle" of savings, investments and exports.
9:30 AM: As the finance minister gets ready to deliver her speech, speculation is rife that she could reintroduce the inheritance tax, which was abolished 35 years ago.
This budget comes even as economic growth has slowed down to a 20-quarter low of 5.8%, and the agriculture sector is growing at below 3%. The finance minister will really need to pull something out of the proverbial hat, to turn things around.
9:25 AM: Interestingly, the finance minister is not carrying her budget papers in a briefcase, as is usually the norm, but in a red bag. Does this mean her budget proposals, too, will be unconventional this time?
9:20 AM: Stock markets open in the green. Both the Sensex and the Nifty are up around 0.2% from their previous close. The marquee index stocks are hardly moving much.
9:15 AM: Finance minister Nirmala Sitharaman has just emerged outside the finance ministry with the budget documents. By convention, the union cabinet will meet and approve the budget, before she presents it in parliament.
9:10 AM: Meanwhile, in unrelated news, the Serious Fraud Investigation Office of the corporate affairs ministry has ordered a probe against Jet Airways after it detected irregularities. The beleaguered airline, which owes creditors more than Rs 8,500 crore, has not been operating for the last several weeks now. The Jet Airways stock is down about 5%.
9:05 AM: The stock market pre-open rates are in, and they indicate a cautious opening both for the BSE Sensex and the NSE Nifty. Both the indices are likely to open 0.15-0.3% higher.