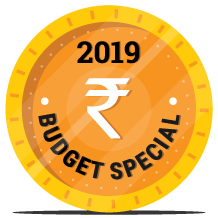 Acting finance minister Piyush Goyal on Friday presented the interim budget for the fiscal year 2019-20, which begins in April. Here are the highlights of the interim budget, which comes just ahead of general elections which must be held by May.
* Fiscal deficit for 2018-19 estimated at 3.4% of GDP, higher than 3.3% earlier.
* Fiscal deficit for 2019-20 targeted at 3.4%.
* Assured income for farmers under new Pradhan Mantri Kisan Samman Nidhi scheme.
* The PM-Kisan scheme promises Rs 6,000 a year income for small farmers; 12 crore families to benefit.
* Annual outlay for farmer income scheme set at Rs 75,000 crore.
* The Pradhan Mantri Shram-Yogi Maandhan pension scheme for unorganised sector workers with monthly income up to Rs 15,000.
* About 10 crore workers in the unorganised sector to benefit from the new pension scheme.
* No income tax on taxpayers earning up to Rs 5 lakh, compared with Rs 2.5 lakh currently.
* Standard deduction on personal income tax for salaried people to Rs 50,000 from Rs 40,000.
* Three crore middle-class taxpayers to benefit, says finance minister.
* TDS limit on bank deposits raised from Rs 10,000 to Rs 40,000.
* Disinvestment target for 2019-20 proposed at Rs 90,000 crore, up from Rs 80,000 crore this year.
* Capital expenditure outlay for railways pegged at Rs 64,500 crore.
* A national centre and national portal for artificial intelligence to be set up.