After a disappointing last budget when the government offered few reasons to cheer for the healthcare sector, the industry is hoping for a major course correction this year.
The industry wants the government to boost public spending on health and take steps to promote local manufacturing of medical devices in the budget for 2016-17. It is also seeking measures to expand health insurance coverage and encourage entrepreneurship, besides reiterating a long-pending demand for grant infrastructure status to the healthcare sector.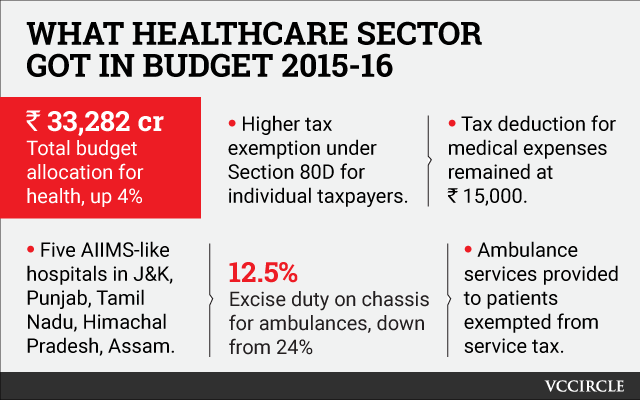 Besides, the industry has sought that it should remain outside the purview of the proposed Goods and Services Tax (GST). This exemption is important to galvanize significant investment for the creation of healthcare infrastructure, said Bhavdeep Singh, CEO, Fortis Healthcare Ltd. Anjan Bose, secretary general at industry body NATHEALTH, has previously said that the sector shouldn't come under the GST regime for at least 10 years and a decision to levy GST should be considered after assessing the status of healthcare coverage, costs and performance on key healthcare metrics.
Public healthcare spending
India's public health expenditure at about 1 per cent of GDP is significantly low when compared with 3 per cent in China and 8.3 per cent in the US. This should be increased to at least 2 per cent of GDP to begin with, said Kiran Mazumdar-Shaw, chairman and managing director at Biocon.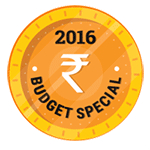 Gaurav Agarwal, co-founder of healthcare startup 1mg, which operates an online marketplace for medicines, said the budget should aggressively fund and promote universal access to the government schemes like the Jan Aushadhi programme that supports selling of generic medicines at affordable prices through special Jan Aushadhi stores, government hospitals and private retailers.
Insurance coverage
According to the World Health Organization, 58.2 per cent of the total health expenditure in India is an out-of-pocket cost burden on people. Clearly, there is need for the government to expand health insurance coverage. "The government should expand healthcare insurance to cover primary healthcare as well," said Prashant Jain, director-healthcare and life sciences at o3 Capital.
In 2008, the then UPA government launched the Rashtriya Swasthya Bima Yojana for the poor. The insurance scheme was part of what the UPA called the Universal Health Coverage programme and what the current NDA government calls the National Health Assurance Mission. But the scheme needs some spark, say analysts. Service tax exemption on health insurance premium could also help, said Nilaya Varma, partner and head of healthcare, KPMG in India.
Tax incentives
For biotechnology, the government should provide incentives through biotech parks, single-window clearances, smooth registration and quick approval process as globally the focus is shifting towards biotech and personalized medicines, o3 Capital's Jain said.
Fortis Healthcare's Singh said incentives for capital expenditure and a tax holiday for hospitals are required, too.
"The tax holiday period should be increased for private healthcare providers in non-metros for hospitals with 50 beds to encourage establishment of much more needed healthcare facilities in tier II and III and rural areas," KPMG's Varma said.
A long-pending demand is grant of infrastructure status to the healthcare sector as it will make it easier for companies to raise long-term funds.
Medical devices
India needs to promote domestic manufacturing of medical devices as it currently imports 70-80 per cent of its requirement. The medical devices sector wants the government to roll out incentives in line with its Make in India initiative.
GSK Velu, chairman and managing director at Trivitron Healthcare, said the Make in India policy should make necessary structural and fiscal changes to enable the local medical device and in vitro diagnostics (IVD) industry to compete with multinational companies. For instance, the current duty structure encourages import of IVD reagents instead of local manufacturing, he added.
PPP projects
Industry executives say the government should push for the public-private-partnership mode to create healthcare infrastructure but should also ensure that PPP projects benefit private players as well.
Jain of o3 Capital said that the ad-hoc nature of pricing and change in agreed pricing has led to private healthcare providers either withdrawing or refraining from participating in PPP projects. Stability in pricing models is critical because a large part of government's effort to bring healthcare to the poor will be through the PPP model, he added.
Encourage entrepreneurship
With the government in January announcing an action plan for startups, healthcare startups will be watching the Budget to see what is in store for them.
The action plan included exemption from income tax for startups in the first three years of operation, 80 per cent rebate on filing a patent application, an exit policy for startups, a dedicated fund worth Rs 10,000 crore for early-stage firms and a credit guarantee scheme for loans.
Saurabh Arora, founder and CEO of Lybrate, a marketplace to help patients consult doctors through video, voice and text, said the government should increase the tax holiday period from three years to at least five years as hardly any startup becomes profitable in three years of inception to pay tax.
"Also, profitable startups should be charged less corporate tax, for instance 20 per cent against the normal 30 per cent, as they are solving some real issues facing the country," he added.