Indian startups are relying increasingly on temporary fundraising, mostly from existing investors, to maintain and grow their business as mopping up funds from new venture capital investors gets tougher and more time-consuming.
The number of bridge funding rounds in the January-July period this year has risen 50% from a year earlier and is up almost eight-fold compared with five years ago, according to VCCEdge, the data research platform of VCCircle.
"Bridge rounds are normally led by existing investors and it is a demonstration of the conviction of the investor in the entrepreneur and the idea," said Sunil K Goyal, founder and CEO, YourNest Angel Fund.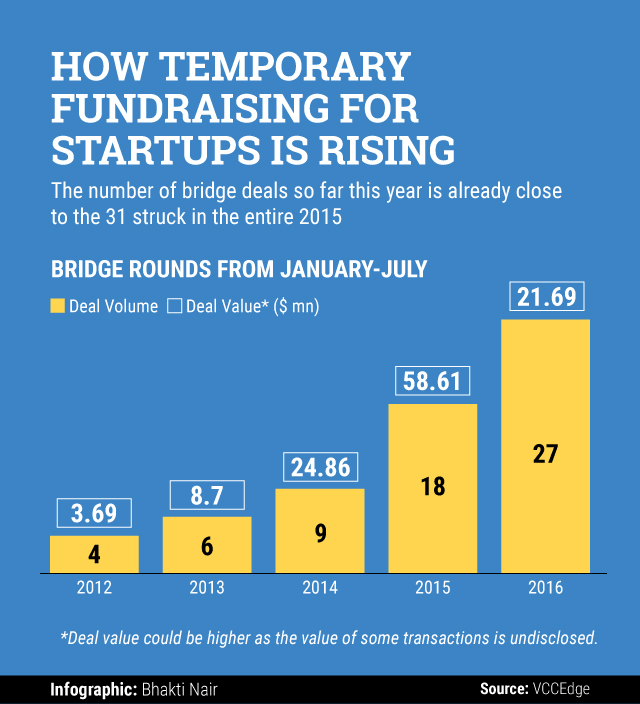 However, bridge rounds also indicate startups' inability to find new investors due to their seemingly unviable business structure or unrealistic high valuations even though VCs may be sitting on a pile of cash.
"VCs have to be prepared for tough times, like the current period of softening, and also keep enough dry-powder to support promising teams," said Goyal.
During the first seven months of this year, the highest amount in a bridge round was raised by Bengaluru-based Bundl Technologies Pvt. Ltd. The company, which owns and operates online food ordering platform Swiggy, secured Rs 47 crore (around $7 million) from existing investors, including Norwest Venture Partners, DST Global and Accel Partners.
The total amount raised in bridge rounds is lower this year than the last two years, though it is not directly comparable as the value of some deals is undisclosed. 
Meanwhile, the total number of venture investments in the January-July period this year slumped to 214 from 340 a year earlier, according to the data.
Like this report? Sign up for our daily newsletter to get our top reports.