The dismal performance of credit growth continued from 2013-14 when gross outstanding credit of scheduled commercial banks (SCBs) rose just 13.7 per cent. RBI data show that growth in credit was lower in 2014-15 at 12.6 per cent over the year-ago period. 
The situation was much worse on a quarterly basis as credit growth deteriorated further for the quarter ending March 31 to 10.7 per cent from 13.9 per cent from the year-ago period, the Reserve Bank of India (RBI) said on Tuesday.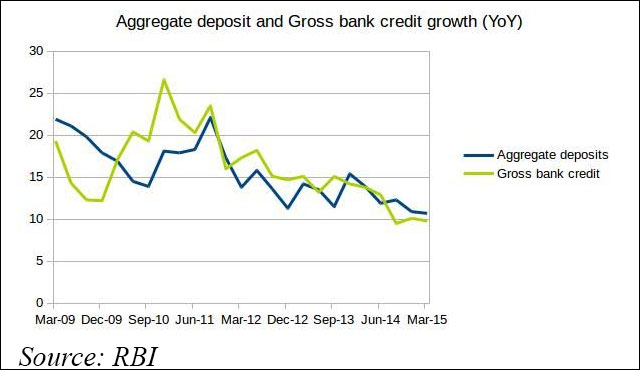 "Deceleration was broad-based and observed across all population groups except 'Rural'. Growth in gross bank credit increased to 14.7 per cent for 'Rural' in March 2015 from 14 per cent a year ago," RBI said. 
Growth in the credit sector has remained low despite country registering robust growth figures for 2014-15. Rising incidence of non-performing assets (NPAs) and the reluctance of banks to extend credit due to sluggish growth of the corporate sector have hurt the credit growth in the last year. 
FY2015-16 was off to an unimpressive start as far as credit growth is concerned—gross bank credit till April 17 saw a rise of just 8.7 per cent over the year-ago period, according to the RBI's monthly bulletin released a fortnight ago. 
Despite three rate cuts of 75 bps in 2015, scheduled commercial banks have been reluctant to pass on the benefits to consumers and have delivered only marginal cuts following RBI's intervention. 
Deposit growth also deteriorated for the financial year as aggregate deposits rose 12.8 per cent from 14.6 per cent for 2013-14. According to the report, deposit growth slipped to single digits with aggregate deposits growing at just 9.8 per cent in March quarter against 13.9 per cent in Jan-March 2014. The market share of PSBs stood at 72.9 per cent by the end of last fiscal. 
The national credit-deposit ratio rose to 77.4 per cent for the quarter ending March 31, up marginally from 76.4 per cent in the December quarter. While the ratio was highest in metropolitan areas at 94.2 per cent it was lower than the national average for other population groups. 
In terms of state-wise distribution, the ratio was highest in Tamil Nadu at 119.5 per cent followed by Chandigarh (union territory) and Andhra Pradesh. 
Data released by RBI on Wednesday showed that credit growth at 9.8 per cent was in single digits for the sixth straight month. 
While Jan Dhan Yojna, which aims to provide credit and banking facilities to the bottom of the pyramid, has made some difference with over 16 crore accounts being opened till June 17, more than half of the accounts remain to be zero balance ones.  
Though rural credit growth is a positive sign for the economy, the lack of growth in the urban and semi-urban areas is a problem for the government which intends to aggressively pursue its Make in India campaign.